Metaverse
Metaverse Application Development To Develop your Fintech Applications in Metaverse Space
We are a Metaverse app development company that helps businesses create intuitive Metaverse apps using state-of-the-art technologies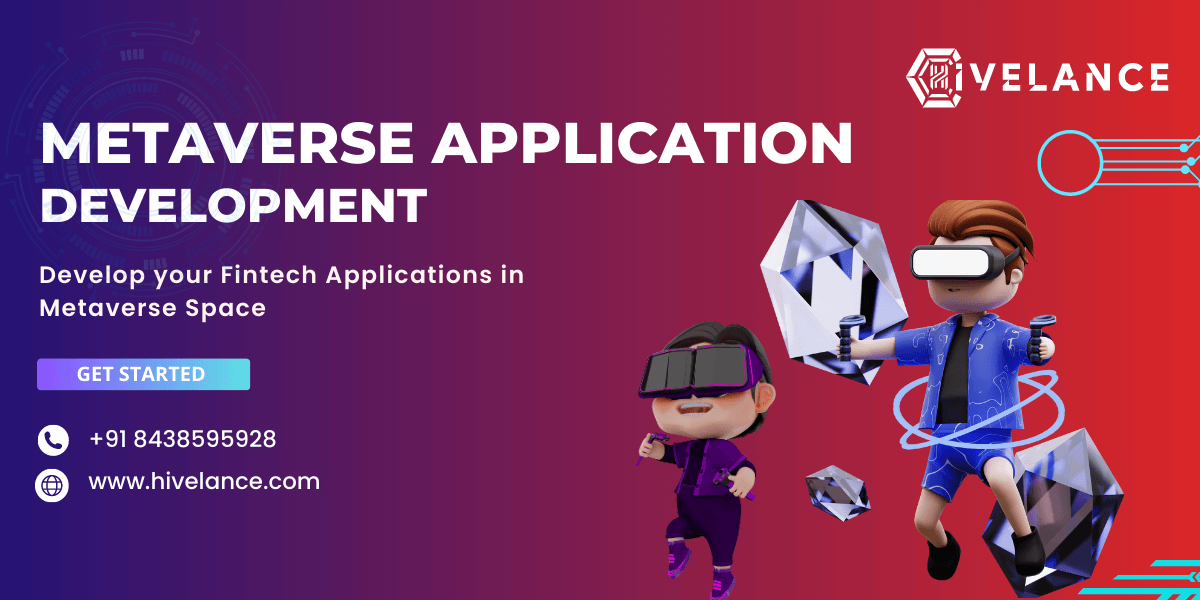 Metaverse Application development
Metaverse app development creates apps for the metaverse that have an appealing digital environment using cutting-edge tools like Web3, VR, and AR. The metaverse apps allow users to communicate and collaborate socially in virtual 3D worlds by allowing them to create avatars. Our team of skilled metaverse app developers has a reputation for creating lucrative metaverse environments for a range of metaverse use cases, including real estate, education, events, and more.
Hivelance is a renowned Metaverse Application Development Company that provides top-notch metaverse application development services. We have a solid reputation for producing metaverse applications that completely satisfy our clients' needs.
Our Metaverse App Development Services
Metaverse Real Estate Application
The real estate sector is now entering the metaverse to give users a believable and interesting experience. We provide sophisticated, captivating metaverse real estate applications where virtual reality tours and meetings may be scheduled for real estate investors and buyers. The investors can build their own properties and benefit from them.
Metaverse Gaming application
We offer a metaverse gaming platform offering a captivating gaming experience and opens up for both developers and users.P2E and M2E models have been incorporated into the metaverse gaming application to improve gameplay.
Metaverse Tourism App
We design top tourist attractions , museums , etc to let users visit regions that are different from their home by boosting their trip experience. Avatar creation is another feature of the application that facilitates user interaction and communication.
Metaverse Fashion App
At Hivelance, we develop metaverse fashion applications where users may highlight their fashion labels to digitally showcase their items and reach a larger audience. Additionally, users can show their sense of style by customizing their digital avatars with high-end brand apparel and accessories.
Metaverse Education Application
We create and build metaverse education applications by expanding virtual 3D classrooms and campuses that allow students to interact with teachers from various locations and improve their digital learning through hands-on practice similar to that identified in the real world.
Benefits of Creating Metaverse Application
We make sure the benefits that improve the user experience are implemented into the metaverse applications.
Decentralization:
The essential component of a metaverse application that excludes the third party and gives users full control over their assets.
Security
High standard security mechanisms are incorporated throughout the development of the metaverse applications to assure security against all unauthorized efforts.
Interoperability
We design our metaverse software to be interoperable, allowing it to communicate with other metaverse systems and ensure compatibility.
Graphics and an immersive environment
The graphics in the metaverse applications are created in a ways that they are realistic and give users an immersive experience that is similar to the actual world
Scalability
Due to the high user density of metaverse apps, efficient algorithms and data structures are used in their development.
Connectivity
Metaverse application connects from all around the world in a virtual 3D environment to improve communication.
Features of Metaverse application Development
Consider the scenario where you decide to create your own metaverse. The following features are,
Infrastructure
Working on the infrastructure is the characteristic of creating a metaverse. It alludes to the technical framework that will ensure the effective operation of the metaverse. These focus on Wi-Fi, graphics processors, and cloud computing or 5G.
You should consider the scalability of your infrastructure as the metaverse may expand.
Advanced Human Interface:
Tools that let users into the metaverse are human interface technology. For instance, AR and VR.
Digital avatar
The metaverse is most known for its digital avatars. An avatar can be made for any user when they sign up for the virtual environment.
Our Metaverse App Development Process
We strive to provide tailored metaverse app development solutions for every project, adjusted and aligned to your company's needs. To create apps for the metaverse, we adhere to a set of steps. The following steps make up our methodology for creating metaverse apps:.
Market Analysis
We gather data such as development needs, target audience, rivals, tech stack, etc. before beginning to construct a metaverse app.
Development and Design
We continue with the designing and development stage based on your specifications, where we concentrate on coordinating both the artistic and technical components.
Debugging and Testing
We favor quality over quantity. After the app is created, we spend adequate time testing its features to ensure that it is free of bugs and glitches.
Release and Deployment
We make sure the developed metaverse app is successfully launched and deployed on your choice platform following the testing and debugging phase.
Maintenance
In addition to providing metaverse app development services, we also take care of additional maintenance needs including server and app health checks and feedback-based app upgrades.
Industries we serve
Game
Fashion
Real estate
eCommerce
Banking
Healthcare
Social media
NFT marketplace
Technologies Supporting Metaverse Application
Internet of Things (IoT)
Blockchain
Augmented & Virtual Reality
Artificial Intelligence
3D Modeling
Why choose Hivelance?
As a leading metaverse development company,we employ certified metaverse app developers who are experts in creating metaverse apps with immersive user interface. Our specialists concentrate on creating your metaverse applications by delivering the project on time with high end standards.
If you wish to lead the way in this industry by presenting your own metaverse solution, Hivelance would like to help you. We can use our skills as a metaverse app development business to create your ideal product.