Metaverse
Metaverse Art Gallery Development To Create Your Own Metaverse Art Gallery
Hivelance is a top-notch Metaverse art gallery development company helps to create a own virtual art gallery in Metaverse to stay ahead in competitive market.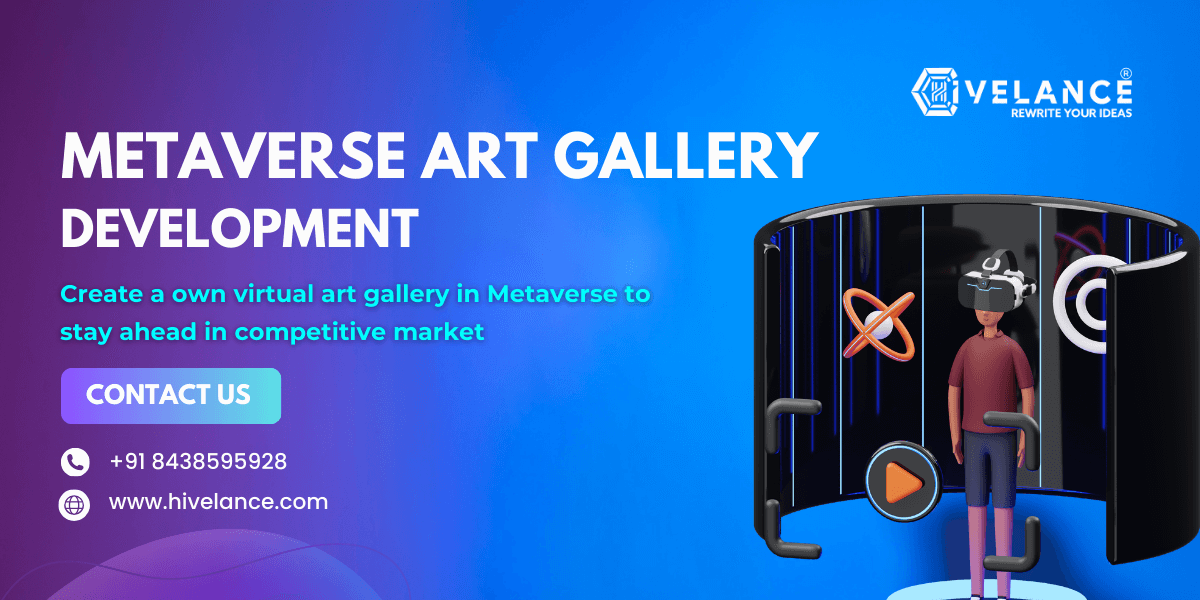 Create your Metaverse Art Gallery:
Building a metaverse art gallery entails making a virtual setting where digital artists and collectors may communicate, present their work, and engage with it. Users might be given the option to interact with works of art, animations, or even recreate their surroundings. It enables users and artists to make profiles showing their creations and collections, fostering community growth.
Metaverse Art Gallery- A Brief note:
A metaverse art gallery is an online virtual space where art and technology are combined to create an immersive and engaging environment for presenting and experiencing artworks. It makes use of virtual reality (VR), augmented reality (AR), or other immersive technology to offer a distinctive platform for artists to exhibit their works of art and for art enthusiasts to engage with art in novel ways. Users being able to engage with the artworks and the surroundings is one of the essential elements of a metaverse art exhibition. Users can interact with one another in the metaverse to foster a sense of community. They can stroll through the gallery together and even go to virtual openings and events.
Reasons why should you Create Metaverse Art Gallery:
As immersive digital technologies and art come together, creating a metaverse art gallery presents an abundance of fascinating options and advantages.
It crosses geographical borders, enabling artists to exhibit their work to a worldwide audience and allowing art fans to discover art from all over the world.
Metaverse galleries offer novel perspectives on and opportunities for engagement with art. Users can interact with 3D installations by walking through them, starting animations for an interesting experience.
Digital art frequently encounters problems with authenticity and preservation. Blockchain technology can support provenance, ownership verification, and value protection for digital art in metaverse galleries.
Vital Features of Our Metaverse Art Gallery:
To guarantee a riveting and engaging experience for artists, collectors, and consumers, the following crucial characteristics could be included in your metaverse art gallery:
Immersive virtual environment
3D art display
Personalized arts
Storefront
Virtual events and openings
NFT integration
AR/ VR Support
Admin panel
Auction portal
Wallet integration
Benefits of Our Metaverse art gallery:
There are several advantages to setting up a metaverse art gallery for artists, collectors, art lovers, and the larger creative community. The following are some major benefits of starting a metaverse art gallery:
Limitless creativity
Blockchain support
Easier authentication
Monetization opportunities
Immersive art experience
Global reach and accessibility
Novel arts collection
Easy accessibility
Revenue factors of Our Metaverse Art Gallery:
Listing fees
Bid Fees
Minting fees
Visitors fees
Advertisements
Premium memberships
Royalties
Real estate rents
How Choose Hivelance for Metaverse Art Gallery Development?
Hivelance is the reputed Metaverse development company, who have a special combination of knowledge in both art and technology, which enables us to comprehend both the artistic and technical facets of creating a metaverse art gallery. Virtual reality (VR), augmented reality (AR), blockchain technology, app development, and user experience design are just a few of the specialties represented on our team. By doing this, you can be confident that your metaverse will be flawlessly completed in every way. We are aware of the importance of user engagement. Our designs and features place a high priority on providing users with a simple, smooth, and enjoyable experience. Our design team is exceptional at making engaging and convenient virtual environments. Your objectives, demands, and aspirations are given priority. Our main priorities are your pleasure and the accomplishment of your assignment. We are aware of how crucial deadlines are. Our team is dedicated to completing your project on schedule and to your complete satisfaction.