Metaverse
Building Bridges to Education in the Metaverse: Hivelance's Trailblazing Metaverse Education Platform Development
Want to create an immersive Metaverse classroom for your students? Hivelance, a leading Metaverse Education platform development company, assists in the creation of immersive virtual classrooms where students may connect, collaborate, and study in a dynamic and engaging environment.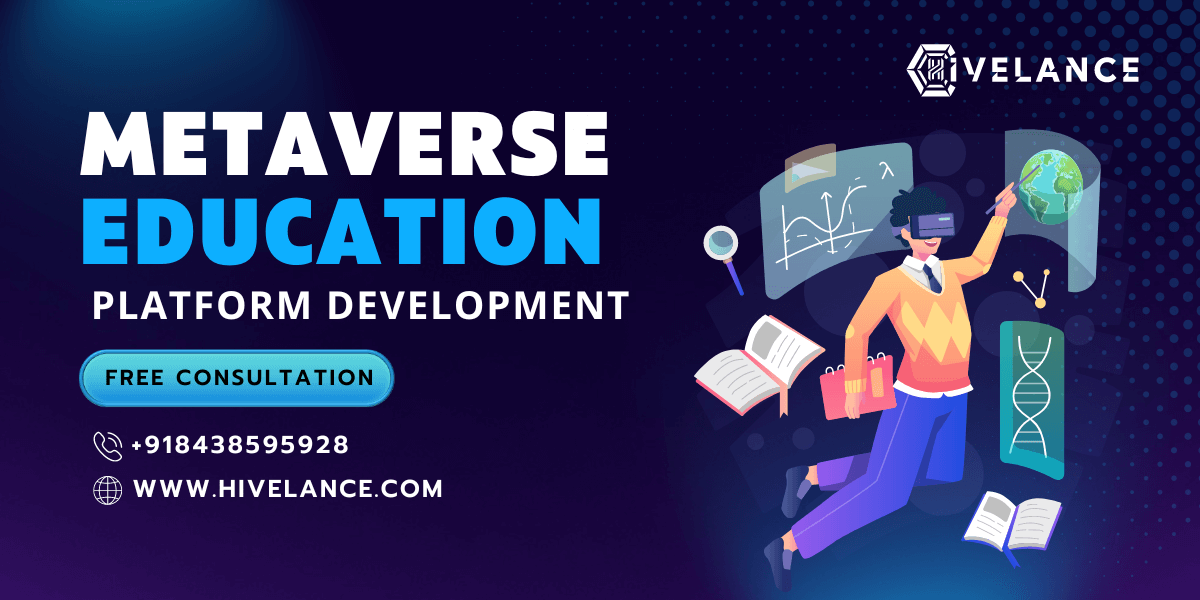 Build your Metaverse Learning Platform and Have an engaging Experience with 3D effects
When technology keeps developing day by day, realistic advancements stand before us. Could you imagine a technology that attracts the attention of many in recent times? Metaverse is such a mechanism that took a place in all minds because of its appealing result. Its influence can be observed in major arenas like fashion, real estate and so on. On the list stands the Education field. Metaverse and Education together can transform the educational structure and bring to light many enhancements. In this blog, let's learn more in detail about the metaverse education platform and how it is revolutionizing learning strategies.
Reason to begin with the Metaverse Education Platform
The Main scope of starting with a metaverse education platform is to grasp the dynamic learning methodologies that can make users more engaged. Despite going through a traditional learning flow, this helps us to enter the virtual world with realistic 3D animations. Learning becomes easier when it comes with graphical modules and here we get that picturization. As the metaverse education platform offers the experience of a real classroom, Educationalists start entering the metaverse to make education effective and realistic. Some vital approaches are available that rely in reshaping the education ecosystem and they are listed below:
Metaverse can enhance learning in the funniest way
It offers a real-life classroom experience
It supports immersive learning methods
Paves the way for reliable and fruitful communication
Metaverse Education Platform Development Company
As the top-runner in metaverse development, Plurance also engages in developing metaverse education platforms to stand ahead of the curve. Our education platforms help in learning through virtual worlds to avail the best quality education as rendered by schools, institutions, and so on. Books used for learning can be VR-supported with 3D visualizations. We have the best team of metaverse developers to design and build your virtual world for learning purposes. Collaborate with our team to create yours.
Features of the Metaverse Education Platform Development
Simulation of virtual real worlds
AR/VR Integration
Customization of avatars
Virtual classrooms for synchronous and asynchronous learning
Inclusion of gamification elements
Social and networking features
Full-time accessibility
Faster response to assessments
Multimedia content integration
Benefits of Metaverse Education Platform Development
Realistic ecosystem: Metaverse arenas are very realistic with 3D effects that turn all practical sessions to be more lively in the virtual world.
Highest Security: As the platform is decentralized with the usage of blockchain technology, security is higher. Educators can easily maintain the records in a safe way and provide a realistic learning experience.
Gamification: To make learning more interesting and easier, it transforms the metaverse education platform with the inclusion of many video games that inherit high-quality graphics.
Immersive learning Experience: The metaverse education platform provides an interactive learning experience to students who can explore virtual worlds and engage in hands-on activities.
Metaverse Education Platform Development Services We offer
Metaverse Education Platform Development: We develop custom metaverse education platforms that can be used by both educators and learners and bridge the gap to ensure immersive learning.
Avatar Creation: Our team creates customized avatars that allow users to personalize their own unique virtual identities. Some of the features that can be customized are the avatar's appearance, clothing, accessories, and so on.
Multimedia content Development: Different types of multimedia content like images, videos, audio, presentations and high-quality content can be integrated into your metaverse education platform.
Custom-made AR/VR Education Software: We bring in together AR/VR Techniques to establish the ardent metaverse software for making your education more reliable and interactive. When learning goes through this software, the 3D animations can help in gaining an education.
Why Hivelance for Metaverse Education Platform Development?
Metaverse is the hot buzzing arena of innovations holding its grip strongly and exploding various industrial verticals. Infusing the metaverse into education can create wonders. Education is journeying towards greater transformation by introducing many advanced ideologies. As a well-recognized Metaverse development company, Hivelance proudly steps in the educational field with the aim of assisting our clients to get the best virtual learning experience. We have 13+ years of experience in blockchain technology and we also have the efficiency of developing virtual worlds for enhancing education in an interesting way. With the intention of coordinating the teachers and students, our reliable metaverse education solutions will progress their way to the targets within a shorter duration.