Metaverse
Metaverse Event Platform Development - The Social Fabric of Virtual Events
Want to create your own Metaverse event platform? Get a complete Metaverse event platform development services from Hivelance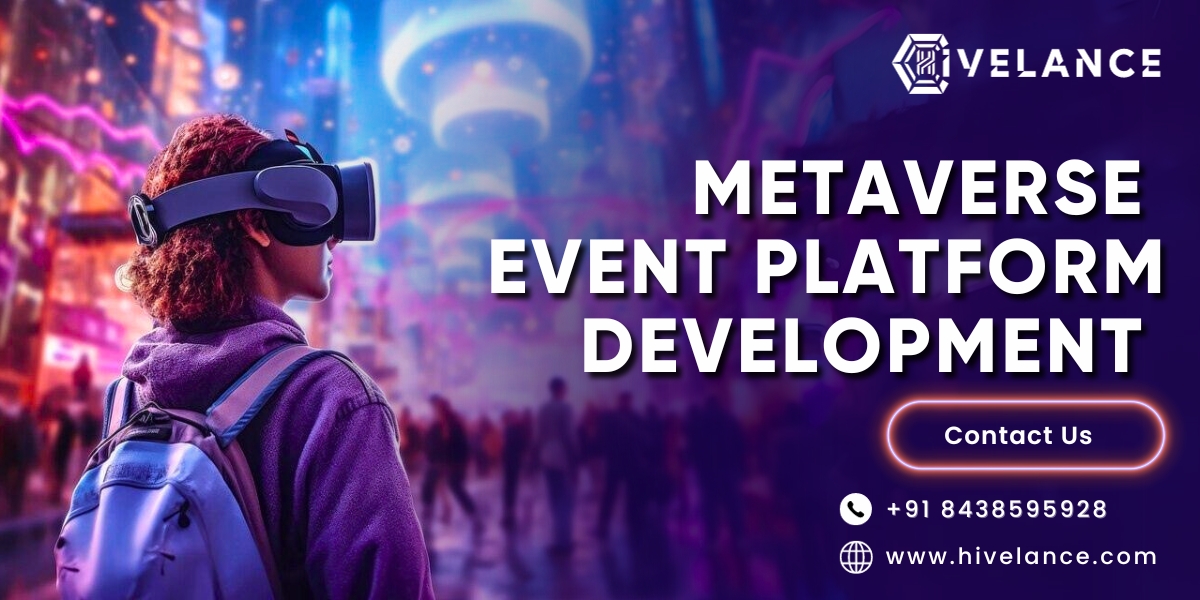 Metaverse Event Platform Development
Explore the Metaverse ways to transform events beyond the boundaries of your imagination with our metaverse event platform development solutions. Our metaverse event platform development marks a paradigm shift in the way we plan and participate in events. By providing utmost innovation in the digital sphere, these platforms have the potential to completely transform the event sector.
What Happens in a Metaverse Event Platform?
A metaverse event platform is a virtual environment created for hosting and coordinating numerous event types within the metaverse. In the metaverse, people can utilize avatars or digital versions of themselves to engage, socialize, work, play, and attend events.It brings together augmented reality (AR), virtual reality (VR), and other cutting-edge technologies to build a virtual environment where users may communicate with one another. These platforms provide a variety of ways to generate income, including ticket sales, virtual booth rents, sponsorship opportunities, and sales of digital goods. Events will allow attendees to join from anywhere in the world, reducing regional restrictions and fostering more diversity.
Metaverse Event Platform Development Company
Hivelance is the world's leading Metaverse event platform development company who can adopt the advanced technologies for the growth and innovation in the development of metaverse based outcomes. This entails integration with cutting-edge technologies like blockchain, AI. With our experience, we can create dynamic and intuitive metaverse platforms that attract a global audience and offer an unheard-of meta world with our adaptable Metaverse-based event platform. Our platform allows users to log in using compatible devices and navigate a 3D environment where they can attend conferences, concerts, and other events.
Features of Our Metaverse Event Platform Development
Our metaverse platform has appealing features and qualities that are attractive to an immense worldwide user base. Below is a list of a few of the distinctive characteristics.
Immersive 3D ecosystem: Our metaverse event platform system creates a 3D world that is both visually attractive and dynamic, allowing visitors to explore, interact, and move around in it.
Creation of avatars: It allows participants to design their own avatars, giving them a unique presence in the virtual world.
Outstanding Designs: Our event platform offers a wide variety of 3D design venue templates, enabling customers to choose their preferred template or exercise creativity by personalizing designs.
Venue development: It gives event planners the ability to construct and alter virtual event locations, such as stages, exhibit halls, and social areas, to better match their company identity and gathering concept.
Monetization opportunities: Our solution makes it possible for event planners to profit from a variety of sources, including as ticket sales, sponsorship opportunities, and leases of virtual exhibits.
Networking: It enables seamless networking, connection, and collaboration between guests by enabling real-time communication through phone chat, text chat, and video conferencing.
Benefits of Our Metaverse Event Platform
The Potential benefits of our metaverse virtual event platform is listed as below:
User engagement
Customization made possible
Brand visibility
Intuitive user experience
Cost-effective
Innovation and future readiness
User centric designs
Global accessibility
Easily handiness
Monetization opportunities.
Hire Our Metaverse Developers
Hire our experienced team of Metaverse developers to build your immersive and engaging Metaverse Event Platform. We will design and construct a state-of-the-art platform that will take your events to a completely new level using our expertise in virtual reality (VR), augmented reality (AR), blockchain, and 3D modeling. Our programmers are skilled at creating realistic settings utilizing cutting-edge technology. In order to build a solid and scalable platform, we excel at backend development and make blockchain integration. We are also skilled at putting social networking functions and customized user experiences into practice. We make sure their onboarding goes smoothly to incorporate them into your project team.
Metaverse Event Solutions We provide
Here are a few solutions that your Metaverse Event Platform could be able to help with:
Virtual Exhibitions: Innovative digital platforms like virtual exhibitions have changed how we present, engage with exhibitions. These immersive online environments have significantly increased in popularity, especially in recent years. We create your platforms with enriched features and functionalities.
Metaverse Fashion show: The metaverse's fashion shows are a ground-breaking blend of virtual reality, technology, and fashion. Fashion goods are shown on the platform using 3D models or by streaming real-world movies and photographs into the virtual environment.
Expos: Expos within the metaverse are an innovative concept made by our team of developers where we can host and go to exhibitions, trade events. These virtual meetings make use of cutting-edge technology, immersive encounters, and digital settings to offer interesting and approachable venues for displaying concepts, goods, and breakthroughs.
Sports in the virtual world: The fascinating new world of sports in the metaverse is where real-world athleticism and technological innovation combine to produce brand-new entertainment, competitive, and engagement opportunities. Sports fans can experience immersive viewing of our Metaverse event solutions.
Why Choose Hivelance for Metaverse Event Platform development?
With qualified engineers who have in-depth knowledge of blockchain, metaverse, Hivelance is a top Metaverse enhanced solutions provider who have a wealth of experience in cutting-edge technology. With a team of talented designers and developers, we work with advanced technologies like 3D modeling, augmented reality, virtual reality, and blockchain integration. Your Metaverse Event Platform will be at the cutting edge of innovation. We have a history of completing projects successfully. Our portfolio displays our capacity to develop engaging, dynamic, and user-friendly virtual worlds. User interface design and user experience are our top priorities. We are able to design user-friendly interfaces with attractive visuals that increase engagement and facilitate easy navigation for attendees. We offer complete assistance both throughout and after the development process. In order to ensure a smooth and trouble-free experience for both event organizers and attendees, our team is accessible to handle any technical issues.