NFT
NFT Lending Platform Development To Launch The World of NFT Lending Platforms
Hivelance is a full-cycle NFT lending platform development company that provides NFT lending and borrowing platform development solutions based on clients' requirements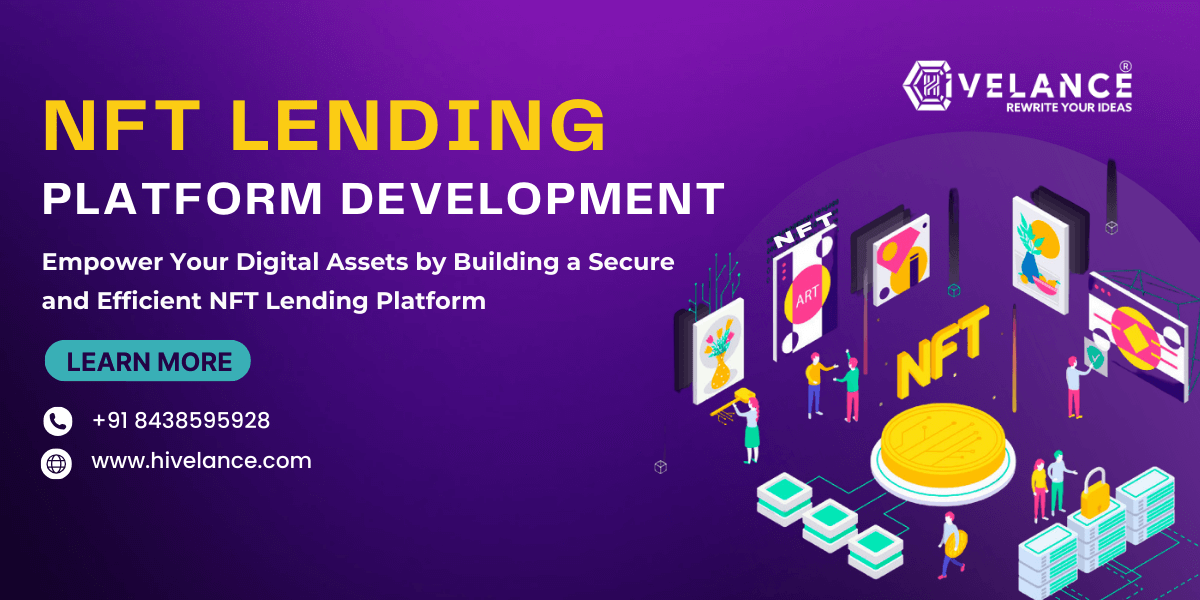 NFT Lending Platform Development Company:
Hivelance is a NFT Platform Development Company that offers services for NFT lending development.Holders can lend their NFTs to others on a temporary basis in exchange for interest or rewards through an NFT lending platform. As such, NFT owners now have additional chances to make money off of their assets without ever having to give them up. Put yourself in the position of owning a valuable and rare virtual artwork. You can lease it out using the NFT lending platform and receive a percentage of the artwork's worth in return for a predetermined amount of time.
NFT Lending Platform Development:
Our clients receive help from us while they create their own NFT lending platforms. On the NFT platform, we offer reliable peer-to-peer lending. We are a group of skilled individuals in the field of cryptography, and we help our customers by assisting them in carrying out technical product services.
The clients' customization forms the basis of our complete NFT Lending Platform Development process. To develop the loan platform, they can use whichever blockchain platform they want. Following the technical procedure, we assist our client with top-notch marketing services, which improve their NFT lending platform in the cryptocurrency space.
Benefits of our NFT Lending Platform:
More market awareness
NFT lending platform provides significant market visibility for business models because it enables customers to assess risk reductions.
Rewards:
NFT lending platform incorporates cash flow mining, which offers firms substantial returns.
Increased clarity:
Both lenders and borrowers have total transparency when using the NFT lending platform.
Enhancing Liquidity:
NFT lending platforms help the NFT market's liquidity to grow. NFTs are more readily available for trading and use when they can be lent and borrowed.
Features of our NFT Lending Platform:
Wallet integration:
Your NFT assets are accommodated on the blockchain network by wallets. The owners of NFT assets cannot function if their wallets are not integrated. Our NFT lending platform development aids in the integration of the user's preferred wallet to allow such folks to operate without any problem.
Asset Catalog:
Onemust first list their NFT assets in order to receive loans. We offer a ton of listing-friendly features to make the process easier. The NFT holders must include details while listing their securities, such as asset value, loan term, loan-to-value (LTV) ratio, etc.
Additional Search Filters:
With our NFT lending platform, choice will never be difficult because sophisticated search criteria make it easier. Filters that are simple to use will make it easier for borrowers to list their assets, and lenders will be able to find the best loan deals.
Market Visibility:
Our completely effective NFT financing platform grants your business model great market visibility so that it is present among the target market. Additionally, it brings enough visitors to the platform while doing so.
Community Management:
The roles and duties of users in managing the platform are determined by this functionality. A mechanism for swiftly offering the intended services in terms of: new feature requirements, updates, community allocation, etc.
Flexibility:
Your payments and NFT assets will be under the supervision of centralized lending platforms. A decentralized lending network, however, will provide users power, allowing them to pursue hassle-free lending and borrowing activities.
Our Development process for NFT Lending Platform:
Market Research and idea verification:
Before commencing any venture, thorough market research is essential. Establish the market need for your platform and determine who your target customers are. Recognize holes your platform can fill by understanding the current NFT lending players. To improve the design and functionality of your platform, solicit customer feedback.
Strengthening the design and concept:
Describe the essential features of the platform and create a user-friendly user interface. User engagement is increased by a well-designed platform. Ensure that users may easily list their NFTs for lending, browse available NFTs for borrowing, and manage their lending portfolios by taking into account user experience (UX) standards. Work together with designers and UX professionals to develop a platform that is both visually appealing and useful.
Develop Smart Contracts:
Create secure smart contracts to control the lending and borrowing process. Verify the contracts for weaknesses by conducting an audit. Your NFT lending platform's foundation is made up of smart contracts, which automate every step of the loan process. Write the smart contracts in cooperation with skilled blockchain developers and test them rigorously to assure their security and dependability.
Designing user interfaces:
Create a user interface that makes NFT lending simple. Make sure it is responsive and available on all platforms. Users should be clearly guided through the lending process via the user interface. Use interactive components that increase user engagement, clear call-to-action buttons, and straightforward navigation. To provide a seamless user experience, keep the design in line with the branding of your platform.
Integration of Wallets and Payment Gateways:
Integrate well-known wallets and safe payment processors to enable smooth transactions. Users can easily connect their wallets to the platform thanks to the user-friendly wallet integration. Implement secure payment gateways to allow borrowers to pay interest and fees and lenders to collect their profits. Select reputable payment solutions because security is crucial when working with money and personal information.
Security and testing audits:
Check the platform carefully for errors and weaknesses. To safeguard user data and funds, do security audits. Prior to the platform's debut, thorough testing is essential to find and fix any technological problems. Perform both functional and security testing to make sure all features operate as intended and to determine how resilient the platform is to threats. Engage outside security auditors to examine the platform's code for flaws.
Marketing and Launch:
Launching the platform with a clear marketing plan will help it draw in investors, lenders, and borrowers. A multifaceted marketing strategy is necessary for a successful launch. To generate excitement about your platform, use social media channels, blockchain groups, and focused online advertising. Emphasize its distinctive qualities, user advantages, and the possibility of earning money through NFT lending.
Why choose Hivelance for NFT Lending Platform Development ?
As a NFT Marketplace Development company, Hivelance builds NFT lending platforms on many blockchains, including Binance Smart Chain, TRON, EOS, and others.To protect your lending platform from cyberattacks, we include security technologies of the highest military caliber.
Users can conduct quick transactions at the lowest possible cost because of the characteristics of our NFT lending platform. We help our clients' and customers' project development process to the fullest extent possible.