NFT
NFT Marketplace Development Cost in 2022: The Complete Guide
NFT marketplace development Costs explained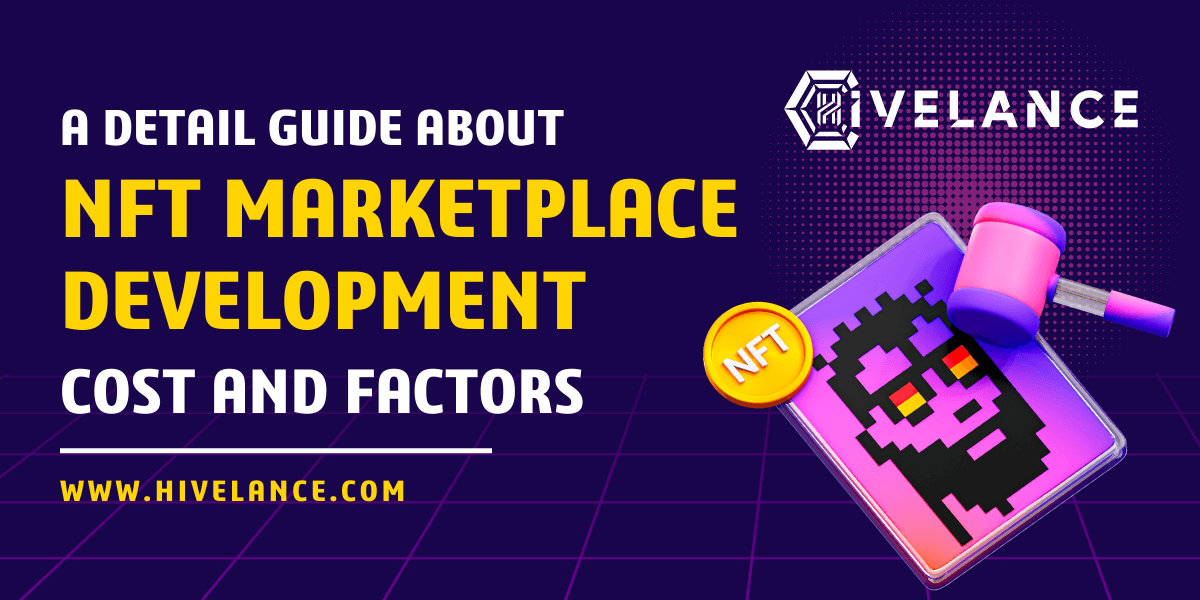 NFT marketplace is money-making, earn-to-use, and a success element for any crypto business. But what goes into building a successful NFT marketplace? Or, more outstandingly, how much do you need to spend on developing an NFT marketplace?
Being an entrepreneur, you must work out the minimum cost of NFT marketplace development if you have an idea in your mind. After all, it is one of the most important parts of your business. So, how much will you have to pay out, and how will you optimize the entire cost? What are the more important feature and factors?
Before answering all the queries given above, let's start with some essential statistical data!
Top NFT Marketplace Statistics 2022
There has never been a greater time for building the NFT marketplace globally. Let's look at the snapshot of the top NFT marketplace' global market statistics!
NFT marketplace is the backbone of the NFT ecosystem, and its development finally reflects the general landscape of NFT ecosystems and the special segments in it.
According to a report, the NFT marketplace revenue reached $27million in 2022, and we expected to reach USD 122.43 Billion by 2028
> Still, Ethereum is one of the top NFT blockchain networks. In particular, OpenSea beat the rest of the NFT market, Earning $48.5 million in sales volume with more than 22,000 users in the last month.
> However, Binance Smart Chain (BSC) with its low transaction fees and speed of transactions has allowed BakerySwap, AirNFTs, and Treasureland to push the limits of the NFTs capabilities so much better.
> WAX is also one of the top blockchain networks and well-played in the NFT ecosystem that can enable the users to collect affordable NFTs
> We can predict NFT marketplace revenue to increase at 34.10% CAGR by 2028.
> Over 62% of NFT users enter the marketplace around the globe!
Top Key Players in the NFT Marketplace
> OpenSea
> Dapper Labs
> The Sandbox
> Axie Infinity
> Rarible
> Art Blocks
> Foundation
> Superrare
> Mintbase
> Larva Labs
> CryptoKitties
> Sorare
> Solanart
> Cryptopunks
> And more
Factors Affecting the NFT Marketplace Development Cost
It would help to see different factors while creating an NFT Marketplace. Let's look at the top affecting aspects of NFT marketplace development cost!
1. Pre- NFT Marketplace Development Costs
To make a well-framed NFT marketplace development process, developers build a tactic in the documentation that covers all the NFT marketplace development details. It's an important step being the fundamental of the whole project.
The NFT marketplace development document creation process needs time and effort, which causes pre-development costs. You can fix these costs depending on form like cost per working hour.
2. Blockchain Platform
It would help if you chose blockchain platforms. Your selected platform highly affects the NFT marketplace development cost, alongside the reach and revenue of the NFT marketplace. Ethereum development costs more than BSC. But, Ethereum is more popular in the NFT marketplace.
If you choose EOS, Tezos' or other blockchain networks check it before the cost of expenses. Single-blockchain NFT marketplace development costs less than multiple-blockchain NFT marketplace development.
However, you cannot get revenue from other blockchain platforms if you choose only one platform. Hence, the best option is to choose cross-chain NFT marketplace development to enjoy every platform's perks.
3. NFT Marketplace Design
Designing an NFT marketplace follows a multilayer method. You can plan the target audience, liquidity, non-interoperability, and tradability in this stage. Without planning a correct design, the NFT marketplace may make many bugs and glitches. Hence, you should do this step carefully.
Many experts who engage in the whole NFT marketplace design and development cycle are UI/UX designers, architecture, and blockchain experts. These professionals charge fees depending on their capacities and experience.
4. NFT Marketplace Testing

The testing process is too crucial, like NFT marketplace development. After all, users cannot tolerate a small number of bugs.
Hence, assure that your NFT marketplace runs seamlessly, without any problems, and provides a good user experience. Hold your budget aside for testing services offered by the NFT marketplace development company.
5. Different Types of NFT Marketplace

The NFT marketplace development cost highly depends on whether you create a simulation NFT marketplace, a Collectibles NFT marketplace, or an NFT ticketing platform. We can categorize different types of NFT marketplaces:-

> Collectibles NFT Marketplace
> NFT Art Marketplace
> NFT Ticketing Platform
> NFT Marketplace for Music & Media
> NFT Gaming Platform
> NFT Marketplace for Real-world assets
> NFT Marketplace for Identity
> NFT Marketplace for Memes
> NFT Marketplace for Domain names
5. NFT Marketplace Complexity
After deciding on the NFT marketplace category and types, you know an NFT's crucial features. If it's a simple NFT marketplace, social media integration will be sufficient.
However, if you are developing an NFT marketplace like Opensea, Axie Infinity, and NBA Top Shot, you will need to add different features based on the need. This increases the NFT marketplace development cost.
6. Storage Platforms, NFT Standards & Minting
The Storage Platforms, NFT Standards & Minting NFTs are other primary factors impacting NFT marketplace development costs. Hence, its selection is a must as your NFT marketplace depends completely on these factors. Depending on the features, type, and category essential in the NFT marketplace, you will require selecting the storage platforms like
> IPFS
> Filecoin
> Pinata
> And more
NFT Standards
> ERC-721
> ERC-1155
> BEP-721
> BEP-1155
> FA2
> dGoods
> TRC-721
NFTs Minting
An NFT is a blockchain-based asset that proves ownership of digital items like images, video files, and even real-world assets. In simple words, Minting an NFT refers to changing digital files into crypto collections or digital assets stored on the blockchain.
The digital items or files will be saved in a decentralized database or distributed ledger and cannot be edited, changed, or deleted. Like to fiat currency creation, when a manufacturer mints a physical coin, the process of transmitting a specific item to the blockchain is known as minting.
You can find different types of NFT marketplaces in the NFT marketplace development era. All of them have some pros and cons. You need to select according to your business requirement.
How Much Does NFT Marketplace Development Cost?
As we explained earlier, the NFT marketplace development cost is highly dependent on a number of factors like the required platform, the features and functionalities included, development technologies, and the types of the NFT Marketplace. Also, the cost varies from company to company the basis of region and location.
If you want to develop an NFT marketplace with all the advanced features, high-complexity add-ons & functionalities with support for cross-chain platforms, it may cost you more. The cost will decrease if you have fewer demands.
Key Factors to Consider NFT Marketplace Development
> Crypto Wallets
> Auctions & Sales
> Smart Contracts
> Unified Tokens
> Unique Tokens
> Transparency
> Compatibility
> Ownership Rights
> And more
Wrapping Up
Creating an NFT marketplace is a great method that needs an efficient team of experts. Selecting an NFT marketplace development company is a vital option that decides the future of your NFT marketplace. Assure to get the desired work quality for the cost you are paying. Check different NFT marketplace development companies and choose the one that offers the best service at a reasonable rate.
Custom NFT Marketplace Development Company
Hivelance is one such NFT marketplace development company that takes care of your NFT marketplace from ideation to delivery and even after that. Whether you need to develop NFT marketplace from scratch or want to clone an existing NFT marketplace, our team of experts delivers NFT marketplace development solutions that speak for your brand.
We offer end-to-end NFT marketplace development services by building a high-performance, intuitive, secure, and best-in-class tailored NFT marketplace utilizing state-of-the-art technology and tools to address the requirements of your startup or enterprise.
Our NFT Marketplace Development Process Includes:
> Understanding your vision, goals, and requirements
> Planning, conceptualization, and rough sketching
> Designing
> Coding and development
> Testing
> Launching and maintenance
We will continuously be in touch with the clients' team to ensure all the aspects and requirements asked for getting implemented on the NFT marketplace.
Do you want to learn more in detail? Are you planning to develop a customized NFT marketplace? Contact us today to get a free quote for all your NFT marketplace development needs by filling out the get in touch form available below.