NFT
Top 5 NFT Real Estate Projects of 2022
Explore this blog and know about Top 5 NFT Real Estate Projects 2022!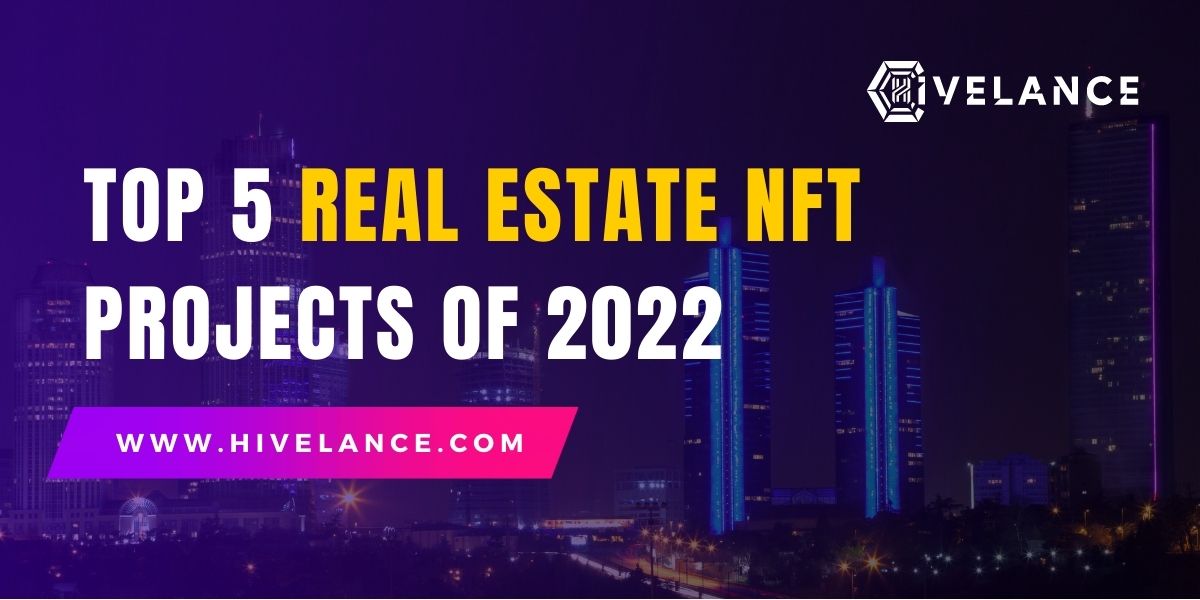 Virtual reality is the buzzing hot topic spreading across the globe. Virtual real estate is one of those latest technologies rolling out faster. Top brands are starting their initiative to buy plots on metaverse with fluttering potential and largest investments. Virtual land plots have a massive utility with various benefits and it includes building virtual offices, launching exhibitions, hosting concerts and fashion shows, etc.
Top 5 real estate NFT projects in 2022
Real estate investment club- The best NFT project
Decentraland- Hottest Metaverse project
Bloktopia- Unique Web3.0 virtual skyscraper
Sandbox- Top potential enriching metaverse project
Somnium Space- Advanced real estate metaverse project
1. Bloktopia
The highest noted real estate project is Bloktopia, a virtual web3.0 skyscraper that aims to become a central hub for crypto information, immersive content, and Web3 experiences. Bloktopia token owner is referred to as a Bloktopian.
It will be an engaging spot to relax, socialize, have fun and compete with each other to earn more rewards.BLOK serves as the native token of Bloktopia. Users will be able to buy tokens on both centralized and decentralized exchanges.
2. Decentraland
Decentraland will be the one-point destination for purchasing virtual plots with proper transaction processes. Commonly known as the blockchain-based ledger of parcels. Each plot of land in Decentraland will be tokenized into NFTs and stored on smart contracts.MANA is the native token of Decentraland for purchasing lands. We can expect a bigger revolution in the near future.
3. The Sandbox
The Sandbox is a popular metaverse platform similar to Decentraland. It is a virtual world where users build, own and monetize unique interactive gaming experiences.SAND is the governance token of The Sandbox used to purchase equipment, customize Avatars, and claim assets and land. Users can earn passive income from SAND through staking with a share of the transaction fees generated from trading.
4. Somnium Space
Somnium Space is the emerging metaverse project paving the pathway for immersive communication for an open, social and persistent VR world on Web3. It will empower users to buy land, build or import objects, and use avatars and scripts using metaverse tokens and NFTs.
5. Real estate Investment Club
Being the top use case of NFT projects, the Real estate investment club is the collection of independently constructed, high-quality, generative NFTs constructed on the ERC-721 blockchain. The NFTs serve as your avatars in the Real Estate Investment Club metaverse where real estate and finance are taken as the main consideration. This platform offers metaverse access, education resources, and networking.
Best company for NFT Real Estate Marketplace Development
As Real estate NFTs are gaining an unbelievable response with virtual reality concepts, and business magnets and top industries are ready to purchase lands. Hivelance is the leading NFT marketplace development company and of no doubt, we can afford you the best cost-effective solutions by implementing advanced technicalities within the estimated timeframe. Talk to our experts and begin your metaverse projects…!!!!