NFT
Nifty Gateway Clone Script To Empower Artists and Collectors in the NFT Space
Nifty Gateway clone is a readymade NFT marketplace script that helps to create a well-known NFT marketplace, like the Nifty Gateway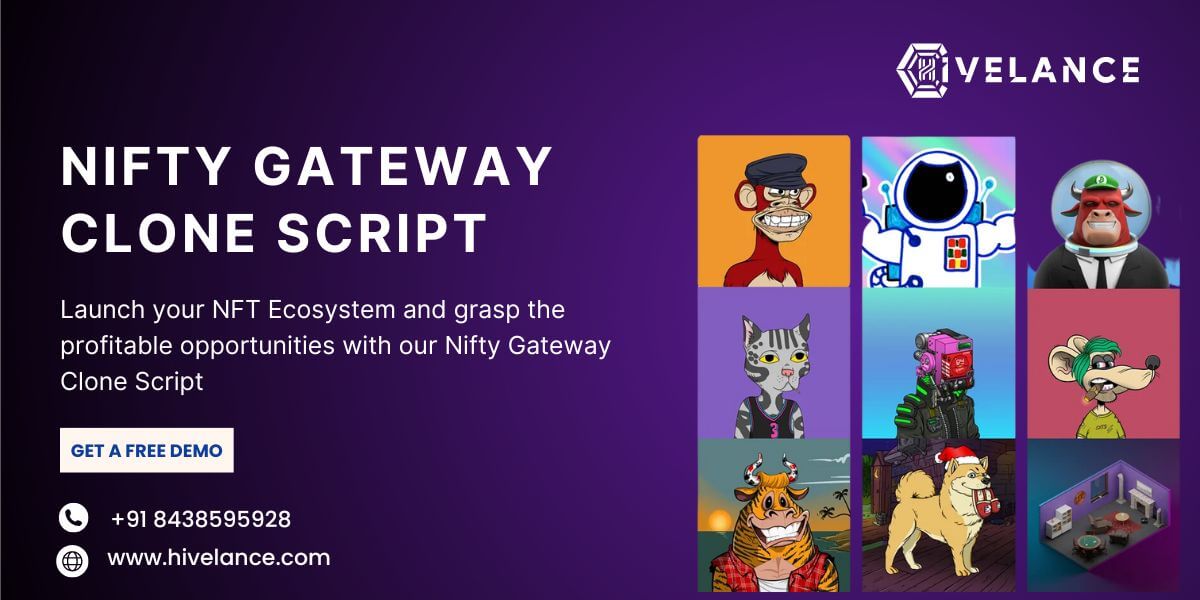 Nifty Gateway Clone Script: Launch your NFT Ecosystem and grasp the profitable opportunities with our Nifty Gateway Clone Script
Marketplaces for digital assets are numerous in the markets, and among them Nifty Gateway plays an important role. To describe it in short, Nifty Gateway is considered to be the popular marketplaces for buying, selling and trading digital assets, mainly the focus relies on the NFTs. The user-friendly interface and collaboration of several blockchain networks makes Nifty Gateway to have the highest level of popularity in the expanding NFT sector. In what way Nifty Gateway stands unique by offering benefits to the users is the most needed factor here. Both owners and collectors can get their benefits and monetise their work with the ownership. In detail, Let's discuss the Nifty gateway like platform creation and its offerings to the users.
Peep about the Interesting Details of Nifty Gateway Clone Script:
Nifty Gateway Clone script is a readymade software solution that replicates the features and functions of the original nifty gateway platform. It enables business owners to develop their own NFT marketplace like Nifty Gateway, where users may buy, sell, and trade digital assets. Users are able to offer their NFTs for sale or auction,making it easier to buy and sell NFTs on the open market. Our clone script has been thoroughly tested and has all of the superficial characteristics needed to enhance the trading. Users can browse and search for NFTs and get comprehensive information about the assets. At Hivelance, We can offer you the pre-built Nifty gateway clone scripts to guarantee a hassle free trading experience.
What Makes the Need for Nifty Gateway Platform?
The emergence of Nifty Gateway satisfies a variety of needs in the digital environment, especially with regard to NFTs. The following are some important causes driving the demand for Nifty Gateway:
Artists, Collectors can interact with NFTs on a platform that is easy to use and make the accessibility more enhanced.
It helps in providing the monetization opportunities and can attract the global audience.
It produces an open and secured record of digital assets by maintaining ownership and transaction history on a decentralized ledger.
The Platform supports multiple blockchain networks, which in turn guarantees highest security.
As it operates on the rapidly expanding NFT Market, they provide the space for the creators to explore and participate in trading wisely.
Unique Features of Our Nifty Gateway Clone Script:
Our Nifty Gateway clone script provides a number of features to enhance the trading process and renders the best user experience. Typical features included in the platform are listed below:
NFT Creation options and also minting them
Storefront
NFT Listing and auction
Buying and selling NFTs instantly
Robust admin panel
Integration of wallets
Multiple payment gateway
Filter and search menus
Notifications are received at regular intervals
User friendly interface
Guaranteed ownership
Management of user's profile
Multilingual support
Integration of powerful APIs
Blockchain integration
Admin Dashboard
Secured transactions.
How does Our Nifty Gateway Clone work for enhancing your Business?
Operating similar to Nifty Gateway platform, Our Nifty Gateway Clone script will affirm in providing the simplest working process. The step by step procedure of the platform is listed below:
Users must create an account by providing the essential details of them.
Connecting to the digital wallets like metamask, trust wallet assures in making the transactions more easier and secured.
Bringing the NFTs of their own to the platform is the most needed one by mentioning the price details.
Buyer can look for the preferred NFTs, can search it through the search options and can decide whether the price matches their needs.
If the price equals their requirements, the ownership of NFTs are transferred, affirming the transfer to the buyer after the exchange of funds.
Security Features of Our Nifty Gateway Clone Software:
Strong security elements are included in our Nifty Gateway clone software to guarantee the security of user accounts, transactions, and digital assets. Some typical security aspects to take into account are:
Two factor authentication
Encrypted data transmission
SSL Encryption
Integration of secured wallets
Secure key management systems
Robust smart contract inclusion
High end secured payment gateways
Asset protection
Redundancy protocols to reduce misleadings
Privacy settings for the user's account prevention.
Blockchain Networks supported in Our Nifty Gateway Clone Script:
Ethereum
Solana
Tezos
Binance smart chain
Polygon
Flow
Hivelance is the trustworthy partner for Nifty Gateway Clone script development:
Hivelance is the reputed Nifty gateway clone script development company who specialize in developing feature-rich NFT marketplace solutions that replicate the operations and user interface of the well-liked Nifty Gateway platform. In order to fully comprehend the clients unique business requirements, objectives, and desired features for the Nifty Gateway clone, our team works closely with them. We also focus on front-end development to create an intuitive and responsive user interface for the clone script. Several tests will be performed by our testing team to assure security, performance and some of the vital tests we carry out are user acceptability testing, unit testing, and integration testing. If you are looking for a clone script like Nifty gateway, Contact our team of experts to become a millionaire in a short duration.