NFT
P2E Cricket NFT Marketplace Development Company: Building the Ultimate NFT Game Marketplace for Cricket Collectibles
As a prominent P2E Cricket NFT marketplace development company, Hivelance helps to create your Play-To-Earn Cricket NFT marketplace that allows your users to buy, sell, trade, and create cricket digital collectibles and player cards in an effective way.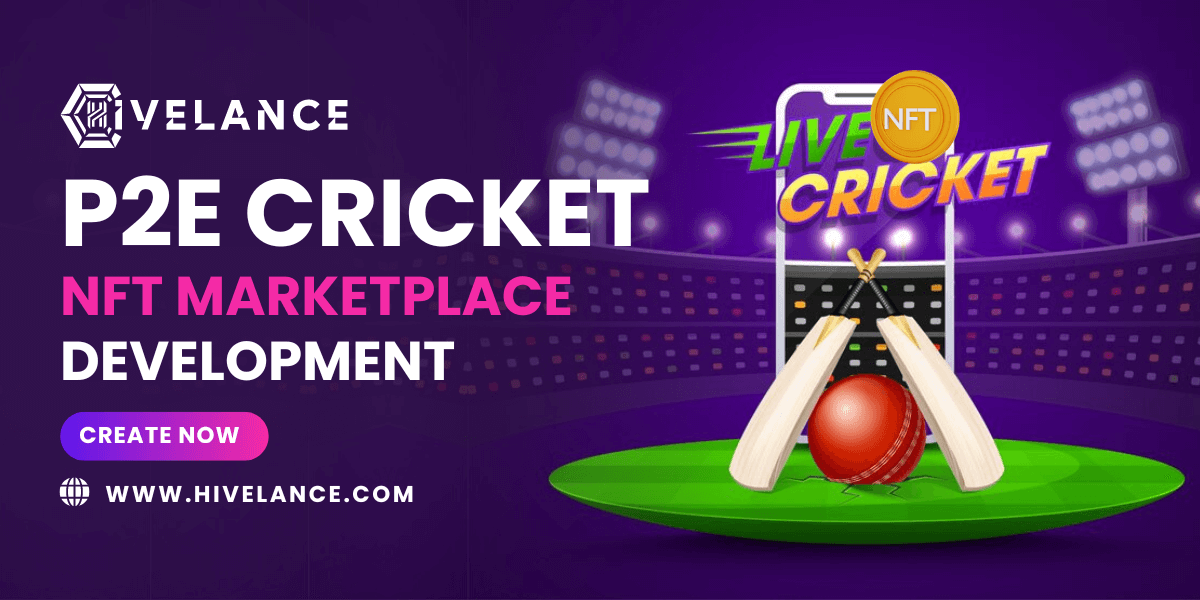 P2E Cricket NFT Marketplace Development Company
The idea of sports has been around for a very long time. Philosophers have frequently been criticized for their criticisms of the material world. However, sports have undergone numerous revolutions based on new trends, keeping up with a significant aspect of every culture.
Years later, we may now enjoy sports easily since they have a place in every aspect of our lives. Web3 and its NFT core component, have introduced commerce into sports, allowing athletes to benefit from both the rush of excitement and monetary funds.
P2E Cricket NFT Marketplace Development
P2E Cricket NFT Marketplace Development is an exhilarating opportunity for the sport. Cricket fans could be able to buy and accumulate specialized digital assets. These resources might consist of virtual stadiums, player cards, and other sport-specific artifacts. A unique gaming experience might be developed using the market for cricket lovers. Players might use their digital assets for competing against one another in virtual contests giving a new way to interact with the sport.
At Hivelance, we provide high-end development services to establish an NFT cricket market. By utilizing cutting-edge technologies, we help businesses create a strong NFT cricket gaming platform to manage the selling, bidding, and trading of digital assets as NFTs.
What is Cricket NFT marketplace?
Cricket NFT Marketplace lets users purchase, sell, and trade distinctive digital collectibles like playing virtual cricket cards. Iconic cricket moments, or even exclusive access to cricket fans. The platform uses blockchain technology to guarantee the authenticity and rarity of each item, making it a secure and dependable market for cricket enthusiasts and collectors.
P2E Cricket NFT Marketplace Development Company
Create your P2E cricket NFT marketplace through our innovative approach, we equip players to earn real value from their in-game accomplishments and assets, developing immersive and rewarding gaming experiences.
Hivelance is a top-grade P2E (Play-to-Earn) Cricket NFT marketplace development company specializing in developing online cricket gaming environments where users can play cricket games and achieve rewards or real-world value using NFTs
We provide services like user experience design, smart contract development, NFT marketplace development, Whitelabel NFT Marketplace, and blockchain integration.
P2E Cricket NFT Marketplace Development Services
Cricket NFT Marketplace Development
Our specialists provide a simple and dependable NFT marketplace for customized experiences due to their solid expertise in smart contracts and cricket NFT marketplace development.
Whitelabel Cricket NFT Marketplace
Build a unique cricket NFT marketplace using our customized white-label solutions. White-label cricket NFT marketplace has customized and rebranded solutions based on business requirements.
Smart Contract Development for Cricket NFT marketplace
We provide development and audit services for NFT smart contracts that set the guidelines for executing secure and authenticated NFT transactions. We also regularly test the smart contracts to make sure they function without errors.
Marketplace maintenance and support
We regularly monitor, manage and provide assistance to guarantee the flawless operation of your cricket NFT marketplace. Additionally, we provide our clients with post-launch assistance which includes continuing administration of third-party updates, fresh OS iterations, and more.
Design and development for Cricket NFT marketplace
Our team designs a user-centric cricket NFT marketplace with deep knowledge of ERC-721, and ERC-1155 standards, IPFS protocols, and smart contracts.

Cricket NFT development
Based on the business needs of the clients, our cricket NFT Marketplace Development services also involve the tokenization of assets through the creation and issuance of new SP tokens with high-end functionality.
Features of P2E Cricket NFT Marketplace Development
User interface
An inherent and user-friendly platform to buy, sell and trade cricket NFTs.
NFT tokenization

Capable of creating, trading, and managing unique digital collectibles based on cricket.
Verification and authenticity

Secure and verify the ownership of NFTs using blockchain technology.
Analytics and market insights
With pricing trends and marketability, users can access data and insights on the cricket NFT marketplace.

Social and community feature
A place for fans to link, communicate, and share their cricket NFT collectibles.
Integration with other platforms
Ability to incorporate famous gaming and streaming platforms, enabling a seamless user experience.
Virtual museums and exhibitions
Fans can view and display their collections in virtual museums and exhibitions.
Secure transactions
Using cryptocurrency and smart contracts, transactions will be kept secure.
Benefits of developing Cricket NFT marketplace
Fan engagement will be much better.
Possibly, you can own a streamlining Revenue generating model.
The platform will provide you with unchangeable records of NFT ownership
Players can enjoy a unique sports experience where all gameplay is user driven.
Multiple in-game assets can be traded on the platform due to interoperability and authentic gameplay.

Additionally, you will have simple access to some of the strong community buildings with our technologically sophisticated yet simple-to-deploy solution.
How To Create a P2E Cricket NFT Marketplace?
Create an NFT platform: The initial step in building a cricket NFT marketplace for cricket artifacts, moments, and in-game assets is to create an NFT platform that is capable of handling NFT creation, purchase, sale, and trading. This platform should be created using blockchain technology to ensure transparency and security.
Create distinctive and valuable NFTs associated with cricket: This following phase is to produce distinctive and valuable NFTs associated with cricket, such as collectible player cards, in-game assets, and special moments from matches. These NFTs ought to be made to appeal to cricket collectors and fans.
Draw cricket enthusiasts and collectors: You must draw cricket enthusiasts and collectors if you want to expand your market. This can be accomplished by producing interesting content such as articles, and films that highlight the special qualities and worth of your NFTs. To reach an audience, you can also make use of social media as well as digital marketing tools.
Create partnerships and collaborations: It would be advantageous to create partnerships and collaborations with cricket clubs, players, and other cricket-related organizations to improve the value proposition of your market. This will enable you to provide unique NFTs and experiences that are not offered on other platforms.
Implement a fair and secure trading system: To provide a fair and secure trading system, your NFT marketplace should have an open and automated trading system that guarantees all transactions are recorded on the blockchain and that the NFTs are distributed to the appropriate purchasers.
Build P2E Cricket NFT Marketplace on Leading Blockchains
We provide P2E Cricket NFT marketplace services that enable users to build an NFT market with an abundance of features on many blockchain networks, including
Ethereum
Avalanche
Polkadot
Polygon
NEAR
Play-To-Earn Cricket NFT Marketplace Clone Script
P2E Cricket NFT marketplace clone scripts are pre-built software solutions that replicate the features and functions of current P2E cricket NFT marketplaces. Using Our Cricket NFT Marketplace Clone, you can easily and quickly get your own Cricket NFT Marketplace.
List of P2E Cricket NFT Marketplace Clone Script
Jump.Trade – Meta Cricket League (MCL)
FanCraze – Owning Memorable Cricket Moments
CricRush – Improving Fan's Interest
Colexion- Licensed NFT collection
Rario-officially licensed cricket NFT marketplace
Hire P2E Cricket NFT Marketplace Developer
At Hivelance, P2E Game NFT marketplace Developers on the NFT Marketplace have the knowledge to create solutions that effectively address all of your business needs. Hire our P2E Cricket NFT Marketplace Developers with more experience in cryptocurrency and NFT marketplace development services who can provide state of art Cricket NFT Marketplace solutions to fulfill the needs. We do effectively communication with the client and monitor the project with our expert team to deliver all your needs.
Why Choose Hivelance for P2E Cricket NFT Marketplace Development?
Hivelance is a top-grade P2E Cricket NFT Marketplace Development Company that strives to develop real value out of in-game items in the form of digital collectibles. For our NFT-based P2E gaming systems, we employ rapid launch techniques. We speed up your market entry with our white-label P2E Cricket NFT Marketplace solutions. In order to assist organizations expand quickly, we have extensive experience in building applications based on technologies like smart contracts, NFT, blockchain, etc.