NFT
Photography NFT Marketplace Development Company
HIvelance is a leading NFT photography marketplace development company offering end-to-end photography NFT marketplace development solutions and services.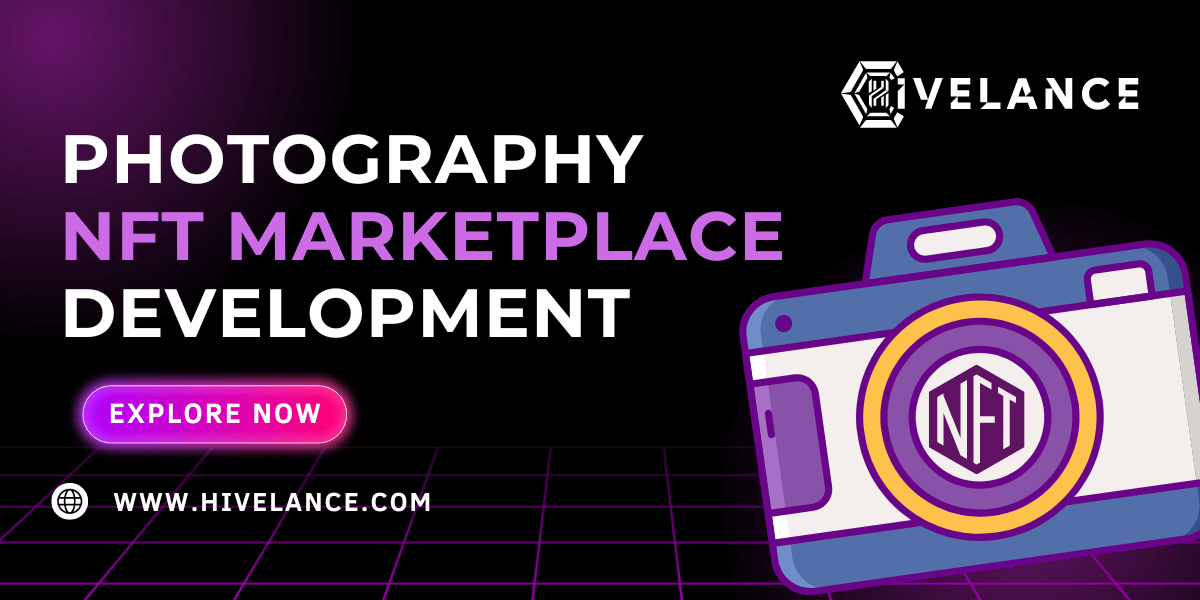 Photography NFT Marketplace Development
Looking for a trustworthy and cost-effective solution for developing your own photographic NFT marketplace? Contact our Photography NFT marketplace development company for creating an exclusive photography NFT marketplace featuring Photo NFTs. Leverage the adoption of Photo NFTs in your favor by creating a Photo NFT marketplace with us.
Revamp the Photography World Via the lens of photographic Artist
In recent years, the NFT marketplace has expanded at an astounding pace. According to NonFungible.com, the NFT marketplace exploded in 2021, with first-quarter sales hitting over $2 billion.
The primary reason for the growth of the NFT marketplace is the expanding interest in blockchain technology and the usage of cryptos. NFTs offer the best way for creators, photographers, and artists to invent their digital items and for collectors to invest in unique, one-of-a-kind digital assets. The benefit of blockchain technology also offers a transparent and highly secure way to check and verify the validity and ownership of NFTs effectively.
A photography NFT marketplace is a platform where photographers can sell their digital photographs as unique and valuable tokens on the blockchain. NFTs are digital assets that can be bought, sold, and traded just like physical assets, but they exist entirely in digital form and are verified on a blockchain.
Photo NFTs are thriving with the increase in usage of the photography NFT marketplace by photographers for selling their photographs as unique and valuable tokens on the blockchain. Photography NFT marketplace that provides a smooth experience for the buyers will gain popularity and ownership rights. But, creating such a remarkable photography NFT marketplace is the best choice for budding entrepreneurs who are all ready to enter the high-demand market.
Are you one among those seeking a perfect way to build a cutting-edge Photography NFT marketplace? Then, this is a wonderful chance for you to give life to your NFT-based business dreams. Our end-to-end Photography NFT marketplace development solutions with highly advanced features will amaze many enthusiastic business owners like you. Our team of experienced professionals works relentlessly to deliver robust Photography NFT marketplace development solutions that will streamline the entire NFT marketplace operations. Once you launch your own Photography NFT marketplace with our outstanding features, you can grow your business exponentially. Our highly customizable and white-label photography NFT marketplace development solutions suit many NFT marketplace-based models. So, whatever may be your photography NFT marketplace development concepts, our meticulously built photography NFT marketplace script with futuristic features and functionalities adapts swiftly and smoothly.
With a successful record of delivering stunning photography NFT marketplaces, our team of experts creates stunning photography NFT marketplaces that runs smoothly across the top of the blockchain networks and provides an immersive experience to the photographers.
How Photo NFT Marketplaces Are Effective?
Photo NFT marketplaces can be effective in many ways:

Provide a distinctive approach to create photography: Photo NFT marketplaces offer photographers a distinctive way to create their art. They can sell their photographs on the marketplace and earn a commission by minting them as NFTs.
Provide a platform for collectors: Photo NFT marketplaces give collectors a platform to buy rare and unique photos as NFTs. These collectors can be drawn to the images due to their rarity and uniqueness as well as the possibility of future value growth.
Transparency and Security: The use of immutable blockchain technology in NFTs provides raised transparency and security. Each Photo NFT is unique, trackable, and cannot be replicated, executing it easier to prove ownership and reliability.
Worldwide accessibility: Photo NFT marketplaces provide worldwide accessibility to photographers and collectors. You can participate in the marketplace, making it easier for photographers to reach a wide range of audience and for collectors to obtain a unique and rare photos from around the world.
Overall, photo NFT marketplaces can provide an efficient way for photographers to make their work, for collectors to obatain unique and rare photos, and for the industry to benefit from increased transparency and security.
Salient Features of Photography NFT Marketplace Development
Multi-Wallet Support
Storefront
Listing and selling Photo NFTs
Photos NFT minting
Auction
Royalty system
NFT Promotion
Escrow Service
Search and filtering
Analytics and Reporting
Community features
Listing Creator
And more
Benefits of White Label Photography NFT Marketplace Development
Any Photos, Image files may now easily be converted into an NFT.
It's simpler to trade these Photo NFTs.
Transparency is assured in all aspects, from minting to trading.
It is not feasible to change the ownership or the photos themselves.
There are several opportunities for photographers to gain attention worldwide audience
Lifetime royalties
Possibility of releasing photos and image works globally
Photography NFT Marketplace Development on Various Blockchain Networks
Ethereum
Solana
Binance Smart Chain
Polygon
Polkadot
Cardano
Tron
Tezos
Flow
Near
Avalanche
Immutable X
Hedera
WAX
And more
Why Choose Hivelance For Photography NFT Marketplace Development?
With hands-on experience, Hivelance can provide Photography NFT Marketplace development solutions using cutting-edge technologies. Our proficient developers use the latest resources and tools to deliver end-to-end Photography NFT marketplace development solutions. We are a leading Photography NFT Marketplace development company with a unique portfolio. We make sure to help you in building cross-chain, feature-rich, and engaging photography NFT Marketplace by amplifying the power of blockchain. Our pool of experts works with flexibility and concentrates on our clients' needs to fulfill their expectations.
150+ dedicated & skilled experts
Expertise in various technologies
Strong reputation for high-quality work
Cost-effective Solutions
Ethical and Truthful Approach
Flexible engagement options
Global Quality Standards
Best-In-Class Project Management
Time-Zone Compatibility