NFT
Polkacity Clone Script To Develop Your Own NFT Virtual Marketplace
launch your business by build your Virtual NFT Ecosystem like Polkacity NFT Marketplace with Hivelance's Polkacity Clone Script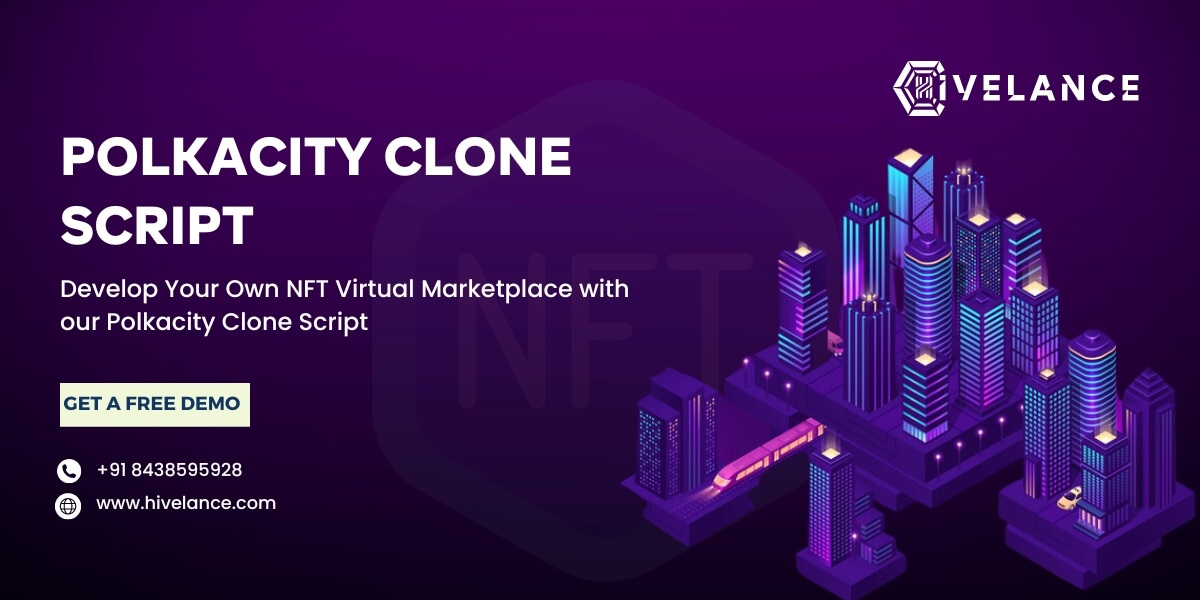 Polkacity clone script:
Polkacity clone script is a ready-made solution to develop a virtual NFT marketplace platform that looks and functions like Polkacity. All users and investors have permission to use the virtual city and are able to invest their money there in different assets like virtual hotels, taxis, and others. It's one of the most clever concepts for business people who want to easily make a virtual word similar to Polkacity.
Hivelance is the predominant NFT Development Company concentrated in building a virtual NFT ecosystem with enabling features including high standard security, flexibility, and required modifications.Our team excels in constructing real-time NFT marketplaces by including top-notch visuals and VR services for the purpose of building an exceptional NFT marketplace.
Polkacity : A virtual NFT marketplace
A sort of virtual investment platform, Polkacity is a sort of Virtual investment platform, which is an open-source, decentralized system that is completely automated and enables users to buy virtual assets like energy stations and rental cars. It also enables users to profit from each referral they make to new users. Polkacity was developed using the Polkadot and ethereum blockchain networks. Additionally, it provides services such as marketplace, exchanges, buy assets, and bridge. The sophisticated virtual city combines DeFi, NFT and Polkadot.
Prime Features of Polkacity clone script:
Our polkacity clone script has prime features which makes investors benefit from their business.
NFT AR/3D store:
Users can purchase 3D and AR based NFTs from the store to use in the Polkacity metaverse at a later time.
ETH-BSC Bridge:
The bridge in PolkaCity enables fast cross-chain token exchanges for ETH and BSC as well as speedy transfers of POLC tokens.
Treasure hunt NFT:
Players must locate NFTs from the treasure hunt in a combat amongst NFT users.
Certik audit:
Smart contracts are audited by CertiK to assure their security. The polkacity NFT market will receive a secure assessment once the audit is finished.
NFT creation tools:
Polkacity offers a free creation tool to create your own NFTs on your virtual property.
25% APY:
Payments are made to those who possess the user's assets. As a rate of return for investments made in polkacity, the city promises a 25% annual percentage yield.
Incredible benefits of developing Polkacity Clone:
The following are some of eye-catching benefits that a polkacity clone script has to offer,
Improved virtual encounter
Customizable
Cross-chain efficiency
User friendly scalable
Simple to use wallet
Efficient transactions
Multiplayer assistance
How does Polkacity clone function?
You must first sign up as a member of the polkacity community.
Following that, you must select from the platform your desired virtual assets, such as cabs, hotels, petrol stations, and other assets.
After choosing the chosen asset, the user must make a payment at the location specified on the contract.
Following completion of the process, the users will be paid weekly in accordance with the asset.
Why launch a platform for Virtual investment games like Polkacity?
There are a many factors that could influence someone's decision to introduce a virtual city-game platform like Polkacity:
1.To make gaming enjoyable and interesting:
The ability to express one's creativity and capacity for strategic thought can be enhanced by playing a virtual city building game.
2.Combine blockchain technology and cryptocurrencies:
A virtual city building game that incorporates blockchain technology and coin incentives can serve as a platform for actual trading and investment opportunities.
3.Creating a community:
A community of like-minded gamers with a passion for blockchain technology, gaming, and cryptocurrencies may be found through a virtual city-building game.
4.To bring in money:
A popular virtual city building game can make money from in-game purchases , sponsorships, and advertising.
5.Pushing the limits of blockchain technology through innovation:
Create a blockchain based virtual building game through innovation which outcome in new research and improvements in the field of blockchain technology.
Why choose Hivelance for Polkacity clone development?
Hivelance is a top-grade Virtual NFT marketplace development company with talented specialists developing decentralized platforms like Polkacity. We are the top choice of organizations because of our result-focused methodology, readiness to finish the project on time, and implementation of agile approaches. We have a talented and knowledgeable development team with in-depth knowledge of NFT standards and blockchain platforms including Ethereum, Tezos, and EOS protocols. Our blockchain developers are skilled at completing challenging decentralized projects in the allotted period.