Cryptocurrency
Poloniex Clone Script to build a Crypto Exchange similar to Poloniex
Individual entrepreneurs can use this poloniex clone script to launch the crypto asset exchange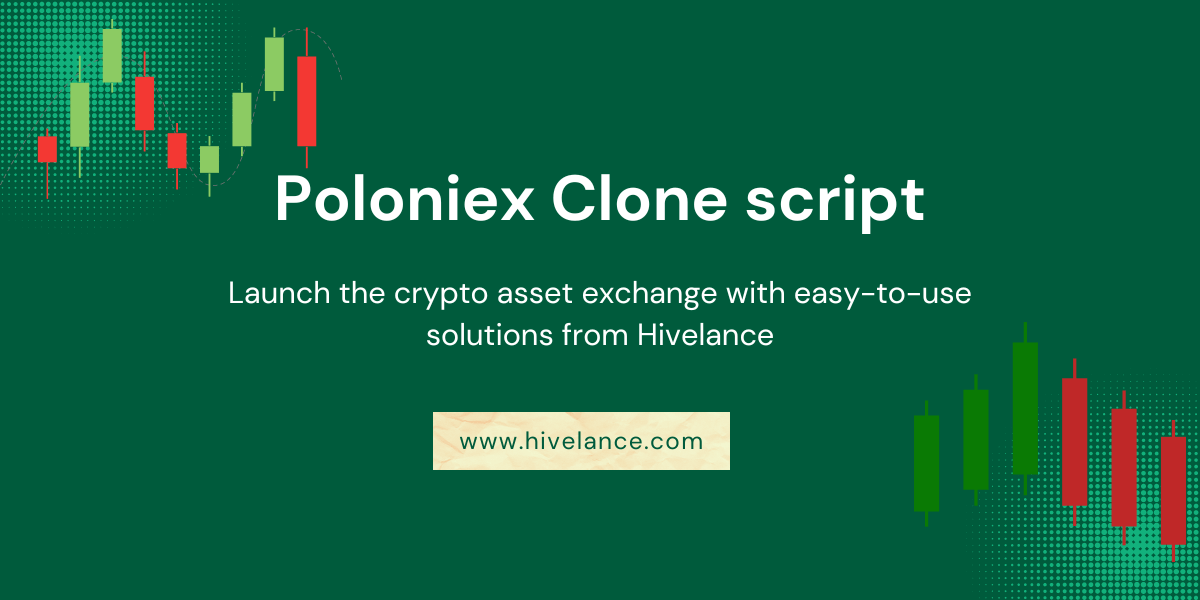 Individual entrepreneurs can use this poloniex clone script to launch the crypto asset exchange without much technical background.
About Poloniex clone script
Poloniex clone script is the pre-made digital asset exchange script that can work similar to Poloniex. The entire color, UI, UX, features, functionalities, trading models, replicate the same as Poloniex. When someone has the idea to start crypto exchange ventures in their own ideology, they can get this poloniex clone script and get started with customization.
Features of Poloniex clone script
Buy/sell crypto with fiat - Users can easily buy or sell crypto in exchange for fiat currencies via master cards, apple pay, Visa cards, and bank transfers. When the purchase is completed, the cryptocurrency is deposited in users poloniex wallet directly.
Spot trading - Spot trading is the instant trading of cryptocurrency at the current price. Make your exchange easily accessible for newbie traders with spot trading. The order placement, exchange of assets happens fluidly with our poloniex clone.
Future trading - Cryptocurrency future option facilitates agreement between two parties on specific price predictions at the fixed interval of time. Traders get the profit when the price drops or rises and makes this trade transaction successful.
Crypto Exchange - The exchange of digital currencies or swapping the assets to maximize the profits. The traders can exchange the assets and hold them to earn the benefits in long term value. Our poloniex clone script supports 100+ trading crypto pairs.
Rewards program - Enable referral marketing in your digital asset exchange and reduce the marketing spend. The management of referral commission, code generation for every user can be done automatically with the help of our poloniex clone.
Multi crypto/Wallet support - Upto 150+ most trending cryptocurrencies can be traded on the go. The intuitive admin panel has the ability to add the new tokens or coins in a swift. Support your users with many crypto wallets they wish to use.
Market dashboard - Traders can analyze the market cap of the cryptocurrency with data driven information that looks in a graph chart. The entire transaction history and price fluctuation of the cryptocurrency can be ideally seen to make informed decisions.
API integration - The poloniex clone script is supported with end to end API support right from registration option to advanced trading engine. Customer support, liquidity, Wallet, Order book records and other complex systems can be accessed in an easy way.
Multi-lingual support - Launch your digital asset exchange in multiple languages dispensing on the region you operate. Single feature to make your landing page adaptable into different languages based on the user IP address.

Security measures in Poloniex clone script
Two Factor Authentication - Eliminate the unwanted users to access your account just using the password alone. The data breach or hacks can't cause significant damage to your account if you enable two factor authentication.
16 Digit Key backup - In case of losing your device and unable to login the account, you may use a 16 digit key to retrieve the password back. This feature requires your users to store the private keys offline to avoid data breach.
Automatic log out - When the user session is completed with whatever they are tended to do, the exchange automatically logs out the user account. This prevents the data breach that can happen in users' browser systems or mobile apps.
Anonymous IP detection - When the anonymous login is detected from an unknown IP address or device , the admin system sends out the notifications alert to the users. We designed a poloniex clone script by making sure all security measures are integrated.

Poloniex clone app development
Poloniex clone app development for both iOS and android can be done with the help of our mobile app developers. Our app developers can design a lightweight crypto asset exchange app similar to poloniex with the latest technology stack implemented.
Bring out the scalability, best user experience, adaptability to any mobile screen to your exchange app in a matter of time. We pre-tested the app multiple times and iterated hundred times to make sure the operation is happening seamlessly.
Why Choose us for Poloniex clone development?
We at Hivelance Technologies have the footprints in the crypto industry for 10 years. The established proficiency in crypto exchange development, resources availability, technical infrastructure we build can help you to take a competitive advantage in development.
We made a secure poloniex clone script that you deploy on your domain and set to live the exchange in a minimum of 2 weeks.