Blockchain
Private Blockchain Development To Build A Trust in a Private World
A private blockchain development company, Hivelance offers comprehensive blockchain development services and solutions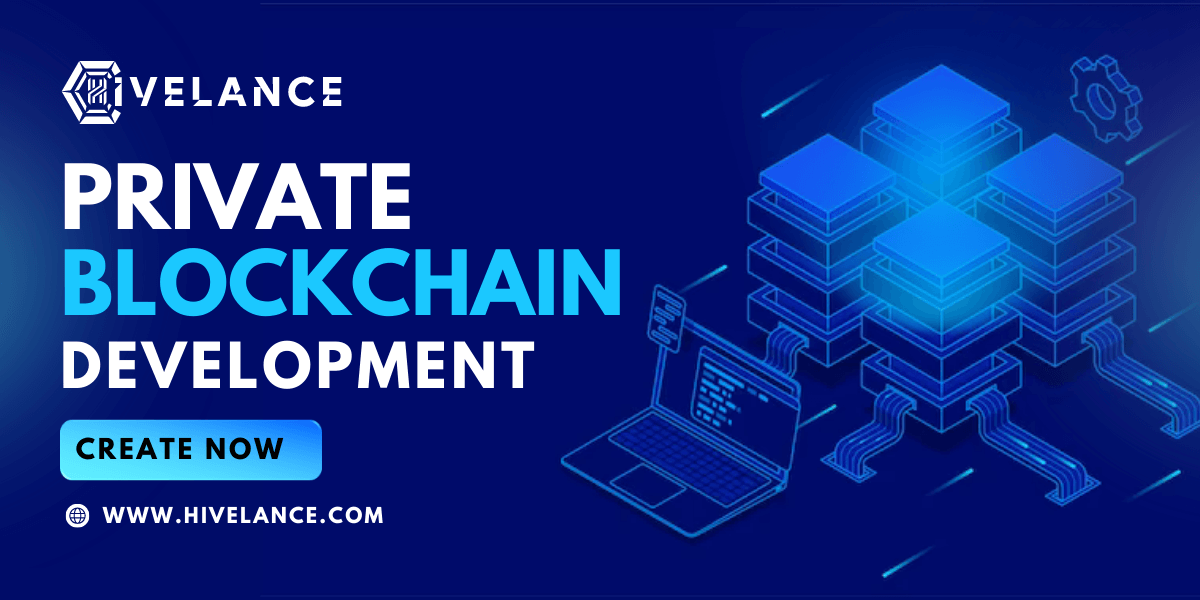 Private Blockchain Development Company
Utilize the advantages of private blockchain technology with the help of our team. We are the pre-eminent private blockchain development company to provide tailored solutions for your business needs. Are you a business owner looking for improved data accuracy, security, and transparency? We assist you in providing ardent and astounding services.
Private Blockchain and its Importance
A private blockchain is a specific kind of blockchain network that only allows authorized members to access it and functions in a closed, regulated environment.

Why should one go for a private blockchain? The reasons are listed below:
Enhanced Privacy: It ensures that only individuals with the proper authorization are able to access and view sensitive data by controlling access to your blockchain.
Permissioned Access: Users must receive authorization or credentials in order to join and interact with a private blockchain. Only the network administrators can usually regulate access.
Centralized Governance: Private blockchains are frequently managed by a central authority or a group of reputable organizations. They have the power to decide on the network's rules and protocols.
Immutable records: Users can create a transparent, auditable digital ledger to record all transactions and provide a history of your company's operations.
Faster Transactions: Compared to public blockchains like Bitcoin, private blockchains offer faster and more effective transaction processing. This makes it possible to execute a large number of transactions without any problems, ensuring efficient operations for your business.
Private Blockchain Development
A private blockchain is a decentralized network that achieves centralization by connecting all of its nodes to a single hub that controls the entire system. Private blockchains are particularly well suited to enterprise use cases where companies need a secure, open, and impenetrable ledger for internal procedures and collaborations with well-known and trusted partners. Private blockchains are frequently used for supply chain management, financial services, healthcare data, and government-related activities. It facilitates the goal of achieving efficient operations within their respective sectors and it also provides faster and more simplified transaction processing than other blockchain networks. Since private blockchains are not subject to the constraints of public networks, such as the proof-of-work (PoW) employed in Bitcoin, they can adopt more effective and computationally less demanding consensus techniques.
Hivelance is a trustworthy Private blockchain development company with 10+ years of experience that can offer professional advice on the viability and layout of your private blockchain project. They may aid with project scope definition, use case identification, and choosing the best blockchain platform and consensus mechanism for your requirements. According to your business needs, we may customize the private blockchain development solutions that support the goals of your business, guaranteeing that it satisfies your unique demands and improves workflow.
Private Blockchain Development Services We Provide
Private blockchain development services by Our skilled team include a variety of products and services to build, implement, and support private blockchain networks for enterprises and organizations. These services are made specifically for customers who need better security, privacy, and control over their blockchain networks.
Custom Private Blockchain Development: In order to guarantee that the blockchain precisely complies with the client's requirements, Our efficient team constructs private blockchain networks from the ground up. This entails picking the proper data format, consensus mechanism, and privacy characteristics.
Smart Contract Development: We build open-source, and effective smart contracts to automate their functioning. We can help you choose the best blockchain platform for your project, which can be based on your needs.
Wallet Development: We develop wallets for carrying out safe transactions and for storage purposes. To ensure security, two-factor authentication and cutting-edge encryption methods are used.
Dapp Development: We work on focusing the privacy, scalability, and control over your applications are all features of DApps on private blockchain networks. For businesses, this strategy is very advantageous.
Integration of Consensus mechanisms: Security, decentralization, and scalability levels of various consensus systems differ. Choosing the best consensus mechanism for a network's needs is assisted by private blockchain development services for clients by our team.
Private Blockchain Consulting Services: To assist you navigate the complexities of blockchain technology and take advantage of its potential for your company, we provide complete consulting services. With extensive knowledge of the market and technological proficiency, we can offer insightful analysis and tactical suggestions.
Tokenization: Our talented team can design unique tokens and adopt pertinent token standards, such as ERC-20 or ERC-721 if the client needs to issue tokens for internal use, fundraising, or rewards.
Benefits of Developing Private Blockchain
Creating a private blockchain can provide a number of advantages for businesses that want to use blockchain technology to keep control over their networks and data. One of the main benefits of creating a private blockchain is as follows:
Highest efficiency
Faster transactions
Improved privacy
Controlled governance
Low-cost transactions
Proof of work consensus mechanisms used
Entire customization made possible
Transparent records
Compliance and regulatory functionalities
Integration of smart contracts to automate the business process
Improved business relationships.
Features of Private Blockchain Development
Private blockchain development entails building a network of blockchain nodes that only allows authorized users access and works in a closed, regulated environment. Private blockchain development features are designed to specifically address the requirements of companies and organizations looking for increased security, privacy, and control over their blockchain networks. The following are some vital features of private blockchain development:
Authenticated credentials provided
Predefined and limited participants
Governed by a centralized entity
Information are maintained confidential
Appropriate consensus mechanisms implemented
Smart contracts integration plays an important role
High performance and scalability
Interoperability and secured network environment guaranteed.
How We Develop Private Blockchain for Your Business?
A series of stages are taken during the private blockchain development process to build a closed and controlled blockchain network for businesses. The typical private blockchain development process is summarized below:
Requirement Gathering and Analysis
Infrastructure designing
Network development and node configuration
Smart Contract development
Consensus mechanism integration
User interface design
Testing and deployment
Maintenance and support.
Why Choose Hivelance for Private Blockchain Development?
Hivelance is a well-reputed Private blockchain development company, and we are dedicated to providing organizations with innovative, secure, and private blockchain solutions. Whether you want to increase data security or improve operational efficiency, our team is prepared to guide this transformative path with you. We provide customized blockchain solutions and Our team creates specialized private blockchain networks that properly match the goals of your company, ensuring top performance and effectiveness. We also offer strong encryption and access restrictions to ensure the security of your sensitive company data and transactions. We use cutting-edge security methods to protect your data from unauthorized access and manipulation. We place a high priority on comprehending your business needs and objectives. In order to analyze your needs and offer customized solutions that support your vision, our team collaborates directly with you.