DeFi
QuickSwap Clone Script To Create An AMM-Powered DEX Like QuickSwap
QuickSwap clone script is a pre-built decentralized exchange script that allows you to create your own AMM-powered layer-2 decentralized exchange with advanced features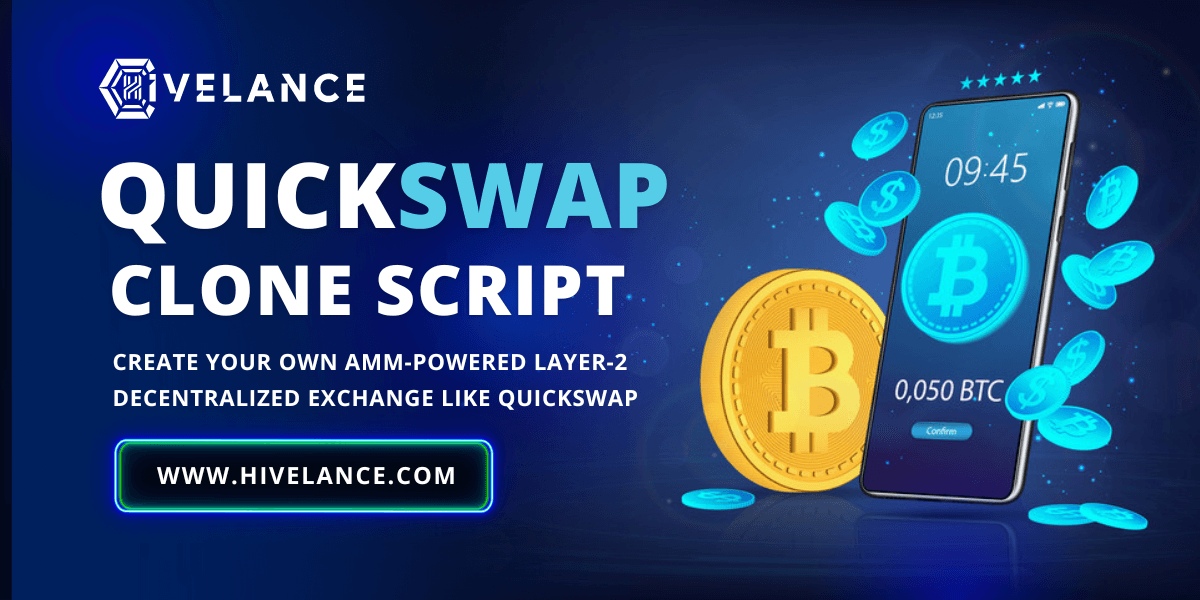 QuickSwap Clone Script
QuickSwap Clone Script is a ready-made and multi-tested decentralized exchange software that is built on the Polygon (Matic) blockchain network. This script mimics the core features and functionalities of the existing QuickSwap Exchange platform. Our pre-built clone script instantly helps startups and entrepreneurs start their own decentralized exchange platform like QuickSwap instantly.
QuickSwap DEX Clone Software
QuickSWap DEX clone Software is a sophisticated DeFi exchange platform development solution. You may use this to build your own DEX, which is appealing to Defi traders who already operate in the cryptocurrency market. It is readymade software that offers total customizability. Even though this QuickSwap clone has already been created and comes equipped with all the necessary functionality, you may still alter it to suit your own business needs. For starting your Defi business, the QuickSwap DEX clone will be more reliable, successful, and cost-effective.
White Label QuickSwap Clone Software
White Label QuickSwap Clone software is 100% customizable and decentralized crypto exchange software. It provides you with the whole infrastructure of a DeFi exchange, including all technical and security features, and assures cost-effectiveness with advanced features such as QuickSwap. Our White Label QuickSwap Clone Software allows you to modify the features, functionalities, and user interface based on your business requirements. Our expert developers create the QuickSwap clone script by analyzing the latest technologies and using cutting-edge tools to deliver a highly trustworthy platform.
Salient Features of our QuickSwap Clone software
Permissionless Listings
In our QuickSwap Clone Platform, users can list any ERC20 token by providing liquidity for the trading pair. There is no need to get permission from any other person or entity to list a token.
Layer 2 Transactions
Our QuickSwap Clone transactions are supported by Polygon, a Plasma-based Layer 2 Ethereum scalable solution. This implies that asset swaps may be completed in 2 seconds at a fraction of the cost of gas on the Ethereum mainchain. Transactions on Polygon reach finality on the Ethereum mainchain, combining Ethereum's security with Layer 2's huge speed capabilities.
Non-Custodial Trading
Users can trade on this platform using their personal wallets such as MetaMask, Coinbase, and others. Before trading, there is no need to deposit the tokens on this platform. During the trading process, users will have complete control over their tokens.
Liquidity Mining:
You may create a platform that will be rewarded through trading pools and token distribution, just like QuickSwap. As a result, this promotes the development of a strong community of liquidity providers.
Yield Farming:
Every transaction on the platform will be subject to the trading fee. Traders who provide liquidity to the platform will get a portion of trading commissions in the form of shares for their investment in the liquidity pool stake.
Community Governance:
Our QuickSwap Clone will be regulated by the community. This governance process will own the platform's native token. Native token holders will be able to submit proposals for protocol changes and vote on aspects such as mining liquidity pools and more.
Advantages obtained from our QuickSwap exchange clone script
Bug-Free: If you are using a bug-free and multi-tested Quickswap clone script, then you can obtain several benefits in your decentralized exchange business. Such as
Instant Launch: Using our Quickswap exchange clone script, you can quickly launch your DEX like Quickswap in a short span of time and allow your users to trade different cryptos using different payment options
High ROI: Our pre-built Quickswap exchange clone script helps startups and entrepreneurs to enter the crypto market quickly and helps them to generate high ROI.
Advanced Features: Our white-label Quickswap exchange clone software is completely designed and developed in a way similar to Quickswap with cutting-edge features like yield farming, liquidity, swapping, switching, etc.
Speed and efficiency: QuickSwap's clone script is designed to be highly efficient, allowing for fast transaction processing and low latency. This can provide a better user experience and attract more users to the platform.
Low transaction fees: QuickSwap's clone script is built on the Polygon network, which has significantly lower transaction fees compared to other blockchain networks. This can help to reduce the cost of using the platform for users and make it more accessible to a wider audience.
High liquidity: QuickSwap's clone script can benefit from the high liquidity of the Polygon network, which is growing rapidly as more DeFi projects are built on the network. This can help to ensure that there is sufficient liquidity on the platform to support trading activity.
High-end Security: QuickSwap's clone script is built in a decentralized manner, meaning that it is more secure and less vulnerable to hacking or other security breaches. This can help to build trust with users and attract more traders to the platform.
100% Customizable: QuickSwap's clone script is 100% robust and customizable, meaning that it can be tailored to meet the specific needs of your business. This can include customizing the user interface, adding new features, or integrating with other blockchain protocols.
Overall, QuickSwap's clone script can provide a robust and efficient platform for building a decentralized exchange on the Polygon network. With its low fees, high liquidity, and customizability, it can help to attract more users and traders to the platform and build a successful DeFi business.
Why should you use Polygon (Matic) Blockchain?
The Polygon (Matic) network is the best solution to Ethereum's scalability difficulties. The platform's primary purpose is to improve scalability through the use of Proof of Stake sidechains, and it is predicted that once the scalability issues are resolved, transaction costs will be lower, with faster confirmations and a variety of other advantages. And the Polygon network contributes to improved usability without sacrificing the benefits of decentralization. In comparison, Matic Blockchain users have their transactions completed in 1 second and at a much lower cost than Ethereum Blockchain users.
This is why it is feasible to use Matic Blockchain for your QuickSwap clone platform development.
Can you build a QuickSwap-like DEX platform on different blockchain networks instead of Polygon (Matic)?
We at Hivelance, have skilled developers who are 10+ years of experience in developing the Decentralized Exchange platform. We have the ability to develop the QuickSwap- like DEX platform on various blockchain networks. We can build the QuickSwap Clone Script on the following blockchain networks:
Ethereum
Tron
EOS
Binance Smart Chain
Polkadot
Ripple
Solana
Cosmos
IBM Blockchain
Hyperledger Fabric
Hyperledger Sawtooth
Hedera Hashpraph
R3 Corda
Tezos
Stellar
Elrond
Klaytn
ConsenSys Quorum
Avalanche
Cardano
XDC Network
Why would you build a DEX platform like QuickSwap?
QuickSwap has gained popularity because to the speed and low costs granted by the Polygon Network, and compatibility with the Ethereum Blockchain
It provides a Decentralized Exchange (DEX) experience for users to exchange tokens by utilizing an Automated Market Maker (AMM) approach.
QuickSwap does not have an order book because users trade from pools of tokens known as liquidity pools.
QuickSwap provides a wide range of features, including yield farming, liquidity, and switching.
By adding more liquidity to the platform, users of QuickSwap can receive additional rewards.
Users can use QuickSwap to bridge ERC-20 tokens from Ethereum to Polygon and trade any pair that has a liquidity pool.
Anyone can create a new liquidity pool and offer a token pair in exchange for transaction fees from other users.
Users do not need to register or go through any KYC (Know Your Customer) protocols in order to exchange their cryptocurrencies. To access the platform, all you need is a wallet, and MATIC to pay transaction fees.
With Quickswap's tremendous growth, many entrepreneurs want to create and launch their own decentralized exchange using an AMM. Users, traders, and investors expect a lot from decentralized exchange platforms in this crypto era, thus entrepreneurs like you can only succeed if you create an outstanding DEX platform with futuristic features and smooth performance.
But, how did you get such an outstanding DEX platform with AMM? Your primary inquiry at this point. Choosing a ready-made and trustworthy DEX clone script like Quickswap clone will be a sensible choice if you want to develop a complete AMM-powered layer-2 decentralized exchange platform quickly and within your budget. Use a high-end Quickswap clone that has been meticulously created in order to give wings to your dreams of starting a cryptocurrency exchange business.
How can generate High ROI by creating a decentralized exchange like QuickSwap?
A decentralized exchange like Quickswap is a type of cryptocurrency exchange that operates on a decentralized platform, meaning they allow P2P trading of cryptocurrencies without the need for a centralized authority or middleman. Some profitable revenue-generating factors of our Quickswap clone script to make High ROI on the decentralized exchange platform are shown below
Trading fees: The revenue factor of the Quickswap clone script allows admin to earn trading fees for every transaction that takes place on their platform. These fees can vary depending on the DEX, but they are typically a small percentage of the transaction value. Trading fees are a primary source of revenue for DEXs.
Listing fees: A Quickswap clone enables the admin to earn an income when clients list their cryptocurrency projects that want to have their tokens listed on the platform. Listing fees can be a significant source of revenue for DEXs, especially if they have a large user base.
Liquidity provider fees: It can also generate revenue by charging fees to liquidity providers, who provide liquidity for the trading pairs on the platform. These fees are usually a percentage of the trading fees generated by the liquidity provider's funds.
Premium services: It can offer premium services, such as advanced trading tools or faster transaction processing, for a fee. These services can provide an additional revenue stream for DEXs.
Overall, using our Quickswap clone script that helps to launch your DEX like Quickswap instantly and generate revenue by charging fees for various services you provide on the platform. As the popularity of decentralized finance (DeFi) continues to grow, the revenue potential for DEXs is likely to increase as well.
What is the cost of developing a Defi exchange platform like QuickSwap?
The cost of developing a QuickSwap-like Decentralized Exchange Platform depends on various factors that you want to add like additional features & functionalities, technologies used, UI, etc., based on your business requirements. Instead of developing from scratch, you can opt for ready-to-deploy QuickSwap Clone Script, it would significantly reduce your development costs. As a pioneer in Decentralized Exchange Development, we can provide DEX platform development services and solutions at affordable cost.
Why should you partner with Hivelance for the development QuickSwap like the DEX Platform?
Hivelance is a renowned DeFi exchange script provider in the cryptocurrency and blockchain domains. We have years of experience in providing top-tier decentralized exchange clone script services at affordable prices. Do you want to create the most efficient DeFi exchange on the Polygon blockchain, similar to QuickSwap, using state-of-the-art solutions? Then you can join hands with Hivelance. We provide top-notch DeFi exchange clone script development services to all aspiring startups and entrepreneurs.
Want to know how our QuickSwap Clone Script Works? Book A Free Demo Here!!!