Cryptocurrency
Hivelance-Powered Binance Clone Script: The Ultimate Revenue-Boosting Solution for Crypto Entrepreneurs
Explore profitable revenue factors of Binance clone script to create and earn more with the crypto exchange like Binance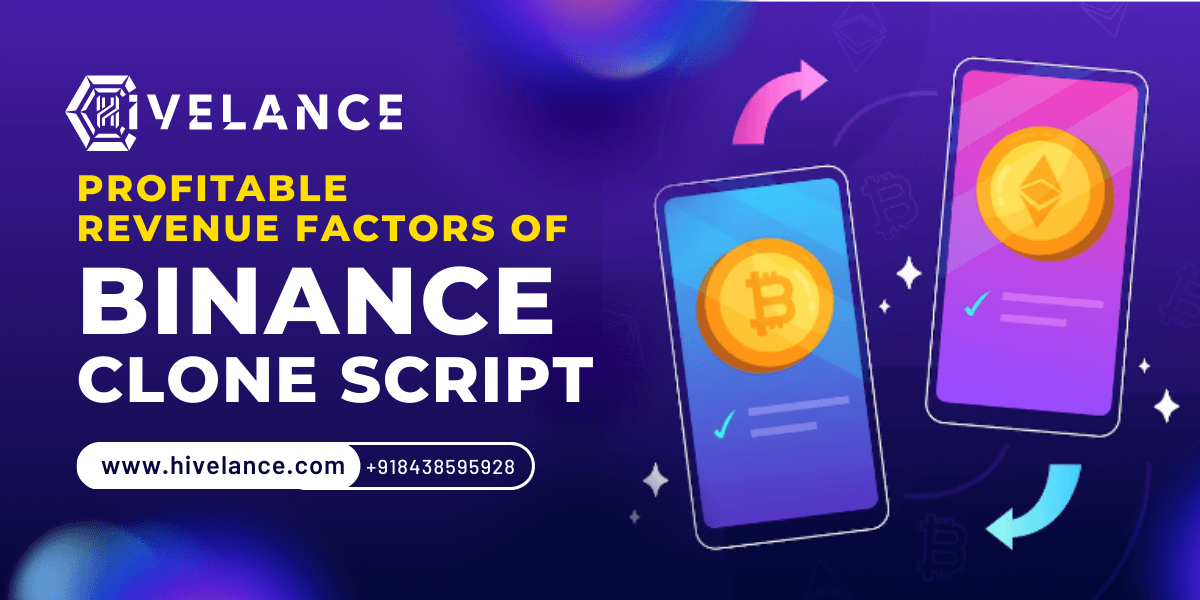 Binance has established itself as a household name in the cryptocurrency trading industry. The site has emerged to become one of the most reputable and well-liked cryptocurrency exchanges, enabling safe and easy transactions. Given Binance's success, a lot of business people and crypto enthusiasts want to start their own exchange platform for cryptocurrencies. This is when the Binance clone script comes into play.
What is Binance Clone Script?
A pre-made software program called a Binance clone script imitates the features and operations of the Binance exchange. It's a readymade script that may be altered and introduced as a brand-new crypto exchange platform. All of the key features needed for cryptocurrency exchange are included in the script, including user registration, login, trading, deposits, withdrawals, order books, admin panels, and more.
Revenue Generating Factors of Binance Clone Script
Some beneficial revenue-generating factors of Hivelance's Binance clone script to make a huge profit on the crypto exchange platform are listed below

Trading Fees: For any cryptocurrency exchange, trading fees are the main source of income. The script used to create the Binance clone allows users to define unique trading fees for various kinds of transactions. The platform owner may impose a flat fee per transaction or a fixed proportion of the trading volume.

Listing fees: Getting listed on reputable exchanges is a goal for many new cryptocurrency initiatives. The Binance clone script can make cash by charging these projects a listing charge for listing their tokens on the platform.

Withdrawal Fees: The platform owner can charge a withdrawal fee from users for transferring their cryptocurrencies to external wallets. This fee can be set based on network congestion, transaction size, and other factors.
Margin Trading: Binance clone script offers the ability to enable margin trading, which allows users to trade with borrowed funds. The platform owner can charge interest on these funds, generating revenue.

Security Features: Binance clone script comes with advanced security features such as two-factor authentication, SSL encryption, DDoS protection, and more. The platform owner can charge a fee to users for availing of these security features.
Referral Programs: The platform owner can incentivize users to refer their friends and family to the platform by offering referral bonuses. This not only generates revenue but also helps in increasing the user base of the platform.
Conclusion
Binance clone script offers a great opportunity for entrepreneurs and crypto enthusiasts to launch their own cryptocurrency exchange platform. By replicating the features and functionalities of Binance, the script provides a solid foundation for a successful exchange. The revenue-generating factors mentioned above provide various ways for the platform owner to generate revenue and make the platform sustainable in the long run.
Why Choose Hivelance For A Binance Clone Script?
Understanding the demands of traders on the crypto exchange services platform, our team of highly skilled professionals focuses on creating a top-notch Binance clone solution, Hivelance.

This expertly built and completely integrated Binance clone solution will aid in the development of a reliable crypto trading platform with cutting-edge features and functions. Additionally, with our ready-to-use and scalable Binance clone script, you can add any inclusions you want that are compatible with your cryptocurrency exchange business model.

Overall, our ready-made Binance clone script will undoubtedly prove to be a suitable cryptocurrency exchange solution for many ambitious business owners who wish to grow their ventures in crypto trading services. Get our specially developed Binance clone solution today to achieve your goals of starting a cryptocurrency trading platform successfully.