DeFi
Accelerate Your Income: Exploring the Revenue-Boosting Features of Hivelance's PancakeSwap Clone
Discover the key features and strategies in pancakeSwap Clone Script that can maximize your revenue generation and financial opportunities in the DeFi ecosystem.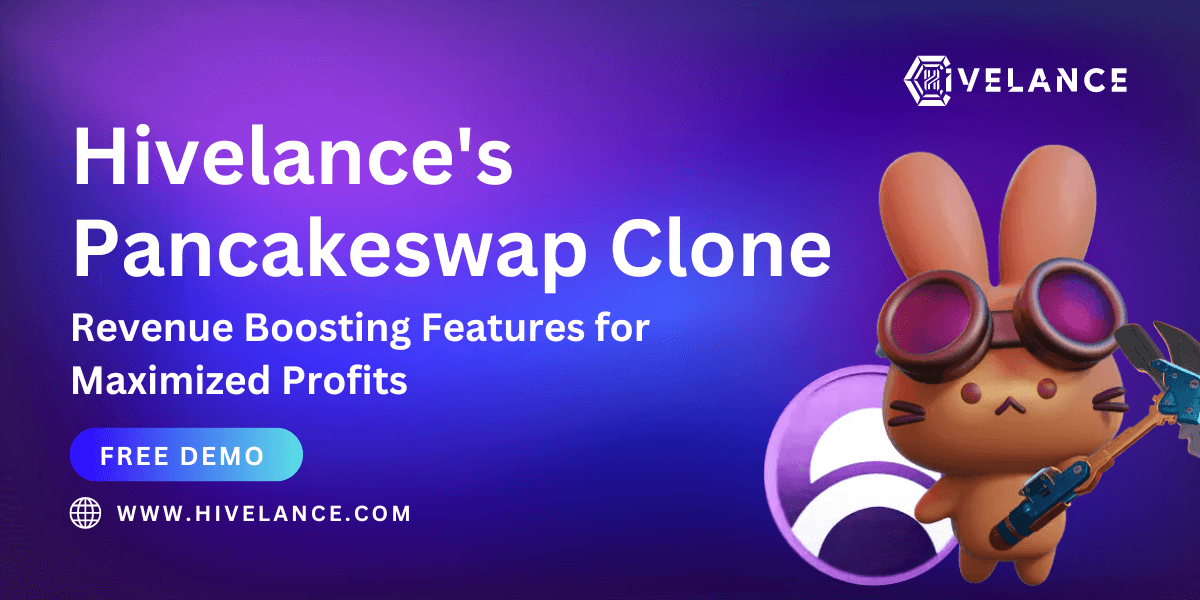 The emerging decentralized finance (DeFi) industry is transforming the financial system on a global scale. PancakeSwap, one of the most popular DeFi applications, has been making waves in the cryptocurrency community. A PancakeSwap Clone Script is emerging as a powerful platform that could potentially unlock new revenue opportunities for businesses around the world. With its innovative user interface, high user volume, and comprehensive feature set, a PancakeSwap Clone Script can enable businesses to tap into the enormous potential of DeFi and create new business models.
PancakeSwap Clone Script:
The success of Decentralized Finance (DeFi) has been explosive lately, paving the way to an entirely new financial system. Among the various DeFi projects in the market, PancakeSwap tops them all due to its unrivaled liquidity, giving way to a truly viable DeFi ecosystem. The PancakeSwap clone script allows business owners to quickly and easily launch their own DeFi project, replicating the features and functionalities of PancakeSwap. Cryptopreneurs and crypto investors can make use of the clone script to launch their own yield farming protocol with features such as token launch platform, staking, lending, and of course, the signature pancake swap.
Features of the PancakeSwap Clone Script:
When you use a PancakeSwap clone script, you get access to a range of features that allows you to quickly build a reliable DeFi project on the Binance Smart Chain or its replica. Firstly, the clone script helps you launch your own Uniswap-like decentralized exchange, where the users can exchange various tokens, launch their own tokens or engage in yield farming with CAKE or BNB tokens.
By leveraging the PancakeSwap clone script, you can also create a secure and adaptable lending and borrowing platform for users to stake, borrow, or earn interest from their crypto assets. This feature enables users to borrow funds at competitive interest rates while the protocols protect lenders as they cannot take any away as long as the loan is active. Similarly, the staking feature allows users to stake their crypto holdings and earn rewards in the form of Bprofit tokens.
Our Features of PancakeSwap Clone Script are as follows:
1. Trading
2. Initial farm offering
3. Token Swapping
4. Swapping/CAKE token
5. Wallet Connection
6. Lottery Schemes
7. Reward System
8. NFT Provision
9. Automated Market Making
10. Syrup Pools
11. Transaction History
12. Integrated Security Protocol
13. Low Trading Fees
14. Yield Farming
These features are made available to you with the PancakeSwap clone script. On top of that, you also get access to the automated market-making system for maximum liquidity at all times. The script is also completely white-label, meaning that you get to customize your DeFi platform as per your unique needs and preferences.
From Features to Profits:
By using the PancakeSwap clone script, you get access to a DeFi project that is feature-rich and highly profitable. The built-in yield farming tool is the most lucrative feature of the project, allowing users to hit jackpots with PancakeSwap-like features. In terms of profits, you can always make use of the Liquidity Mining Pool to incentivize the users for providing liquidity to the exchange. As far as security is concerned, the platform features Active Management Protocols for ensured security, complemented by the financial security protocols of Binance Smart Chain.
The popularity of PancakeSwap means that users are always on the lookout for projects that have similar features. By launching your own DeFi project, you can quickly gain the user trust and loyalty with PancakeSwap-like features. With faster transactions, low transaction fees, and better liquidity than other options in the market, the PancakeSwap clone script is the perfect choice for creating a truly viable DeFi project.
Summing Up:
Setting up a successful DeFi project does not have to be difficult. With the help of the PancakeSwap clone script, you can quickly and easily build a profitable decentralized finance project with maximum user trust. From features to profits, the powerful features of the PancakeSwap clone script produces a higher ROI as compared to traditional centralized exchanges. Cryptopreneurs and crypto investors looking to launch their own DeFi project should definitely consider the advantages of the PancakeSwap clone script.
Why Hivelance for develop your PancakeSwap Clone Script:
Hivelance is the leading DeFi development companies in the crypto space, providing the service of PancakeSwap clone script development with cutting edge technology and High security Features. Our Pool of Developers are Help you to develop your Robust DeFi exchange like PancakeSwap clone script using powerful source codes. By joining hands with us, you may launch a superfine DeFi exchange over the long term and make large profits.