Cryptocurrency
Robinhood Clone Script To Kick Start Your Own Stock Trading & Investing App Like Robinhood
Robinhood Clone Script is the perfect commission-free stock trading and investing app clone solution for entrepreneurs/startups to customize and launch a future-ready trading platform with advanced brokerage and trading features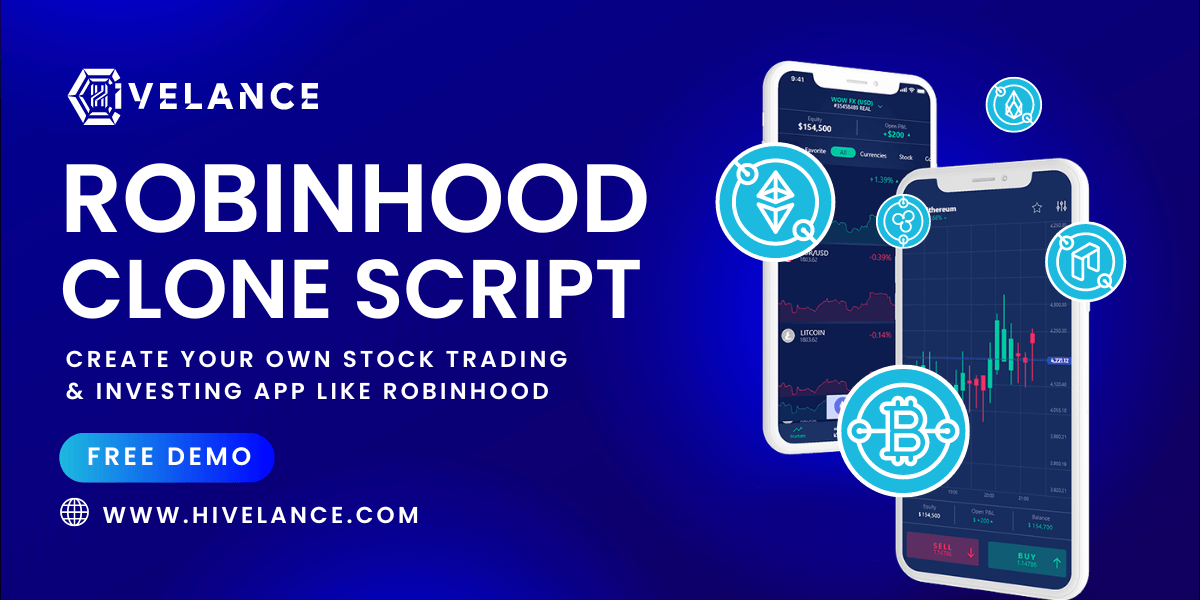 Depending on the Bigger Stock trading delegates for investing in stocks and generating profits are the most traditional practices in the longer run. Many difficulties became a part of this journey and investors encountered all impossibilities and tragedies even after investing. Relying on others for endeavoring our duties doesn't always provide a fruitful outcome. Keeping that in mind, Many advancements were bought into the market to overcome the hassles happening when investors step forward in investing funds. The Aftermath resulted in the introduction of the Robinhood trading app, which created a huge revolution and attracted millions of users to it. Let's discuss in detail the application and the benefits grasped by using it.
Robinhood Trading App
It is an Online trading platform for stocks, exchange-traded funds, and cryptocurrencies, which permits the users to purchase and sell the stocks in the markets by neglecting the interference of any intermediaries. The most Outspoken aspect of the app is that it provides commission-free trading enabling users to purchase and sell stocks without paying any commission fees. New Investors without any prior knowledge of trading can also involve themselves in the flawless exchange through Robinhood apps as they provide complete guidelines for trading in simpler ways. As per records, for two years Robinhood generated nearly $1.82 in revenues. Robinhood app records a list of 30 M active users which is unimaginable.
Robinhood Clone Script - The Eminent Attribute for Seamless Trading
Robinhood Clone Script is the exact replication of the trading app Robinhood that helps in exploiting finance to serve numerous benefits. Incorporating all the essential features and functionalities like Robinhood, the Robinhood clone script keeps operating accordingly to enhance the trading process faster without any hassles. It creates an ecosystem for trading stocks and can be customized according to the requirements. Using our Robinhood Clone script, users need not depend on any third parties for initiating the investing process. Our team guides you throughout the entire phase for making your profits to be doubled.
Robinhood Clone Development By Our Team of Experts
Standing firm as the leading trading application development company, Hivelance has earned popularity in markets across the globe for its superficial services rendered to clients. We have an elite team of knowledgeable developers to design and develop the ardent patterns for launching the Robinhood alike script. Our team understands your needs and prepares the storyboard with the essentials needed to be hitched in the script. Effectual coding will be laid on to establish a user-friendly application for a successful trading process. Get in touch with our experts.!!
Exclusive Features hitched with our Robinhood Clone Script
User registration and account creation: Our Robinhood clone Script will typically require users to create an account and go through a registration process to use the platform.
Dashboard: In order to view all the activities that happened while trading will get displayed in the dashboard. Order lists, stock reports, watch lists, assets details, and analytics will be part of this feature.
Trading platform: Our Robinhood clone will provide users with a platform for trading stocks, ETFs, and cryptocurrencies. It will typically offer real-time market data and allow users to buy and sell securities with just a few clicks.
Commission-free trading: Our Robinhood clone script may offer commission-free trading, which means that users can buy and sell securities without paying any fees or commissions.
Payment integration: We integrate our Robinhood clone script with various payment methods, such as bank transfers or credit/debit cards, to facilitate the funding and withdrawal of funds from user accounts.
Portfolio management: We create your Robinhood clone script that offers tools for portfolio management, such as tracking investments, viewing performance, and setting alerts.
Security features: Our team of developers develops your Robinhood clone script with advanced security features to protect user data and funds, such as two-factor authentication and encryption.
Advantages of using Our Robinhood Clone Script
It is an easy-to-use Platform
Enables commission-free trading
Accessibility will be the highly notable aspect of the platform
Users can buy fractional shares
It requires low investment
No account maintenance fees
Revenue Streams of Our Robinhood Clone Script
There are a few techniques by which Users can generate income with the help of Our Robinhood clone script. Some of the revenue streams are enlisted below:
Transaction Fees: Users can gain transaction fees for every transaction taking part in the platform.
Securities lending: Owners earn revenues by lending out shares.
By advertising: Going for advertisements to publish all the details, and functionalities will be the best idea to earn both users and incomes.
Subscription: Robinhood Gold is a premium service that offers margin trading, extended trading hours, and other features for a monthly fee. That is it can enable the premium service offering.
Payment for order flow: The Owner of the platform can collect payment for directing orders to the market makers for execution.
Cost to Build Your Robinhood Clone Script
Cost Estimation to build your Robinhood clone entirely depends on the pattern the client's demand for. Making it more sensible, our team of developers can fetch the avant-garde services to construct your Robinhood clone script. We tend to implement all the features and functionalities that are in need by the customers. Based on the designs, features, network selection, and testing processes, the cost may vary. As the pioneer in the development of trading apps, Hivelance can be your trustworthy partner.
Why choose Hivelance for Robinhood Clone Script Development?
Hivelance is the name that fetched appreciation from millions of clients across the globe. On the list of those, the organization is portrayed as the top-most Robinhood clone script development company that serves its services to transform all business verticals. We can showcase our previous trading platform samples to your notice with the assistance of a highly skillful team of sales. Being dominant in rendering the best specifications and functionalities, we never let the dreams of our clients go down. Having a separate team for each category like frontend, backend development, and digital marketing, we also aid in promoting your product after the launch successfully. You can receive your Robinhood Clone script in a cost-effective way with the inclusion of the world's best processes.
150+ Proficient Developers
Ensuring high-performing platform delivery
Implementation of High compatible trading applications
Classic and best tools and technologies brought into existence
Cost-effective solutions
Round-the-clock support
Timely rendition of ardent services without lags.