Metaverse
Roblox Clone Script for developing an advanced Social Gaming Platform
Roblox clone script is the cloned version of a popular social gaming platform called Roblox. It is the fully developed white label source code handcrafted by developers that can resemble the every functionalities of Roblox games.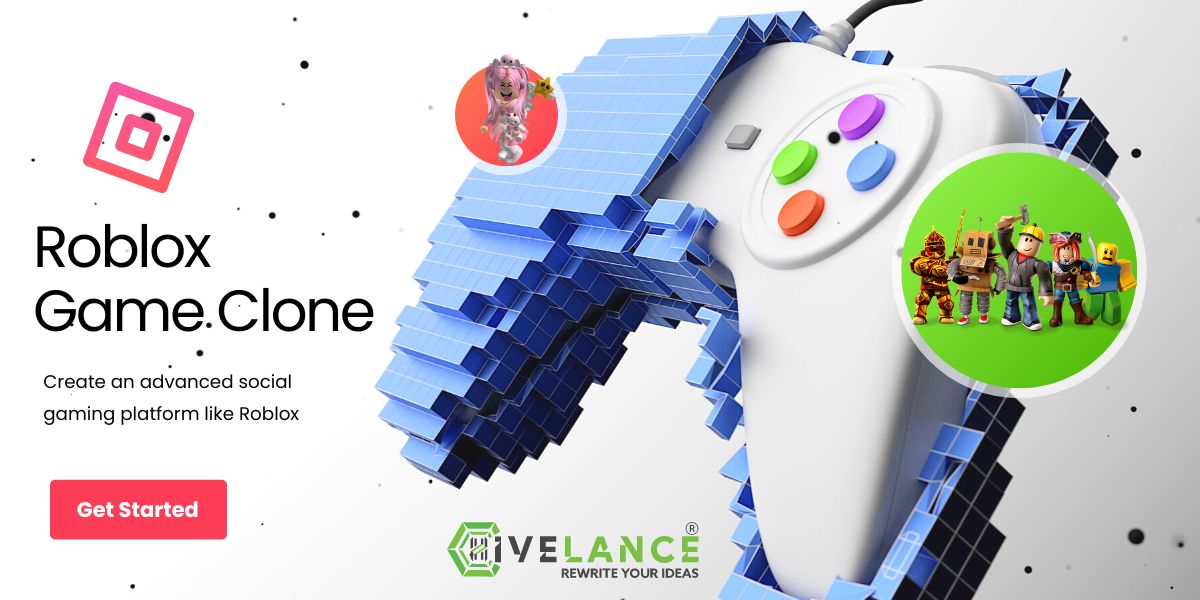 Roblox Game History
Roblox is an online social gaming platform founded in 2004 by two budding Entrepreneurs David Baszucki and Erik Cassel. The platform allows players to play multiple games, and create games using the programming languages preferred.
It is a free-to-play game but has in-app purchases like ordinary games. The in-app purchases can be done only via digital currency called Robux. After the revolution of web3, Roblox reached its new height as per the records of millions of daily users. The scope of the metaverse and NFT have triggered the hype for these social gaming platforms.
Meanwhile, you can learn more about the Full-cycle Metaverse development process here.
What is the Roblox clone script?
A Roblox clone script is software that replicates the functionality of the popular online game platform Roblox. Roblox game clone script allows users to create their own games, avatars, and virtual worlds. our clone script has included features like user accounts, in-game currency, social interaction, and game development tools to create a unique version of a game. Cloning Roblox can be an attractive option for entrepreneurs who want to create a similar platform like Roblox with their own branding and monetization strategies.
White-label Roblox Clone Software
A white-label Roblox clone software is a 100% customizable NFT gaming solution that allows you to create your own virtual gaming platform similar to Roblox, with your own branding and bespoke options. Our Roblox clone script offers a cost-effective and time-efficient way to launch your own gaming platform without the need for extensive development resources and tap into the thriving online gaming market. It's a great solution for businesses and entrepreneurs looking to enter the online gaming industry.
Features of Roblox clone script
1. Avatars marketplace
In-game assets like Avatars, places, weapons, places, properties can be bought and sold in the marketplace. We developed this user-centric marketplace in our Roblox clone script that can fit every set of audiences.
2. Game creation
Players are given an individual gaming console where they can build new games and allow others to play.
3. Trade request
Internally, the trading system allows players to exchange their in-game assets via request. As the game founder, you can control and monitor the trading system on the secure administrative panel.
4. Social media engine
Roblox clone comes with a social media engine that includes blogs, messenger, feed section, friends management and Group sharing.
5. Chatting system
Gamers can communicate with each other while playing multi-role player games. The entire community can be grouped into clusters where mutual knowledge sharing is done for effective gameplay.
6. Metaverse platform
The Roblox game has an in-built virtual gaming platform where brands can showcase their services to end users. The virtual places, and land can be purchased over the marketplace and gives the players earning potential too.
Benefits of Roblox clone
1. White label solution - The Roblox clone solution is completely white labeled. The customization part, adjustment, monetization model, game themes can be changed on any terms. No questions were asked for entire relabelling and customization.
2. Time to market - When using the Roblox clone, you can launch the social gaming platform with all the attributes in a short time. Prototype making cycle, Testing cycle, and code development cycle can be skipped instantly.
3. Quick and Easy Setup - A Roblox clone script is a ready-made option for creating your own gaming platform. You no longer need to build your own platform from scratch and invest months doing so. You can quickly and simply set up your platform with a clone script.
4. 100% Customizable - Although a Roblox clone script provides you with a pre-built solution, it is also highly customizable. You can add your own features and functionalities to make your platform unique and stand out from the competition.
5. Cost-Effective - Building a gaming infrastructure from the scratch can be costly. You can reduce your platform's development costs and launch it more rapidly by using a Roblox clone script.
6. Built-In Community - One of the most significant advantages of Roblox clone software is its built-in community. You can use this community to attract new people and expand your user base.
Cost to Develop the Roblox-like Game development
The estimation is done in accordance with various development modules. When the features and gaming mechanics are added up extra, there occurs additional development costs. Henceforth, predicting the exact cost breakdown is not easy either.
In fact, the developer charges vary from one country to another country. To know the exact project cost for developing a Roblox like the game, you should connect with our experts for a detailed explanation.
Why Hivelance for Roblox Clone App Development?
The Roblox clone app we developed is available in iOS, Android, and desktop apps. We at Hivelance, have expertise in the preferred technology stack needed for social gaming development. We gather your project requirements, understand the core idea, and frame the roadmap to align the development stages.
Moreover, we have been in the fintech industry for more than 10 years, and we know every curve of the blockchain-gaming arena. You can have a look at our client portfolio to see our capability.