Blockchain
Rollbit Clone Script - To build Your Blockchain based Crypto Casino gaming Platform
Rollbit clone script to build a crypto casino and gambling platform. Our Rollbit clone script build with highly adavcned features and functionalities.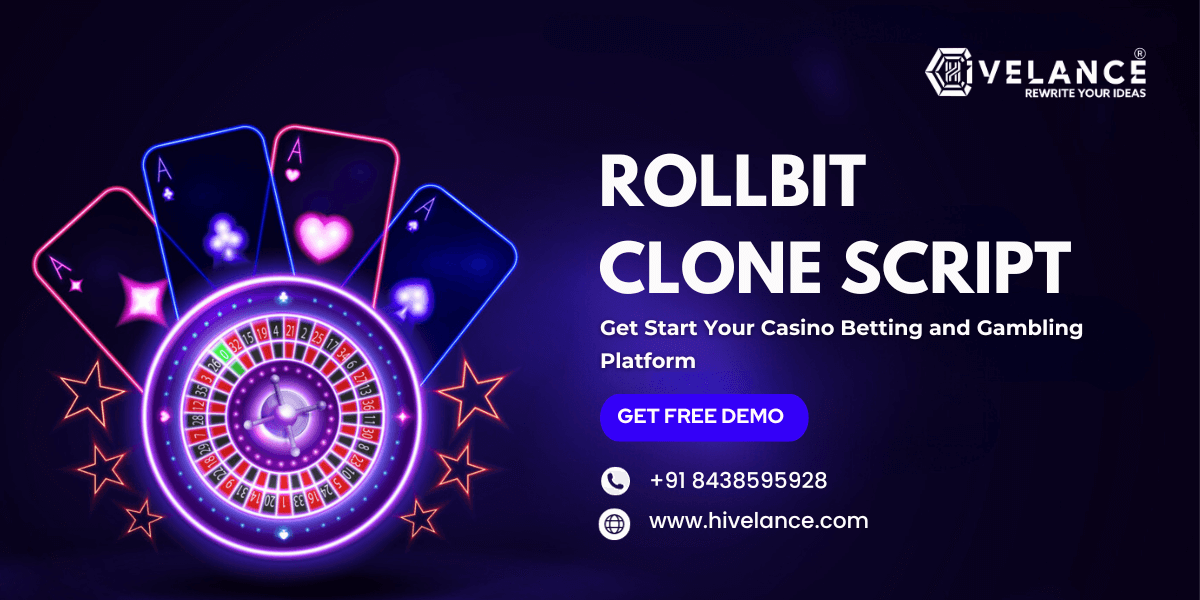 Rollbit Clone Script:
Rollbit clone script is the ultimate replica of the casino gaming platform having all innovative offerings like bonus battles, to cryptocurrency derivatives trading, to NFT betting games. This platform offers players with all enticing features and functionalities like the original rollbit ecosystem. It encloses a wide range of casino games and users can benefit from the rewards obtained by winning in each battle. Hivelance is the leading crypto casino gaming development company, having a skilled team of experts to design and launch your rollbit clone script with all required amenities.
Overview of Rollbit:
Rollbit is universally acknowledged as the industry's top innovator. With over a million registered users, over $40 million wagered daily, and over $5 billion wagered overall, Rollbit has quickly emerged as one of the top cryptocurrency casinos. It includes all cutting-edge gaming features like Bonus Battles to trading bitcoin futures and betting on NFT.
Rollbit Clone Script Development:
As a pioneer in casino game development, Hivelance has gained recognition for creating the robust rollbit clone script. Our team develops the clone software that powers gaming online casinos which includes creating backend systems, user interfaces. We frequently use a range of technologies and programming languages to guarantee seamless and safe gaming experiences.To safeguard player information and financial transactions, we employ cutting-edge encryption and security procedures. We create an intuitive and user-friendly interface to offer captivating and simple-to-use casino gaming experience.
Features of Our Rollbit clone script development:
Our rollbit clone script has the vital features which is listed as follows:
NFT Marketplace: Our Rollbit clone script has a full-fledged NFT marketplace which is gas less and NFTs can be bought by users using Bitcoin (BTC), Ethereum (ETH), Litecoin (LTC), or Solana (SOL).
Wide range of casino games: Games including slots, roulette, live casino, and blackjack are available on our Rollbit clone script via the integrations with more than 60 of the most well-known providers. Cutting-edge features like Bonus Battles and Challenges to add to these games.
Bonus battles: Users can purchase a bonus buy through Bonus Battles, where they can battle with other users to win the bonus buys' combined balance.
In-house games: Our platform has unique and popular in-house games such as Rollercoaster, X-Roulette, X-Crash and X-Flip.
Accepts solana: Our Rollbit clone platform accepts the hugely popular cryptocurrency Solana (SOL) for deposits and withdrawals.
Reward programs: As the most lucrative cryptocurrency casino, Rollbit has positioned itself. More than 70% of Rollbit's house edge is returned to its users.
What is Rollbit Token?
RLB (Rollbit Coin) is Rollbit's official utility token, on the Ethereum (ETH) blockchain. RLB acts as an entry ticket into our lottery, where 1.2% of the casino profits are shared between regular lottery prizes and the jackpot.
Benefits of Using Our Rollbit clone script
Using our rollbit clone script offers multiple benefits as follows:
Incorporates a wide range of casino games
Accessibility
Has bonuses and loyalty programs
High privacy and anonymity
Mobile compatibility
Cost effective
Diverse revenue streams
High scalability
Why Choose Hivelance for Rollbit clone script development?
Hivelance is your trustworthy partner having 10+ years of experience developing casino gaming systems based on the latest blockchain technology. Whether your goal is to create a unique gaming experience or replicate the existing rollbit platform , we can collaborate with you to customize the clone platform to meet your exact demands and specifications. We can assist you in navigating the platform since we possess a thorough understanding of the legal and regulatory regulations pertaining to online casino gaming. We put strong security measures in place to guard against fraud and guarantee user integrity, which is crucial for fostering player interest and trust.We have experience utilizing the newest and best technology available for your platform, guaranteeing effectiveness, speed, and a flawless user experience.
Skilled and experienced game developers
Blockchain integration done at its best
Advanced programming codes are inherited
We never let you down in offering the safest solutions
Quality assurance team to ensure the testing processes
Post launch support and maintenance.