Metaverse
Second Life Clone Script To Create Your Own 3D Virtual World Platform
Hivelance's Second Life clone script is a ready-to-market metaverse gaming solution offered to our clients which will inherit all aspects alike in the second life platform.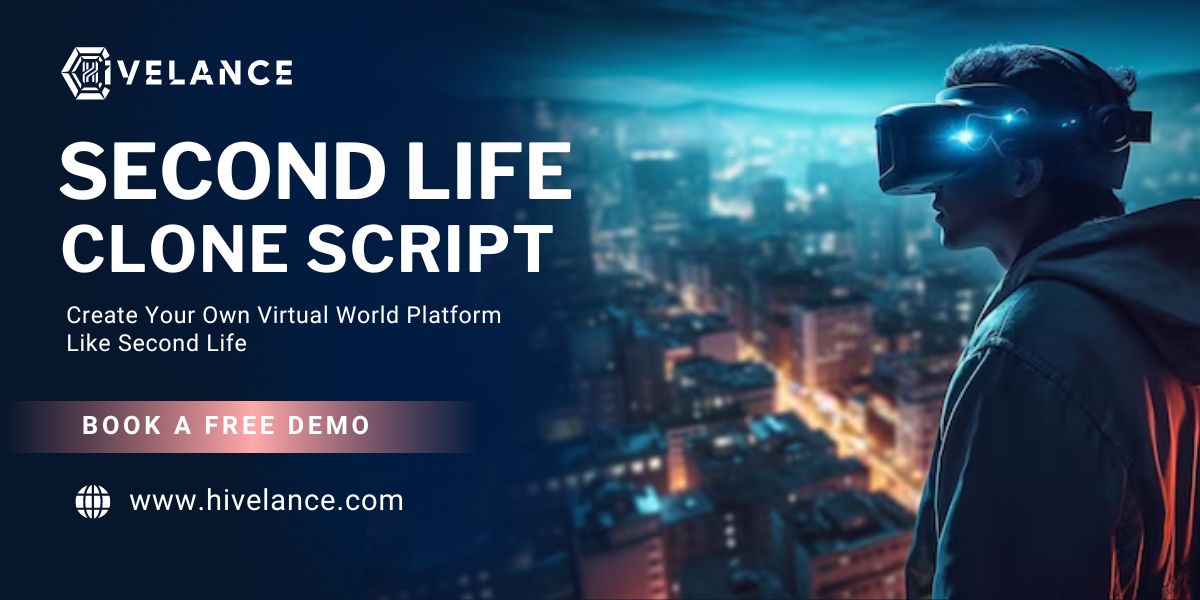 Second life clone script
A Second life clone script is a ready-made solution that replicates the features and functionalities of the existing 3D virtual world platform like Second life. It enables the entry of users into the virtual ecosystem to have an awe-inspiring experience. Creating the preferred avatars and involving in many activities like gaming, socializing, shopping, attending events are made possible within the platform.
Hivelance is the frontrunner in metaverse development who has its speciality in building the reliable and dominant solutions for any of your metaverse based projects. We are the experts in rendering ardent services and technical manipulation for developing Second life clone script.
What is a second life?
Second life is a 3D virtual world wherein users can create their avatars, and engage in several activities by enhancing their customized creation of virtual ecosystems. Here, real-time user interactions are feasible making the engagement more realistic. Second Life has been pioneered more as technology develops and is predicted to be the future of online communities and digital interaction. In the second life,Numerous events can be held on the platform, such as live music performances, discussions on panels, workshops, and other social and cultural events.
Whitelabel second life clone software
White Label Second life clone software is a ready to market and customizable solution offered to our clients which will inherit all aspects alike in the second life platform. Being the best alternative to the development process from scratch, our white label second life clone software can be defined as the cost-effective and easily deployable solutions. To make it more authentic, the 3D animated graphics included will play a major role-play. Avatars can be created according to your preferences, enclosing all attributes like accessories, hairstyles, clothes and so on. Our team are talented professionals who have prior experience in developing virtual worlds, hence they can make use of the latest tools like unity, Unreal Engine to build your platform. With the help of our clone software, users could enter a virtual world where they could express themselves, make art, launch enterprises, and engage with others in a significant way.
Features of Second Life Clone Script
Avatar creation: We design and customize the users preferred avatars with special features, attire, and accessories.
Social interaction: Offer message and voice chat features, as well as gestures and animations, to encourage user interaction and communication.
Customization: Give platforms the opportunity to be customized, enabling businesses to build distinctive virtual worlds that reflect their mission or brand.
Virtual environment: Give users the resources they need to construct a variety of online areas, environments, and landscapes for exploration and interaction.
Security measures: Put in place technologies to control user behavior in the virtual environment and ensure user safety.
Virtual commerce: It allows users to purchase and trade virtual products and services, including apparel, furniture, and other stuff.
Benefits of Using Second Life Clone script
As many fundamental components are already pre-built, using a clone script as a foundation can considerably cut development costs and time.
The traditional version of Second Life will only allow users to access a small number of virtual locations, which will encourage them to upgrade to the premium version.
Our Second Life clone script offers resources for engaging in social interactions and fostering community building within the virtual world.
You can set up a virtual economy with the help of our Second Life clone script. The sale of virtual goods, services, real estate, and other in-world deals creates new revenue streams.
In our platform where users with related interests can communicate, work together, and exchange ideas, creating a sense of community.
Events, parties, conferences, and other forms of gatherings can be easily planned and hosted in the virtual world.
Businesses can create distinctive and immersive brand experiences by utilizing the virtual world as a marketing tool to advertise goods, services, or events.
How does Our Second Life clone Software work?
The overview of how our second life clone software work is listed below as follows:
Users can enter the platform after submitting the required details.
Users can design and develop their own virtual personas. They have a variety of options for their appearance, attire, accessories, and other characteristics.
Using in-world building tools identical to those found in Second Life, virtual settings can be produced, including buildings, landscapes, and items.
They can interact with each other on the platform and the engagement can be done through chats and video call options.
Users can take part in community-driven events, conversations, seminars, and other activities. Several monetization options are available and the revenues can be generated through them.
Revenue streams of Our Second Life Clone Script
Our second life clone script offers various revenue generating methods and they are listed below:
Land ownership

Selling of virtual assets

Premium memberships

Auction and event fees

Marketplace fees

Advertising and partnerships

Currency exchange fees
Why Choose Hivelance for Second Life clone script Development?
Hivelance is the leading Metaverse Development Company,offer users a comparable digital environment for interacting, socializing, generating content, and participating in a range of activities. Users can design their own avatars and add different traits, accessories, and animations to them with the help of our second life clone script. We have a team of talented developers who can assist you in building a virtual environment with a variety of features and functionalities like Second Life.
We have also created real-time metaverse services for community building and interconnection. Our team of experts can help you from planning to implementation throughout the full development process. We have a talented and interdisciplinary staff that includes community managers, blockchain experts, designers, and 3D artists.
If you are interested in developing the second life clone script, contact our team of resources to launch the platform in a short duration of time.