Cryptocurrency
Shapeshift Clone Script To Develop Your Own Instant Crypto Exchange Like Shapeshift
ShapeShift clone script is a tailored crypto exchange script that allows you to launch a ShapeShift-like crypto exchange with advanced features and functionalities.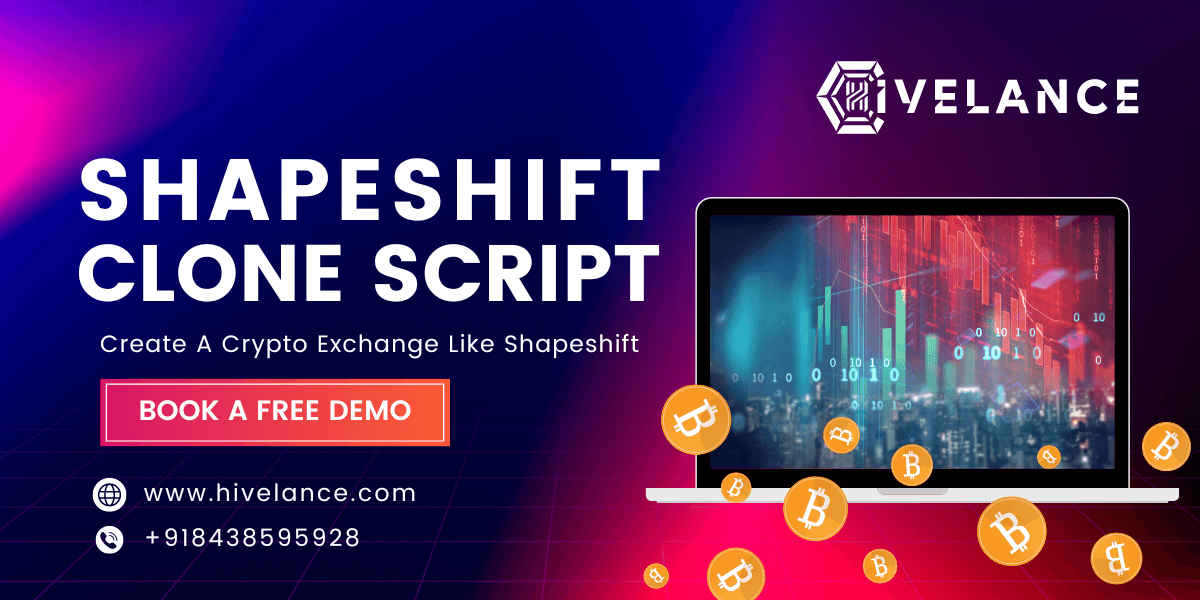 Shapeshift Clone Script
Shapeshift clone script is the ultimate crypto exchange solution that enables users to create and launch their own cryptocurrency exchange platform similar to Shapeshift. It provides users with an integrated and automated platform for exchanging multiple digital currencies with no registration and verification requirements. It encompasses advanced features such as multi-currency support, integrated payment gateways, liquidity management, multi-lingual support and so on. Our developers can develop your Shapeshift clone script with all customization ideas demanded by the clients.
Shapeshift Overview
Shapeshift is an online cryptocurrency exchange platform that allows users to quickly exchange one digital asset for another without having to create an account or provide personal information. The platform allows users to easily exchange between Bitcoin, Ethereum, Litecoin and other popular digital assets. Shapeshift also offers its users the ability to securely buy and sell digital assets with their credit cards. The platform is fast and secure, making it easy for users to exchange their digital assets securely.
What Makes Shapeshift Exchange Clone More Unique?
Shapeshift clone script involves the latest market-trending approaches to exchange the cryptos, which resembles to be unique from other exchanges. The platform does not require users to create an account, making it easy and convenient for users to exchange cryptocurrencies without having to go through a lengthy registration process. Another unique feature of the Shapeshift platform is that it supports a wide range of cryptocurrencies.
White Lable Shapeshift Clone Software
White-label Shapeshift clone software is a 100% customized cryptocurrency exchange solution that helps entrepreneurs to start their own cryptocurrency exchange platform similar to Shapeshift by following your needs. It is a feature-rich solution that comes with advanced features like real-time trading, multi-currency support, secure wallet integration, and an admin panel for managing the platform. We affirm delivering a highly secured and reliable platform, ensuring that users have a safe and secure trading experience.
Shapeshift DAO Clone Script
Shapeshift DAO clone script is the replica of the Shapeshift DAO, which was created to facilitate decentralized, trustless, anonymous, and secure cryptocurrency trades. Our clone script is designed to provide a decentralized platform where users can trade digital assets without the need for third-party intermediaries. Shapeshift DAO clone script is equipped with features like multi-signature wallets, atomic swaps, and smart contract technology to ensure secure and reliable trades. The script also includes features such as an integrated wallet, an order book, and a dashboard for users to track their trades.
Features of Shapeshift Clone Script
A Shapeshift clone script must include several key features to attract users and provide a seamless trading experience. These features include:
Decentralized Exchange
A decentralized exchange allows users to trade directly with each other, without having to trust a third party. This enhances security and privacy for users.
Fiat Aggregation
With the help of our Shapeshift clone script, you can add a fiat on/off ramp feature in your exchange which allows users to buy or sell cryptocurrencies through fiat currency. This will help to attract more customers to your exchange.
Cross-chain Trading
Cross-chain trading enables users to trade different cryptocurrencies with each other without the need for a third-party exchange. It allows users to make trades directly between two different blockchains without having to convert the coins into fiat currency first. This makes it much faster and more efficient than traditional exchanges, as it avoids the long wait times that can be associated with using a third-party exchange. This feature increases the platform's reach and user base.

DEX Aggregation
Shapeshift clone script that allows users to connect with multiple decentralized exchanges (DEXs) in order to access liquidity from a single platform. The service aggregates liquidity from multiple DEXs, providing users with access to more trading opportunities and better prices. Users can view market data from all connected exchanges in one place, making it easier to compare prices and make informed trading decisions. Shapeshift clone DEX Aggregation also allows traders to access a larger number of trading pairs and advanced features, such as margin trading and order routing.
Multiple Wallet Support
Shapeshift clone script enables users to trade one digital asset for another. This script also supports a range of wallet types, including hot wallets, cold wallets, and exchange wallets. Additionally, the script is equipped with an advanced security system that keeps users' funds safe, and provides features such as two-factor authentication, password encryption, and whitelisting.
Lending & Borrowing
Lending and borrowing system, allowing users to lend and borrow digital assets from other users. This feature can be particularly useful for traders who are looking to maximize their profits by taking advantage of market fluctuations.
Multi-Lingual
Users can create a shapeshift clone script that supports multiple languages. It can be accomplished by creating a script that uses a language translation API to translate text into different languages. The script should be able to detect the language of the user and then translate the text accordingly. Additionally, the script should be able to detect the user's language preferences and serve the page in the appropriate language. This will allow for a more user-friendly experience for international customers.
Single Sided Staking
Single-sided staking is a type of cryptocurrency staking system where only one party - usually the user - is involved in the staking process. This means that the user deposits their cryptocurrency into a platform, and in return, they are rewarded with a certain amount of tokens or coins. This reward is usually proportional to the number of coins deposited, and the reward rate is typically set by the platform. This type of staking system is popular among users who want to maximize their returns without having to engage in complicated stake pooling or other multi-party staking mechanisms.
Yield Farming
Yield farming is a type of decentralized finance (DeFi) that allows users to earn rewards by providing liquidity or staking tokens in a specialized platform or protocol. Yield farming is a way for users to earn passive income from their cryptocurrency holdings.
Benefits of using a Shapeshift Clone Script
Cost-effective solution
Time-efficient
Easy to customize
Liquidity
Staking
Secure platform
No account creation required
Fast transaction speeds
Multi-cryptocurrency support
How to Develop a Shapeshift Clone Script?
Research the Market: Before you start developing the shapeshift clone script, it is important to research the market to understand the current trends, popular services, and user demands.
Plan the Features: You need to plan the features that you would like to include in your shapeshift clone script. This includes features such as secure storage of user funds, simple user interface, multi-currency support, and others.
Develop a Prototype: Once you have planned the features that you would like to include in the shapeshift clone script, it is time to develop a prototype. This will help you in testing the script and making sure that it works as expected.
Testing: It is important to test the script extensively to ensure that it is secure and bug-free. You can use automated testing tools to do this.
Launch: After testing the script and ensuring that it is secure and bug-free, you can launch a crypto exchange like Shapeshift using our shapeshift clone script. You can also use marketing strategies to promote the script and attract users.
Why Choose Shapeshift Clone Script From Hivelance?
We create cutting-edge crypto exchange platforms with a focus on client demand, trends, and user interest.

Use a top-notch Shapeshift clone script supported by the in-depth knowledge and experience of professionals at Hivelance to take advantage of the perks of entering the crypto ecosystem. So please feel free to discuss your cryptocurrency exchange service ideas with us. Hivelance is a pioneer in the development of cryptocurrency exchange platforms. A skilled team of developers at Hivelance is working on creating a variety of crypto exchange services for users all over the world. We have provided top-notch cryptocurrency exchange solutions to meet the needs of numerous people.
You can contact us through our contact page if you still have questions about the cost of the Shapeshift clone script, the functionality of crypto exchanges, the best approach to finding a company to build crypto exchanges. We'll get in touch with you as soon as we can from our tech consultant. You can also get in touch with our professionals via Whatsapp - +918438595928 | Telegram - HiveLance