Cryptocurrency
SimpleSwap Clone Script To Create A Superfine Instant Crypto Exchange Like SimpleSwap
SimpleSwap clone script is a ready-made instant crypto exchange software that will assist you in launching a SimpleSwap-like crypto exchange.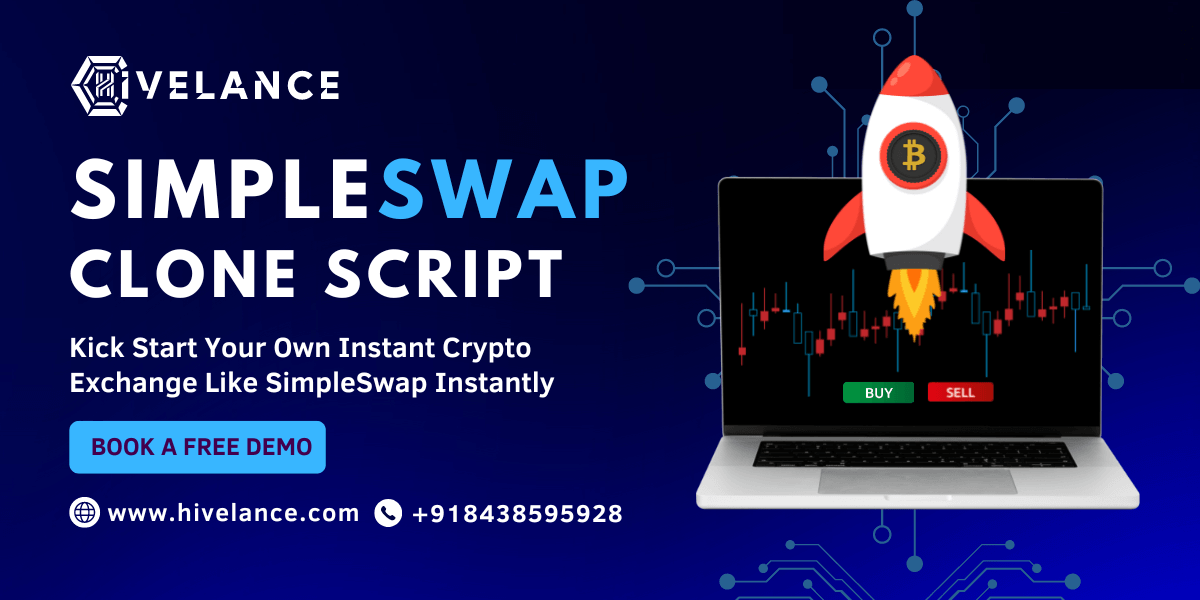 SimpleSwap Clone Script
SimpleSwap Clone Script is a pre-built and muti-tested instant crypto exchange solution that has been designed to perform the exchange of cryptos similar to the SimpleSwap Exchange Platform. It replicates the essential features, user interfaces, and functionalities of the SimpleSwap exchange. This ready-made clone script is specially developed for Startups, Entrepreneurs who wish to launch their own instant cryptocurrency exchange platform like SimpleSwap in a very short span of time. Hivelance is the market-leading Simpleswap clone script development company providing reliable and finest solutions in developing the platform to proceed with the transactions instantly within a fraction of a second. We are into the relevant field for more than 10+ years, hence our deployment will be the accurate solution to prosper your business growth.
White Label SimpleSwap Clone Software
A White Label SimpleSwap Clone Software is a customized version of SimpleSwap that allows you to customize any required features, functionalities, themes, styles, and other attributes to meet your specific business needs. Our white-label SimpleSwap clone software has an impressive user interface and an effective API. Additionally, our script includes advanced security features to avoid fraud on your exchange platform. We can guarantee that our Simpleswap clone software can serve as the key factor in rendering the highest profits by performing exchanges in a secured ecosystem. As a coherent coordinator, Our firm has gained recognition from top leading business magnets for offering the superlative white-label clone software as the best resultant.
Essential Features of Our SimpleSwap Clone Script
Multiple Crypto Support
Our SimpleSwap Clone Script supports more than 600 Cryptos including Bitcoin, Litecoin, Ethereum, etc., which allows users to buy, sell and trade the various digital assets on the platform.
Instant Crypto Exchange
Our SimpleSwap Clone Script enables users to make instant trades using cryptocurrency exchanges, with funds typically being transferred within a few seconds.
Fiat Currency Support
This script allows users to exchange cryptos and purchase them with fiat currency using bank debit cards, credit cards, and others. To buy cryptos, our Script supports popular fiat currencies like USD, GBP, EUR, and others.
Exchange History

This script is built with exchange history features that help users to rapidly retrieve and track previously exchanged transactions, cryptocurrencies, and status.
Multiple Languages Support

As our SimpleSwap clone script supports multiple languages, it is suitable for a wide range of users.
High Liquidity

Our script was developed to provide high liquidity, allowing users to buy/sell or trade cryptocurrencies quickly and easily.
Secure Platform

Our SimpleSwap Clone Script is built with robust security measures to protect user funds and personal information.
Custom Admin Panel

Our clone script comes with an easy-to-use admin panel that allows the admin to efficiently manage the user transaction and user information on the platform.
Loyalty Program

Our SimpleSwap clone script includes a visually stunning and customized loyalty program for all crypto trading modules.
Benefits of Our SimpleSwap Clone Script
User-Friendly Interface
Instant Swap
High ROI
Cost Effective
100% Customizable
API Integration
Fast and Secure Transaction
Flexible for Customization
Cost to build an Instant Crypto Exchange like SimpleSwap
The cost of developing an Instant Crypto Exchange like SimpleSwap is determined by the number of features and specifications that you want to include. If you want to start from scratch, the cost will be expensive as the procedures involve the need for resources in huge amounts. Using the ready-to-market SimpleSwap Clone Script is the alternate option that would significantly minimize your costs.
Simple Swap Clone App Development
Simple Swap Clone app is the exact module of the Simpleswap exchange platform with exact features and progressing functionalities for easier accessibility. Exploring the Simpleswap clone apps can pave the pathway for using the platform from any nook and corner of the world, making it better reachability. We develop your Simpleswap clone apps that keep supporting both Android and iOS versions. With ultimate focus through every phase of development and deployment, our mobile app developers bring out the best solutions by eradicating all bugs after performing a series of testing.
Why Hivelance for SimpleSwap Clone Script?
Hivelance is a prominent Simpleswap clone script development company that has a team of experienced developers who have worked on various cryptocurrency exchange projects and have the required expertise to build your clone script. Our experts build an effective Simpleswap Clone script using cutting-edge technologies and tools. Being an experienced company we are committed to delivering a high-quality solution with high-end security measures. We can deploy the software on your server on time at an affordable price. While stepping into the trading process, both owner and users( Buyer/ seller), have an expectation of hassle-free and interruption-less transactions. Not only these features but also the transfers happen instantly. To satisfy their needs, Our Simpleswap clone script might be enlisted as the appropriate solution in making the exchanges occur within a short duration. Get your instant exchange platform from us!!
A panel of experts to recreate your dreams
Discussions to resolve all your queries instantly
Coherent technical ideologies for making the exchange faster
Support through zoom calls and texts
Round-the-clock support.
Want to know how our SimpleSwap Clone Script Works? Book A Free Demo Here!!!