NFT
Splinterlands Clone Script To Create A Best-in-Class NFT Trading Card Gaming Platform Like Splinterlands
Splinterlands clone script is a pre-built NFT trading card game script helpful to launch a P2E-based digital collectible NFT card game like Splinterlands.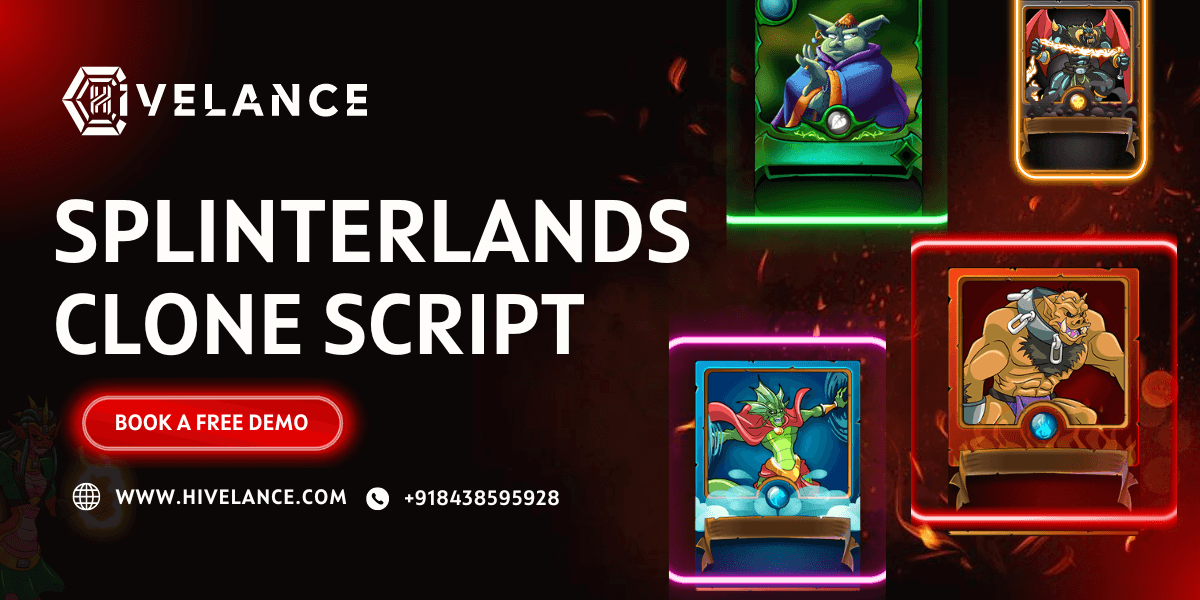 Splinterlands Clone Script
Splinterlands clone script is the 100% bug-free and ready-made NFT-based digital collectible game clone script that helps entrepreneurs to start their digital collectible card gaming platform quickly with popular features of Splinterlands, thus minimizing the startup costs. As your decentralized-based digital collectible card game is built from clone scripts, the major problems are already solved so it will reduce the time of development and launch time.
A simple overview of Splinterlands
Splinterlands is a decentralized based digital collectible card game that is built on the Steem blockchain. Players can buy, sell, and trade cards, and use them to battle against each other. The game features a variety of card types, including monsters, spells, and abilities, that players can use to build custom decks and strategies. The game also features a single-player campaign and a tournament system where players can compete for rewards. Splinterlands is free to play and no download is required, it can be played on any browser.
White Label Splinterlands Clone Software
White-label Splinterlands clone software is a 100% customizable NFT-based digital collectible card game solution that can be utilized for building an NFT gaming platform for creating, collecting, and buying NFTs. Using the bug-free and white labeled splinterlands clone software, Your P2E NFT marketplace alike splinterlands can be launched successfully with unparalleled performance features.
Exciting Features of our Splinterlands clone Script
Some interesting features of our Splinterlands clone script that can fascinate users on the NFT trading card gaming platform are shown below
Battle
Marketplace
Native Tokens
Combine Cards to gain levels
Convert Cards to Crypto
Trade with anyone
Sell on multiple platforms
Rent cards to other players
Classy Graphics
Easy navigable and user-friendly interface
Real-time Updates
Multiple Payment Options
AI-enhanced bots
Free chips and Rewards
Realistic Modules
Multiplayer gaming
API integration
Other Impressive Features
Why Can You Use Our Splinterlands Clone?

Our Splinterlands clone is built carefully with cutting-edge technologies and astounding features to amaze a lot of users on the online card game platform
Our Splinterlands clone is put through several testing steps to ensure outstanding performance across all platforms. This will surely boost the reliability of the collectible card gaming platform. Also, our Splinterlands clone is easily adaptable and so you can include additional features depending on your card-based online gaming business needs
So, our seamless clone will be the best online solution to kick starts your food delivery business within your budget.
What benefits can you get from our unique Splinterlands clone solution?

Our deftly crafted Splinterlands clone will serve as a perfect solution for aspiring proprietors to build a full-fledged NFT trading card game platform for setting a strong footprint in the online gaming industry.
We clearly understand that building a unique online collectible card gaming platform satisfying global players is not just an easy task as the users of today flock to the platform with the most interesting and futuristic additions and avant-garde technologies. Keeping this in mind, our team of experts focuses on developing a comprehensive Splinterlands clone script, Hivelance.
Our readymade Splinterlands clone script is built meticulously with several incredible features and functionalities in order to enrich the experience of players on the collectible card gaming platform. Also, to ensure the smooth performance of the collectible card gaming website across various devices and screen sizes, our Splinterlands clone script is subjected to rigorous testing steps.
In addition to this, if you want to include additional features and functions in your collectible card gaming platform to amaze your global audience in the long run, then it is also wholly possible with our versatile Splinterlands clone solution. This is because our top-notch Splinterlands clone solution is easily customizable to fulfill your Web3-powered digital trading card gaming business requirements.
Therefore, to say it in a nutshell, launching your own outstanding NFT-based digital collectible card gaming platform within your budget will be just grabbing our Splinterlands clone script. So, get ready to develop your own astounding digital, collectible card gaming platform like Splinterlands with our complete Splinterlands clone solution and reap the benefits of your blockchain-powered digital collectible gaming business within a very short span of time
Benefits of Splinterlands Clone Software
100% Decentralized
Immutable Smart Contracts
Sophisticated Graphics with a high-quality 3D Experience
Seamless reward Experience
Stable investment option for players
Stunning Dashboards with complete customization
Proven Code
Ease of Use
Scalable & Reliable
Quick Launch
Cost-effective
High Success Rate
Why Choose Hivelance For Splinterlands Clone Script Development?
Hivelance is undoubtedly the top NFT game clone script/software provider in the crypto market. With remarkable features and cutting-edge technology, our team of highly qualified blockchain experts has skillfully created a ready-made, fully integrated Splinterlands clone solution. Our dependable Splinterlands clone software is put through a number of rigorous testing procedures in order to demonstrate unmatched performance across different blockchain platforms. This will undoubtedly aid in building user trust and increasing the dependability of the NFT trading card gaming platform.
Furthermore, our Splinterlands clone is adaptable enough to accommodate the development of new features and functionalities based on the NFT trading card game specifications. So, with our adaptable Splinterlands clone solution, it is entirely possible to integrate futuristic elements in your digital collectible card gaming platform. So, why are you still waiting? Get our specially designed Splinterlands clone solution today and experience success in your NFT gaming business venture.

Book A Free Demo!!!