NFT
Sweatcoin Clone App - The Game-Changer in Health and Fitness Gaming Sector
Sweatcoin clone app is a ready-made M2E health and fitness gaming solution that helps to launch your web3-powered health app like Sweatcoin within 10 days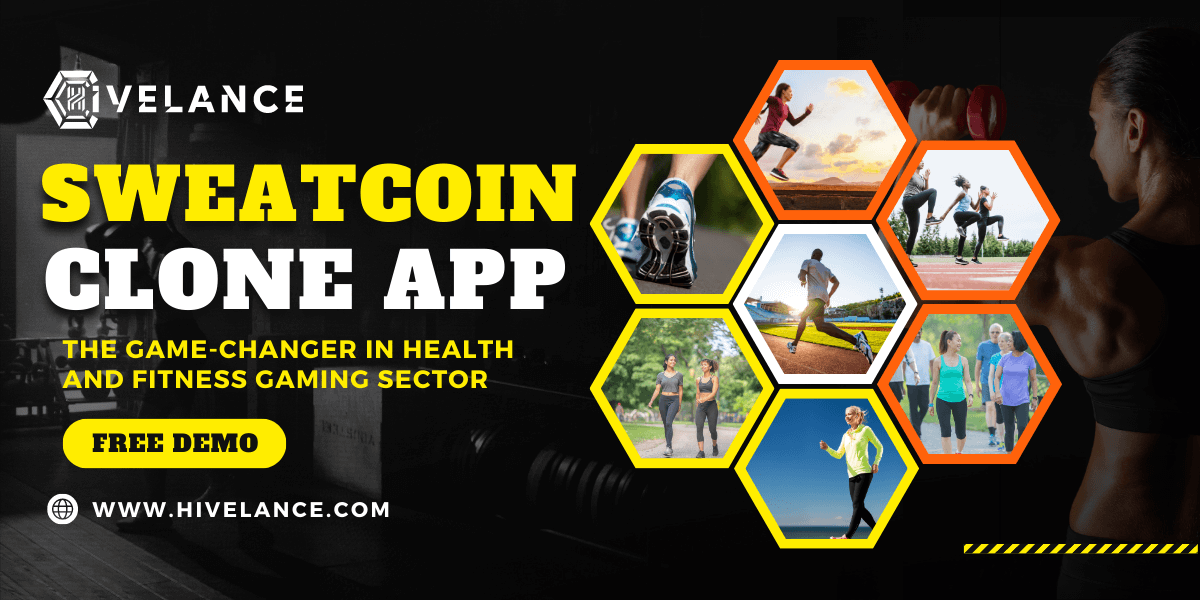 SweatCoin Clone App Development
"Transform your steps into valuable rewards by using Our Sweatcoin clone application"
Track your workouts with the Sweatcoin clone app developed by Hivelance, and redeem your rewards. Through this service, we offer a seamless and engaging experience for the users so they can reach their fitness goals.
Run through the Detailed Explanation of SweatCoin Clone App
A Sweatcoin clone app is a mobile application that mimics the essential features and functions of the original Sweatcoin app. Our Sweatcoin clone software lets users earn rewards for remaining active and adopting better lives. Features like step tracking, a rewards catalog, user profiles, push notifications, challenges, and social sharing capabilities are incorporated in our Sweatcoin clone apps. In order to encourage and include users in their fitness path, it might also include gamification components. We at Hivelance, develop your Sweatcoin clone apps with unique features, designs and reward systems, customized according to your needs.
Hivelance makes Sweatcoin clone app development more unique
Sweatcoin clone app development by Hivelance prioritizes providing a clear and user-friendly user interface. To keep users motivated and interested in their quest for fitness, we designed the app with an attractive style, simple navigation, and an engaging user experience. Users of the clone app have access to extensive rewards where they can exchange their earned virtual currency. Hivelance works directly with customers in accordance with their target market, ensuring a wide variety of awards.
The Necessity For Sweatcoin Clone Apps
Various inner mottos rely on why users should build and launch applications like Sweatcoin. Some of them are listed below:
Monetization Opportunities: Our Sweatcoin clone app opens doors for generating new revenue streams. To further increase income chances, you may also integrate in-app purchases or premium memberships.
Can Maintain Fitness with a Healthier Lifestyle: The fitness and health of users can be improved by using our Sweatcoin clone app. The overall well-being of the users can be improved by offering rewards for their efforts.
Engagement of users in an interactive way: High user retention and engagement can be fostered by our Sweatcoin clone app. Gamification components such as challenges, leaderboards, and incentives are available for interactive engagement.
Features of Our Sweatcoin Clone App
Our Sweatcoin clone app includes a variety of features and functionality to give users the platform for maintaining a healthier lifestyle. The following are some essential characteristics that our Sweatcoin clone software will often have:
Users can collect virtual currency as rewards
Tracking of each steps of the users are easier
Rewards catalog
Gamification elements
User profile
Staking options
NFT Marketplace with a wide range of NFT collections
Customization options
Data insights and analytics
Integration of wallets.
Benefits of Launching Sweatcoin Clone app
The advantages of developing and launching the Sweatcoin clone app are listed below.
As M2E is a trend, a huge user base can be brought into the platform
Participate actively in the digital economy.
Helps in community building
achieve high ROI
Utilize the mobile app to attract additional players.
How Hivelance can help you in building a Sweatcoin Clone App?
Hivelance is a well-known software development firm with a focus on developing cutting-edge mobile applications. Hivelance has created a spectacular Sweatcoin clone app in response to the rising popularity of fitness and wellness apps. This reliable platform can be created to encourage and push people to lead active and healthy lifestyles. Advanced algorithms and GPS monitoring are used by our Sweatcoin clone app to calculate the distance traveled, and total level of physical activity. It seamlessly interacts with the user's smartphone and makes use of built-in sensors to track and record their daily activities. An intuitive and visually appealing UI is another feature of our Sweatcoin clone software. Users may measure their progress, set goals, and make educated decisions about their exercise routines with the help of detailed activity logs, and data.
Best team of technical experts to bring in all your business needs.
Qualified blockchain developers
Our professionals are 10+ years of experience
Our services are served for the users without any lags
We approach our clients across the globe.