Cryptocurrency
Everything to Know About Crypto Token Development Tech Stack and Costs
This guide explains everything you need to know about token development. It includes token development tech stack, languages, and costs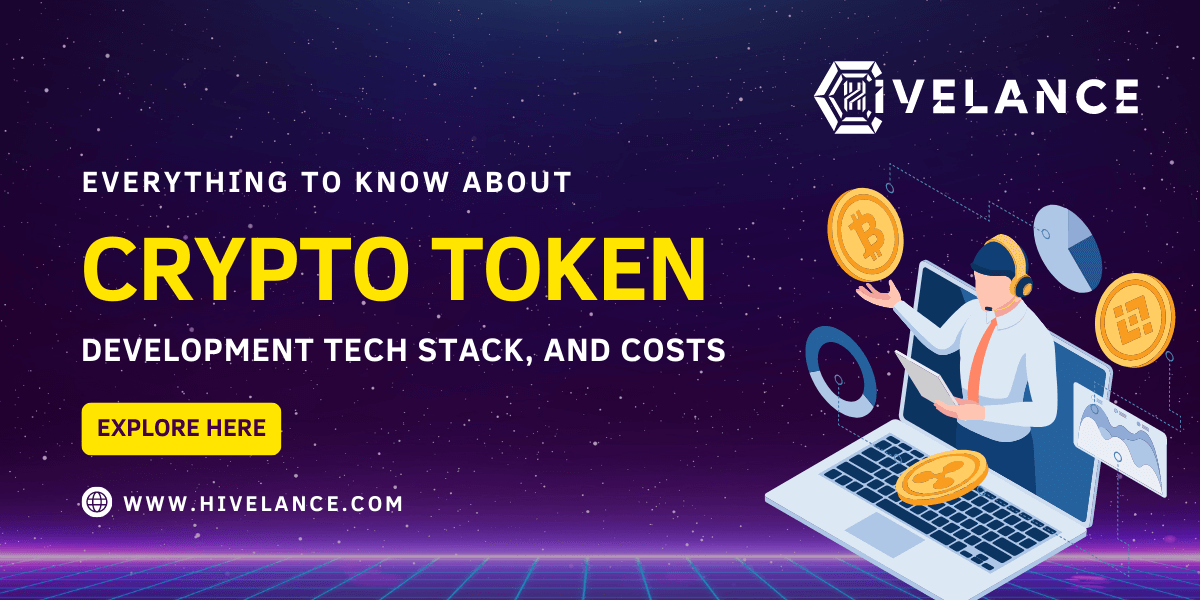 With time, token usage is becoming quite astounding. People are spending more time trading in the crypto era due to the combination of new technologies and novel concepts. At the moment, token development is becoming a significant source of income.

Now, in this topic, we will cover token development tech stack and cost.
Let's proceed.
What are the Popular Token Development Technologies?
Developing a token requires expert guidance. Consulting a reputed token development company will be very beneficial.
When discussing token development technologies, it will be good, to begin with some common blockchain networks such as:
Ethereum
The Ethereum platform, which is based on blockchain technology, is nothing more than a network of computers, known as nodes, that are linked to one another. Furthermore, the entire network can be thought of as a single "Ethereum Virtual Machine" structure. On this Ethereum platform, many DApps have been developed. Ether, Ethereum's native currency, or Ethereum tokens are typically exchanged in order to complete transactions on the blockchain.
It's interesting to see how the Ethereum ecosystem is booming, with the ERC token development trend poised to disrupt every sector. Therefore, the development of Ethereum Tokens offers business owners a beneficial edge to make use of this innovative technology and succeed in the cryptocurrency space. Additionally, the development of the ETH token seems to be significantly more advantageous for use with any DEX, DApps, Crypto Tokens, blockchain applications, MLM, HYIP, NFT Marketplaces, Games, Web3, Metaverse projects, etc.
Are you interested to develop tokens using various Ethereum standards such as ERC20, ERC721, ERC1400, ERC1155, and more?
It would be beneficial to get in touch with our professionals to assure the optimal use of this blockchain network.
Binance Smart Chain
Anyone can develop and launch their cryptocurrency token using Binance Smart Chain. On the Binance Smart Chain, creating a token is a rather easy process. Building Ethereum-based applications on BSC is simple since it uses a special blockchain that is compatible with the Ethereum Virtual Machine (EVM). To better serve corporate demands, a number of blockchain enthusiasts are already providing dApp development services.
Binance Smart Chain - Which would be the best for Token development?
It will be fruitful to get in touch with a credible token development company. It will assist you to utilize these high-end BSC token standards such as BEP2, BEP20, and BEP721 properly.
Tron
It is another popular token development network. Whether developing TRC10, TRC20 & TRC721 tokens, this network is ready to meet your expectations. Since TRON is an advanced technology, not many developers have experience with it. However, we have essentially perfected the TRON Token development, which enables us to offer our clients reliable DApps and crypto tokens.
Solana
It is one of the highly advanced token development platforms. Solana blockchain amazingly supports you to develop crypto tokens within a short time.
This platform is quite rich in token development to serve you with highly interactive and reliable tokens and DApps. You just have to look for the right Solana token development assistance to utilize this blockchain network properly.
Polygon
Polygon is a scaling mechanism that improves the performance of blockchain networks while reducing prices and complexities. Our premier Polygon blockchain development company helps businesses to create their crypto tokens, smart contracts, NFT marketplace, games, and more on Polygon Blockchain.
When developing crypto tokens, you should not stick to a specific blockchain network. Depending on your business requirements, you should also consider other blockchain networks like:
Avalanche
Tezos
Stellar
Fantom
Multichain
Token Development Languages
Let's take a look at some of the programming languages that all token development companies utilize to meet the following objectives.
1. Solidity
2. Java
3. Python
4. JavaScript
5. PHP
6. C++
7. C#
8. Go
9. Simplicity
10. Ruby
Factors Determine Token Development Costs
Nowadays, every business wants to offer immersive token development solutions to its customers. Unfortunately, development costs vary based on your project's specifications.
It is time to discuss some of the factors that determine your token development cost:
Token Type
Want to develop utility, security, fungible or non-fungible tokens?
Depending on the token type, your token development cost will vary. Hence, consult an expert to know the exact token development budget that you may have to spend when developing tokens for purposes like fundraising, gaming, education, e-commerce, finance and asset management, and so on.
Token Features
Wish to develop tokens with simple or advanced features?
You must make an early decision regarding this. It will assist you in spending the appropriate amount to achieve your goal.
When developing a crypto token, you just have to add primary features using an advanced tech stack. Hence, the cost of development is also less.
When developing tokens, you have to utilize cutting-edge features like Mintable or Pausbale, burnable, etc. So, the cost of token development will also be vary based on the business requirements.
Tech Stack
There are plenty of token development technologies at the moment. You need to select the best one depending on the demands of your project if you want the intended results.
Now, you have to decide whether to use Ethereum or Binance Smart Chain, or other high-end blockchain networks to boost the uniqueness of your crypto tokens.
Similarly, you also have to determine which programming language you intend to use when creating tokens. Whether, you want to use Solidity, Java, C++, or other scripting languages.
Considering all of these criteria will help you to easily fulfill the token development cost.
Token development requires careful oversight. To guarantee a successful outcome, you must simultaneously pay attention to meeting the expenditure at each stage of the token development.
How Can We Meet Your Token Development Requirements?
At Hivelance, we are dedicated to providing you with the best possible solutions. We have been involved in serving various industries with high-end token development solutions for over a decade. Whether developing Utility, Security, and NFTs, you can contact us. Our team of experts is extremely proficient in utilizing cutting-edge technologies and tools to provide you with the ideal token development solutions aimed at business models.
Our token developers are excellent at conceptualizing your requirements and working hard to implement them at every level of token development. Additionally, we closely track the performance of your token to quickly identify bugs and other unwanted components.
For token development consultations, we are always committed to serving you with the right guidance. To know more, feel free to contact us. We shall help you to know the tricks and tips for interactive crypto token developments.