Cryptocurrency
Popular Margin Trading Exchange Platforms Look Out for 2024
Explore the top 6 crypto margin trading exchange platforms to watch out for in 2024. Discover cutting-edge features, advanced trading options, and secure interfaces for maximizing your cryptocurrency Profits.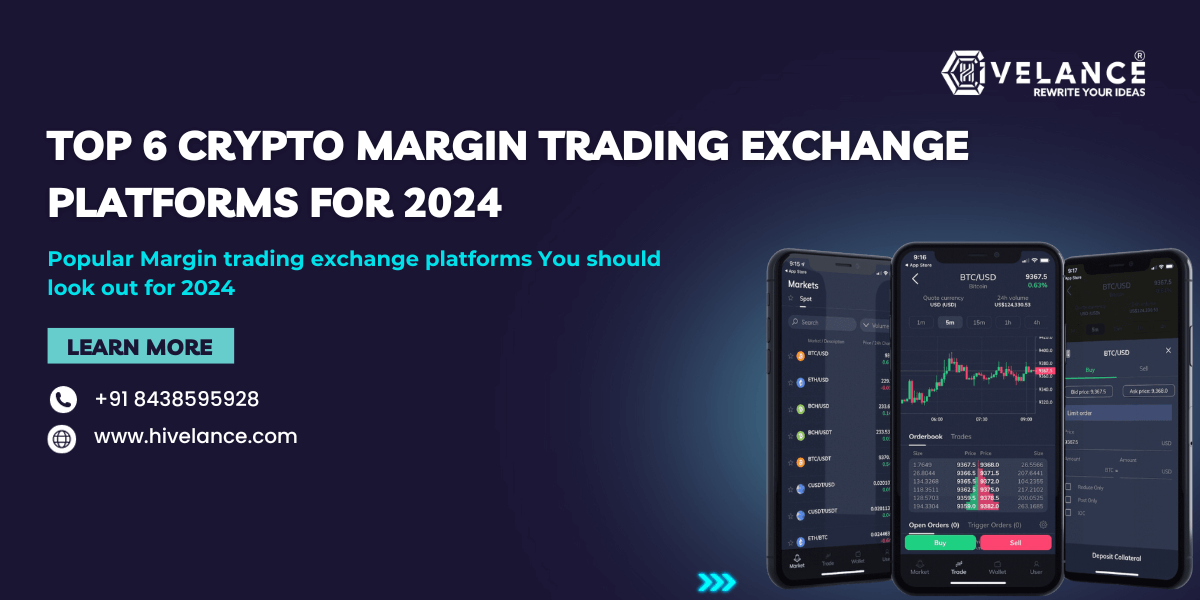 Margin Trading platform has become increasingly popular in the cryptocurrency and traditional financial markets, allowing traders to amplify their positions and potentially maximize profits. As we look ahead to 2024, it's crucial to stay informed about the best margin trading exchange platforms. In this blog, we'll present the top 6 Margin Trading Exchange platforms to keep an eye on in the coming year. These platforms offer a range of features, from high leverage options to a wide selection of crypto assets. Whether you're a seasoned trader or a newcomer to Margin Trading Exchange, these platforms are worth considering for your trading endeavors in 2024.
What is Margin Trading?
Crypto Margin Trading, often referred to as leveraging, is a trading strategy where investors aim to boost their trading positions by borrowing capital based on the crypto assets they already own. Similar to making purchases on credit, margin trading involves utilizing funds provided by a third party to increase the size of your trades. This approach enables traders to potentially amplify their profits when their trades go in the desired direction.
Margin trading is very common and particularly well suited to low volatility markets like global Forex. In recent times, it has also grown in favor of the stock, commodities, and cryptocurrency markets.
Best 6 Crypto Margin Trading Exchange Platforms
Binance:
Binance is the world's largest cryptocurrency exchange, offering a wide range of trading pairs and margin trading with varying leverage levels. Binance offers a robust margin trading platform with a wide range of trading pairs, competitive fees, and various leverage options. Binance is known for its liquidity and advanced trading tools, making it a top choice for margin traders.
BitMEX:
BitMEX has long been a favorite among cryptocurrency margin traders. One of the most well-known cryptocurrency margin trading exchanges in the world, Bitcoin Mercantile Exchange, or BitMEX for short, was established in 2014 and has since grown in popularity. It offers up to 100x leverage on certain contracts and provides advanced trading features. However, be mindful of the high risk associated with such high leverage.
Kraken:
Kraken is a leading platform for margin trading. Since it was founded in 2011 and is situated in the US, it is one of the first cryptocurrency margin trading exchanges.
Kraken is a well-established exchange that offers margin trading with a focus on security and compliance. It provides a diverse selection of assets, including cryptocurrencies and traditional fiat currencies.
Bybit:
Bybit is gaining popularity for its user-friendly interface and competitive fee structure. It supports perpetual contracts with leverage options and has an active trading community. It stands out as a versatile crypto trading platform that offers access to both spot and derivatives markets, making it a popular choice for traders seeking diversified crypto trading options.
Kucoin:
Kucoin stands out as a remarkable cryptocurrency exchange, providing a comprehensive range of services and access to a diverse selection of cryptocurrencies. It's a prime platform for discovering both well-established cryptocurrencies and promising projects in the crypto space. With its user-friendly interface and robust liquidity, KuCoin was a must-add to my list of top-margin trading crypto exchanges. KuCoin offers leverage of up to 10x for spot trading and an impressive 100x for derivatives trading.
Bitfinex:
Bitfinex is a prominent cryptocurrency exchange platform that facilitates the trading of a wide variety of digital assets. Founded in 2012, Bitfinex is one of the older and more established exchanges in the cryptocurrency industry. It is headquartered in Hong Kong but has a global user base. Bitfinex offers advanced charting tools and a wide range of bitcoin margin trading alternatives, it is a flexible option for both newcomers and seasoned professionals.
Why Hivelance is the Ultimate Choice for Crypto Margin Trading Exchange Development?
Margin trading can be highly profitable but comes with significant risks, so it's essential to choose a reliable and reputable exchange platform. Hivelance is a leading Crypto leverage and Margin Trading Exchange Development Company, we take immense pride in our top-tier development team, comprised of highly skilled professionals. Our mission is to provide you with a feature-rich exchange platform that stands at the forefront of the industry. We are dedicated to offering a fully compliant and seamless trading experience for the buying and selling of cryptocurrencies.
Our experienced team of developers has outstanding experience in creating a platform that is not only powerful but also flawlessly executed.
Are you thinking about incorporating a cryptocurrency margin trading platform into your business plan in an effort to increase revenues and your prospects for growth? Hivelance your trusted partner, ready to guide you through the world of margin trading with expert insights and unparalleled support.
Begin your journey towards success by taking the first step with us today!!!.