Cryptocurrency
Top Crypto Arbitrage Trading Bots for 2023
This is a guide to the top crypto arbitrage trading bots for 2023 that will help you to build your own automated trading bot with the help of Hivelance.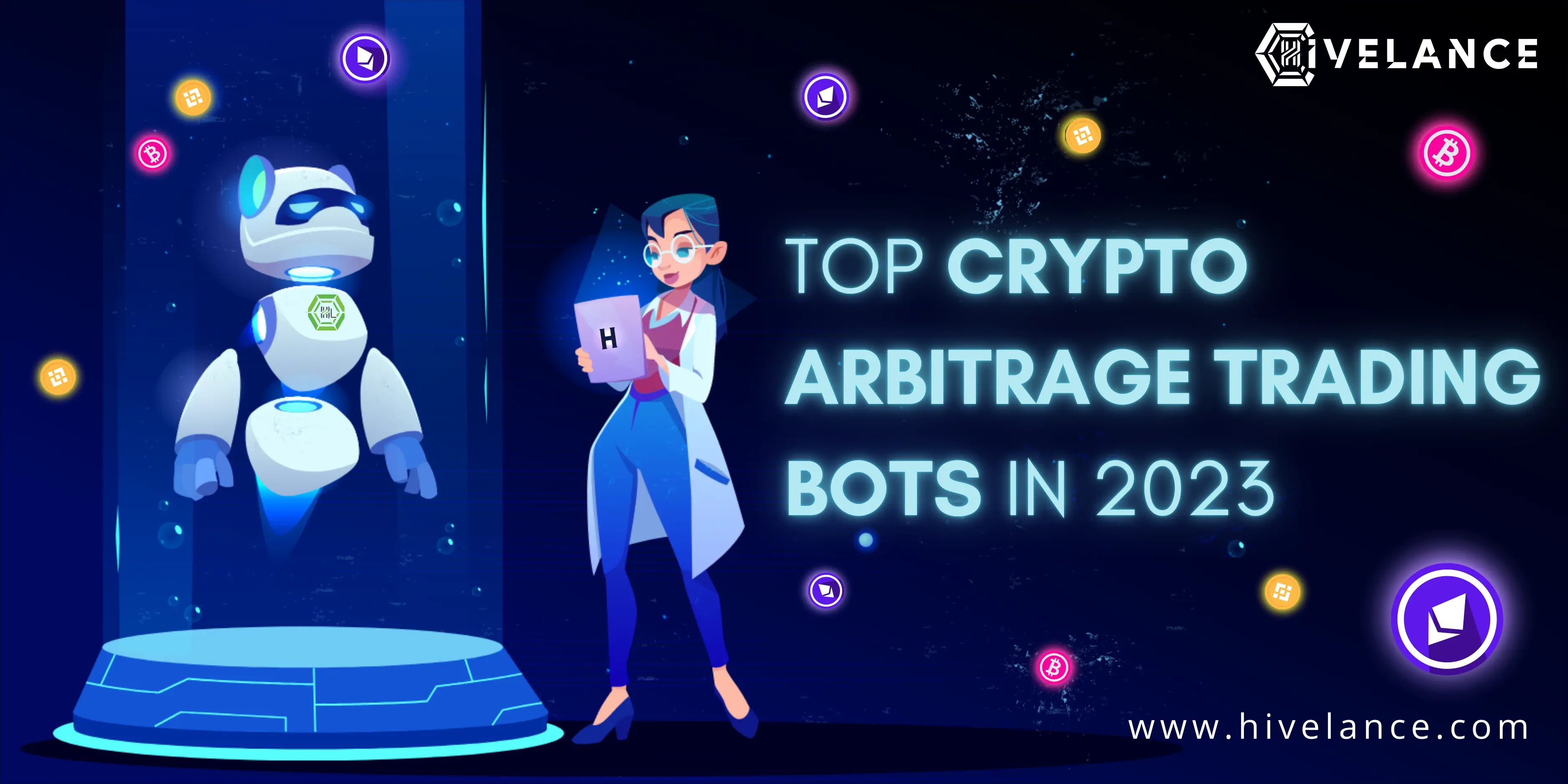 Blockchain technology is enabling thousands of people to make money every day, as Bitcoin confirms 25,000 transactions daily.
Cryptocurrency trading can be an incredibly risky business due to the high volatility of the market. However, using a crypto arbitrage bot to automate the process can help reduce the risk. Are you Searching for the best arbitrage bots?
In this blog, we'll explore the top crypto arbitrage bots of 2023. We have also identified the bots that best meet your business objectives, so keep reading to find out more!
What is a Crypto Arbitrage bot?
Crypto arbitrage bots are automated trading programs that enable traders to take advantage of price discrepancies between different crypto exchanges. By using an arbitrage bot, traders can identify and capitalize on opportunities to buy a crypto asset at a low price on one exchange and sell it at a higher price on another exchange.
The bots can do this automatically and execute trades in fractions of a second, taking advantage of any arbitrage opportunity quickly before the price difference disappears.

What to Consider When Choosing an Arbitrage Bot?
Automation: When choosing an arbitrage bot, you should look for one that offers a high level of automation. You should be able to set up the bot and have it run on its own, with minimal input from you.
Security: Security is of utmost importance when it comes to trading. You should choose an arbitrage bot that has high-level security measures in place to protect your funds and transactions.
Reliability: You should select a bot that is reliable and has a good track record. It should be able to execute trades quickly and accurately so that you can maximise your profits.
Cost: A good arbitrage bot should offer competitive fees and pricing. You should compare different options and find the one that best suits your needs and budget.
Support: Good customer support is essential when it comes to using a trading bot. You should be able to get help quickly and easily if you have any questions or issues.

Top Crypto Arbitrage Trading Bots
Cryptohopper
Cryptohopper is an automated trading bot that allows users to trade cryptocurrencies on multiple exchanges automatically. It is designed to be user-friendly and customizable, allowing users to automate their trading strategies and make decisions based on technical indicators.
Cryptohopper can be used for both manual and automated trading. It also offers a variety of features, including portfolio management, automated portfolio rebalancing, and backtesting.
It can be used to execute trades on a variety of exchanges including Binance, Bittrex, and Huobi. The bot also offers back-testing capabilities and a paper trading feature for users to test their strategies before executing them.
This bot offers you the ability to connect with exchanges securely and protect your assets by using unique API keys.
3Commas
3Commas is a cryptocurrency trading bot that helps users automate their trading and maximize their profits. The bot also allows users to backtest their strategies and monitor their positions in real time.
It works with several exchanges, including Binance, Bitmex, Bittrex, Coinbase Pro, Huobi, HitBTC, Kraken, and Poloniex. It offers advanced portfolio management tools and automated trading bots with the ability to backtest and optimize strategies.
It also provides access to real-time market data, trading history, and portfolio analytics. 3Commas also provides a variety of features to help users manage their funds more efficiently, such as automated stop loss and take profit orders, trailing stop loss, and portfolio rebalancing.
3Commas may be difficult for beginners due to its steep learning curve, but experienced users will benefit from its capabilities.
HaasOnline (Hassbot)
Haasonline is a popular arbitrage bot that helps traders take advantage of the differences in the prices of cryptocurrencies across different exchanges. It works by executing automated trades that take advantage of the price differences between different exchanges, thus generating a profit for the user.
The bot is designed to be easy to use and customize, allowing users to set their own parameters and strategies for trading. The bot also provides a range of features, such as risk management, portfolio management, and backtesting, allowing users to optimize their trading strategies. It also has a user-friendly interface and supports 20+ exchanges and multiple cryptocurrencies.
HaasOnline bot is highly secure and reliable, which makes it an ideal choice for traders who want to maximize their profits while minimizing their risk. The bot is designed to be user-friendly and is suitable for both novice and experienced traders.
Cryptohopper enables its users to replicate the investments made by other users using crypto arbitrage software.
Gunbot
Gunbot is an automated cryptocurrency trading bot that uses the arbitrage strategy. It is software that is designed to identify profitable trading opportunities in the cryptocurrency market and then place orders to buy and sell accordingly.
Gunbot can be customized to fit the specific needs of a trader and can be used on different exchanges, such as Binance, Bitfinex, Poloniex, Kraken and more. The bot is programmed to take advantage of price discrepancies between different exchanges, exploiting the difference in the price of a particular asset.
It then makes trades simultaneously on both exchanges to take advantage of the arbitrage opportunity. Gunbot can also be used to make automated trades based on technical analysis indicators.
Gunbot offers a range of features that may challenge users during the initial setup, however, users who are comfortable coding their own scripts will be able to take advantage of the full potential of this tool. The cost of this software reflects its complexity and the level of expertise required to use it effectively.
Pionex
Pionex Arbitrage Bot is a trading bot that helps traders to take advantage of market inefficiencies to capture profits from arbitrage opportunities. It helps traders to identify profitable opportunities and quickly execute trades in order to capitalize on those opportunities.
The bot has built-in strategies that allow it to automatically scan the markets for potential arbitrage opportunities and execute trades accordingly. It also has a built-in risk management system that helps to minimize losses and maximize profits.
Pionex also provides trading bots for market making, grid trading, and trailing stop loss. But Doesn't allow custom trading strategies. Pionex allows you to deposit and withdraw USD directly from your bank account.
Coinrule
Coinrule is a cryptocurrency trading bot that allows users to create automated trading strategies using a simple and intuitive interface. It automates the process of buying and selling coins, allowing you to make trades quickly and easily.
You can set up complex trading strategies and the bot will execute them automatically, giving you the ability to take advantage of price changes and market opportunities. The bot makes use of a wide range of technical indicators, trading strategies, and risk management tools to help users execute their trading strategies.
It also offers portfolio management features, allowing users to track and manage their portfolios, as well as automated portfolio rebalancing. In addition, the platform provides real-time analytics and market insights to help users make informed decisions.
Even if you're a beginner, Coinrule's bot offers you the choice of over 150 premade rules or strategies. You can also create your own strategies!
Bitsgap
Bitsgap Arbitrage Bot is a powerful trading robot that helps users to take advantage of price differences between different cryptocurrency exchanges. It allows users to buy and sell cryptocurrency on different exchanges simultaneously and earn profits from price difference.
The bot features a smart risk-management system, automatic trading algorithms, and advanced analytics. It also offers a wide range of features such as limit orders, margin trading, stop loss, take profit, and more. The bot is suitable for both beginner and professional traders.
Trality
Trality arbitrage bot is powered by a proprietary AI algorithm. This algorithm allows the bot to identify arbitrage opportunities in real time and execute trades automatically. Additionally, the bot can be used to analyze the market and generate profitable trading strategies.
It also supports multiple exchanges, including Coinbase, Binance, and Bitfinex, allowing users to take advantage of arbitrage opportunities across multiple markets. It also features a risk management system to limit losses and a backtesting tool to test strategies before trading live.
This platform provides Drag-and-drop options for strategies and indicators. anyone can customize that without the coding knowledge necessary.
Autonio
Autonio is an advanced crypto trading bot that enables users to execute automated arbitrage strategies. It offers a unique combination of features that allow traders to take advantage of arbitrage opportunities in the cryptocurrency markets and capitalize on price discrepancies.
The platform provides users with access to a fully-automated arbitrage bot, an integrated trading terminal, and automated order management tools. Autonio also features advanced analytics, API integrations, and a user-friendly interface. Autonio can be used to implement arbitrage strategies across a variety of cryptocurrency exchanges, including Binance, Bitfinex, and Kraken.
With Autonio, traders can easily monitor the market for arbitrage opportunities, execute automated trades, and take advantage of price discrepancies.
TradeSanta
TradeSanta is an arbitrage bot that allows users to take advantage of price differences between cryptocurrency exchanges. It works by connecting to different exchanges and monitoring prices in real time. When the bot detects an opportunity to profit, it will automatically place orders to buy and sell the cryptocurrency, taking advantage of the price difference.
This allows the user to earn profits without having to constantly monitor the markets. TradeSanta also has a variety of other features, such as customizable trading strategies, stop-loss and take-profit orders, and automated rebalancing. But not recommended for advanced traders.
Zignaly
Zignaly Trading Bots is an automated trading platform that allows users to create and deploy algorithmic trading bots for the cryptocurrency markets. They are designed to automate the entire trading process, from analyzing the market to entering and exiting trades.
With Zignaly, you can set up trading rules, set stop loss and take profit levels, and even set up automated trading strategies. Zignaly also provides detailed analytical reports and trading performance metrics.
This allows traders to review their trading performance and make adjustments accordingly. Additionally, Zignaly provides a wide range of technical indicators and charting tools that can help traders identify trading opportunities.
Blackbird Bitcoin Arbitrage
Blackbird Bitcoin Arbitrage is a trading system that allows users to profit from the price differences between bitcoin exchanges. It works by monitoring the markets and executing trades when it finds an opportunity to make a profit.
In order to use Blackbird Bitcoin Arbitrage, users must have access to two or more bitcoin exchanges and a margin account with the ability to place limit orders. The system is designed to be very user-friendly and can be used without any prior knowledge of trading or computers.
Blackbird Bitcoin Arbitrage can be used to make money in both rising and falling markets, as well as during periods of high volatility. Blackbird is a Bitcoin-only arbitrage bot, so it cannot be used for arbitrage on any altcoins, such as Ethereum or Cardano.
Gimmer
Gimmer's arbitrage bot allows users to perform arbitrage trading across multiple exchanges in one place. Additionally, Gimmer's AI-driven algorithm is designed to identify and take advantage of market inefficiencies in real time.
Gimmer also has a sophisticated risk management system that helps users to manage their risk and optimize their trading strategies. Finally, Gimmer's user-friendly platform allows users to customize their trading strategies, set up multiple bots, and make manual trades as well.
By using Gimmer, you have the opportunity to lend your crypto trading bot to other traders. And Gimmer has a feature that allows you to connect with other traders in a social trading network.
Quadency
Quadency is a cryptocurrency trading bot designed to automate and simplify the process of buying, selling, and managing digital assets. It allows users to create custom trading strategies and automate their trading activities.
The platform also provides access to advanced trading tools such as technical indicators, backtesting, and portfolio analysis. Quadency's user interface is designed to be intuitive and easy to use, making it a great option for both experienced and beginner traders.
P.S: This is not a piece of financial advice and users should research the arbitrage trading bots depending on their needs before getting started.
How to make your own crypto arbitrage bot?
Creating your own crypto arbitrage bot can be a tedious time-consuming process. The most successful way to do so is to have a strong understanding of the cryptocurrency market, the different exchanges, and the technology used to run the arbitrage process.
The first step is to research and understand the different exchanges and their fees, trading rules, and APIs. You will need to partner with different exchanges and link them to your bot solution. You will also need to set up trading rules and strategies for your users to choose from.
The next step is to create a trading algorithm. This algorithm will allow your bot to search for profitable trades and execute them automatically. You should also consider setting up a risk management system so that your bot can protect your customer's investments from market volatility.
Finally, your bot should have a monitoring system as the main feature to track the performance of your user assets.
Creating your own crypto arbitrage bot can be a rewarding experience but it will take a lot of time and effort. If you are not familiar with the cryptocurrency market, it is recommended that you seek the help of a professional to help guide you through the process.
Don't worry about building your own crypto arbitrage bot. Hivelance will help you to build your own crypto arbitrage bot.
Why Hivelance to build your own Crypto Arbitrage Trading Bot?
Hivelance is a pioneering Crypto Arbitrage Trading Bot development company. We specialize in building highly secure, reliable, and profitable trading bots for the cryptocurrency market.
Our bots are designed to execute a wide range of strategies, including arbitrage, market making, and portfolio management. We also provide custom solutions for individual traders and businesses looking to automate their trading strategies.
Our team of experienced developers is committed to providing our clients with the best trading bots available. We pride ourselves on our customer service, and our goal is to help our clients maximize their returns while minimizing their risks.