Metaverse
Top Metaverse Development Companies to watch out
Let's look into some of the top metaverse development companies who are active in this landscape.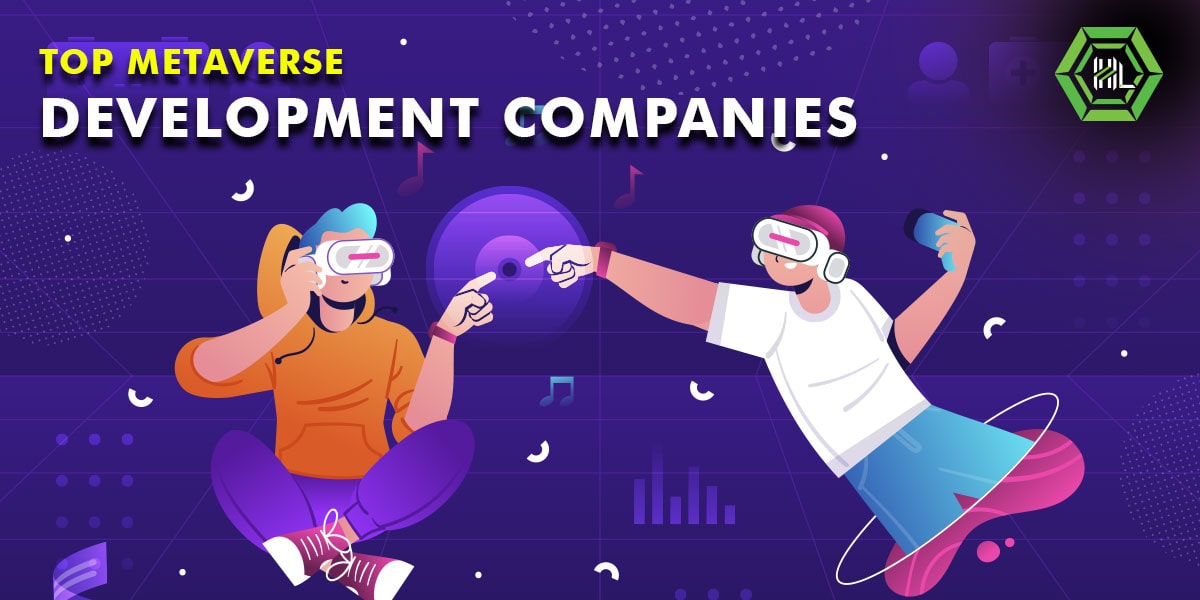 Metaverse is an immersive virtual experience where users can interact with each other, play games, attend digital meetings, party or birthday celebrations using 3D animated avatars created for each one.
The users can bring their imaginations into a realistic one here.People from any locations across the world can get united through the Metaverse.
Traveling expenses, accommodation fees, arrangement costs, Venue charges can be neglected when using Metaverse. Only a VR/AR device with Internet facility is enough.
Like this, Metaverse has tons of benefits to offer. But how it can be built, what companies are involved in developing the metaverse infrastructure?
Let's look into some of the top metaverse development companies who are active in this landscape.

1.Meta

Facebook founder Mark Zuckerberg took a massive initiative by announcing Meta as the parent company that will focus on building Metaverse infrastructure for the betterment.
The announcement caused a storm and got the attention of the whole world to look at Metaverse and its possibilities.
Also, it made the tech entrepreneurs lure into the business applications of Metaverse.
Meta is a company working beyond 2D screens with an aim of providing 3D virtual/augmented experience for connecting people together. Meta store has been recently launched in the US with all its products like Meta Quest, Meta Portal, Meta Quest accessories for its users who are wishing to enter into the virtual world.
The company is now very passionately involved in many researches to bring revolution in this social technology.
2. Accenture

Accenture is another tech mammoth who have been into metaverse research and development for so long years.
The firm is working on a vision named Metaverse continuum, that includes the versatile services in metaverse like blockchain, Content management, 3D commerce, digital twins, marketplace development, trust and safety, extended reality, ecosystem and community development.
Accenture has also stepped to merge the banking sector in the metaverse world that can unlock unlimited possibilities of banking experience.
3. Decentraland

Decentraland is a famous metaverse company owned by Metaverse Holdings Ltd. It enables users to build and sell virtual lands in the Metaverse world. Users may use the MANA cryptocurrency, to purchase virtual plots of land on the platform as NFTs. It enhances the usage of VR headset to be immersed in a 3D, interactive world.
There are plenty of opportunities in decentraland to explore or even create your own piece of the universe inside. The users can go to a casino, watch live music, attend a workshop, shop with friends, start a business, test drive a car, visit an underwater resort within a 360-degree virtual world.
4. Tata Consultancy Services

TCS being a global leader in IT services and business solutions in 42 countries, they started their journey into metaverse development projects where users can simplify, strengthen and transform their businesses using VR/AR techniques.
By using augmented reality and metaverse's three-dimensional virtual world capabilities, individuals can experience themselves by socializing or interacting with business in a meaningful way.
They develop metaverse projects for making the clients to make virtual tours of the office or the ODC without physically visiting the premises. One can also have a virtual home tour sitting from the comfort of home or enjoy virtual trips around the world with friends and family.
5. Unity software

As a leader in real-time 3D technology, Unity is poised to prepare its community for new modes of interaction that enable data discovery and insight. Unity Software is well known for its Unity video game engine, which is used by developers to create games that work across different platforms such as computers and mobile.
Unity is now leveraging its video gaming expertise in the metaverse by focusing on the creation of real-time 3D content for various industries ranging from retail to architecture to automotive to the creation of digital twins.
The good part is that the company's non-gaming business is gaining impressive traction, indicating that it is benefiting from the metaverse. Unity reported a 70% increase in its non-gaming revenue in 2021.
6. Infosys

Infosys metaverse foundry converges the power of domain and design expertise, platforms and digital accelerators, with strong relationships in a rich creator-partner economy.
This gives them on-demand ability to securely and efficiently create their own metaverse environment, deliver signature experiences in an existing metaverse, bring advanced AI powered data analytics with IoT,5G,VR and simulations to realize their evolving aspirations as they race to adapt to new priorities and emerging market trends.
Infosys is the top most company having branches in nearly 80 countries and being the largest venture.
7. Hivelance


Hivelance accelerates metaverse journey in multi-faceted use cases.We are positioned as the fastest growing metaverse development company passionately working towards the innovating metaverse applications.
Some of our recent works include avatar powered collaborative metaverse in e-meetings, learning, coworking space rooms for conferences, party celebration venues, lively 3D gaming fields etc. We handpick selective tools and use advanced techniques like VR, DLT, 5G, AI, IoT to build a metaverse that can be of real-time use.
Our extended metavese development services include Blockchain consulting, Digital twin services, XR and 3D avatar creation.
8. Capgemini

Capgemini is a leading IT sector which is noted for its highest influence in development of IT solutions, consulting and technology. Capgemini has started to host its new business models, new advent technologies to reshape the metaverse.
With advanced technologies and the equipment like VR headsets, headphones, gloves, clothing with sensors, the company will actively engage us by enabling the high tech-kit required for Metaverse.Technology is evolving at such a fast pace that all of this is more feasible than ever before.
As technology enables us to store more data, which can be exchanged very quickly using 5G, we are witnessing the emergence of artificial intelligence combined blockchain that give us a fabulous experience in Metaverse.
9.Microsoft

Microsoft's venture in landing in the metaverse is that it involves "the ability to bridge the digital and the physical worlds." The metaverse changes the way digital representations of people, places, things and processes must be persistent in Microsoft's view.
At Microsoft Build 2022, Microsoft brought together a panel of its experts to discuss the company's metaverse strategy, which centers largely but not exclusively on the company's Teams collaboration platform.
Worth fact is that Microsoft's vision of the metaverse goes beyond simply recreating physical space in digital space as it applies AI to gain insights.
The chief head of Xbox ( which is a microsoft creation), has even talked about the company's plan in creating the metaverse.
10. NVIDIA

Nvidia is a famous chip company which is already successful in building its Omniverse platform that is used to connect the 3D worlds into a virtual universe.
This Omniverse platform is used in simulating projects of physical buildings and factories that are emphasized in the metaverse development.
Nvidia platform provides a complete set of Metaverse software solutions to create, run and monetize interactive real time 2D and 3D animations.
Nvidia provides the processing for the strong foundation of AI implementation. Omniverse has been downloaded by over 50,000 individual artists since its launch.
Closing thoughts
Seeing the metaverse storm made by the biggest tech mammoths, every enterprises looking to upgrade their business objectives by mixing Metaverse ideas in it. The future is bright for Metaverse and it holds the incremental value in all ages of people breaking all the potential barriers.
Stay updated with us to know more about how the metaverse evolves as an innovating technology in Future. If you have any project that needs serious discussion, get a free consultation from our Metaverse engineers.