Blockchain
Trustpad Clone Script To Create A Multichain-Based IDO Launchpad
Hivelance provides a pre-built Trustpade clone script that includes advanced functionalities and state-of-the-art technologies to arrive at a complete Multi-chain based fundraising platform like Trustpad.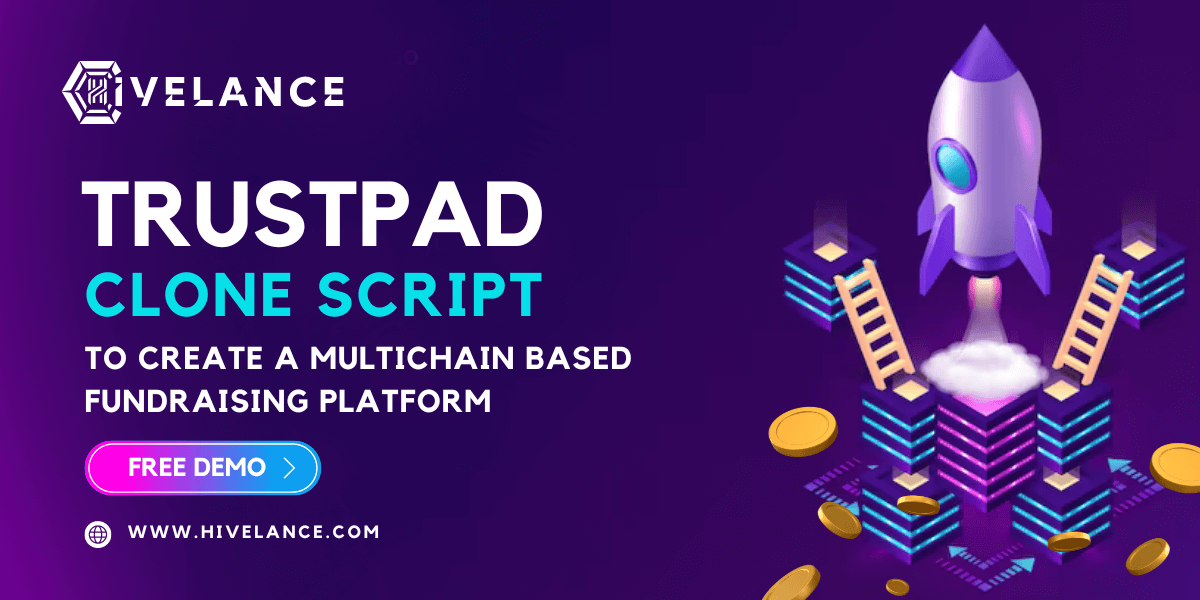 Trustpad Clone Script: Unlocking the power of the business model
A Trustpad clone is a pre-made fundraising solution that uses the BSC network and has many of the same features as Trustpad. Businesses can engage with the community to improve their goods and services with the help of our TrustPad. At Hivelance, we provide a TrustPad Clone script that lets you create your own decentralized fundraising platform by copying the functionality of TrustPad. You can quickly construct a platform similar to TrustPad using the TrustPad clone script.
What is Trustpad?
TrustPad is a well-known IDO platform that assists cryptocurrency project owners in obtaining funding from investors. Additionally, it enables investors to fund the projects they are most interested in. The BNB chain powers the TrustPad platform which also supports other chains.

Whitelabel Trustpad clone software

Whitelabel TrustPad Clone software is a 100% bug-free customizable solution to launch your own rebranded IDO launchpad platform like TruatPad. We do modifications based on your business need to create your own brand and the uniqueness you need. Our White-label TrustPad Clone is a decentralized platform for fundraising that enables projects to raise money and offers security to inexperienced investors.
Features of our Trustpad clone script

Multichain compatibility -This makes project fundraising possible and gives startup investors security. It creates a strong base that is compatible with several blockchain networks.
Staking modules - With these features, owners can now take an active role in the token delegation as validators. Additionally, it gives users the ability to participate in the consensus process without service as their own validator.
Limited swapping -The token will be sold through the white-label Trustpad clone script at a preset price, and the buyer will attach a wallet and switch the token until the initial batch of tokens is gone.
Wallet integration-This allows any mainstream wallet to implement rapid transactions into every procedure while integrating accuracy quality.
Liquidity pool- By enabling users to combine their assets in smart contracts to provide liquidity for currency trading, our TrustPad clone helps users. It supports a number of tokens and starts trading right away.
Two Factor authentication- All transactions benefit from an additional degree of security throughout the construction of the TrustPad Clone. Before allowing access to the launchpad, it also confirms the ownership and investors.
Instant token distribution - When the tokens are live on the platform, investors and project holders will have easy access to them. This provides a better solution for owners while deploying the decentralized platform to raise funds.
Low gas fees- In the TrustPad IDO launchpad development, less gas fees are available. Other blockchain networks typically have hefty fuel prices, rendering them inappropriate for many investors or project owners.
Perks of Developing Trustpad Clone
Allows to raise funds: TrustPad clones inherit the expedited token launch procedure, which enables projects to quickly acquire funds and begin their DeFi journey.
Improved audibility and security: TrustPad clone retains the secure and audible nature of TrautPad's smart contract architecture, limiting the risks associated with any flaws.
Customizability: TrustPad clones can be changed to fit the exact branding and requirements of each project, allowing business owners to keep their individual identities.
Exposure to a community of growing investors: TrustPad Clone script takes advantage of the user base and community already there, exposing initiatives to a network of possible backers and supporters.
Workflow of Trustpad Clone
By observing security procedures and utilizing other cutting-edge features, we offer an effective workflow.
Project information
The project owner must register on the platform. There must be some basic project information. The project website connection is the most crucial. The project owner can view the whitepaper, roadmap, and progress of the project.
Project Reputation
The legitimacy and legality of the project will be verified using all the information the project owner has provided. If all the information is accurate, the project is listed on the platform with a date.
Crowdfunding
Investors can participate in the crowdfunding process before it begins. You must go through this process to make money to support your project or any business. Investors must purchase the native token first to improve its liquidity before participating.
Whitelisting
Additionally, the investors are chosen through the whitelisting procedure to take part in the crowdfunding process using a set quantity of their native tokens. In other words, you get to participate in the exchange first.
Gratifying procedure
When the crowdfunding campaign is launched, project chipping will let the whitelisted investors participate. The project tokens will then be given to the investors as compensation.
Making Your DeFi Dream a Reality with a TrustPad Clone
Creating a TrustPad clone enables business owners to realize their own DeFi projects,
Creating your individual DeFi project: A trusted clone offers a strong framework for launching your project, allowing you to concentrate on its essential features and marketing plan.
Taking advantage of the success of TrustPad's business model: Tracks record of success and reputation enhances the legitimacy and visibility of your project.
Creating a project via a TrustPad Clone: Allows you to participate in the continuing development and innovation of the DeFi industry.
Accepting the future of DeFi: The TrustPad clone development enables business owners to actively contribute to the innovation of DeFi as it transforms conventional banking systems.
Our Multi chain IDO Launchpad development Solutions
Binance IDO Launchpad
Lower transaction fees and quick transactions are two benefits of the IDO launchpad developed with the BSC. Due to the fact BSC uses a proof-of-stake mechanism. It pays rewards in exchange for staking tokens on the network.
Due to the fact that BSC uses the Proof-of-Stake mechanism. In exchange for staking tokens on the network, it pays rewards.
Ethereum IDO launchpad
Being open-source, dependable, scalable, and interoperable makes the Ethereum based IDO launchpad development more advanced.
Solana IDO Launchpad
Solana blockchain technology has advantages that should be highlighted for speedier transactions and lower transaction fees. Among the various blockchain networks, Solana is the one that operates faster and easier.
Polkadot IDO Launchpad
Interoperability is easy to implement with Polkadot. In this way, Polkadot can communicate with other networks, boosting the platform's overall effectiveness.
Cardano IDO LaunchPad
Cardano uses less gas which is important for consumers. Faster transactions and staking are two further noteworthy advantages of Cardano.
Why choose Hivelance for Trustpad clone development?
Hivelance is a premier IDO launchpad development company, that provides a solution to launch a multichain IDO launchpad platform like TrustPad. We adhere to a special feature that allows you to create a TrustPad Clone that is identical to Trustpad. Our team of experts includes developers and designers who can support you with your project. Based on your company's need to raise capital on the most well-known blockchain networks, we offer IDO launchpad development services.
We significantly alter things for brand names using the white-label solution. By developing our TrustPad clone script, we ensure that you may earn the most money from your investment. We can offer a variety of businesses and industries secure systems that are properly integrated.