NFT
VeVe Clone Script To Empowers NFT Marketplace for Comics and Artworks
VeVe clone script is an NFT marketplace solution that includes significant features of the prominent NFT marketplace, VeVe.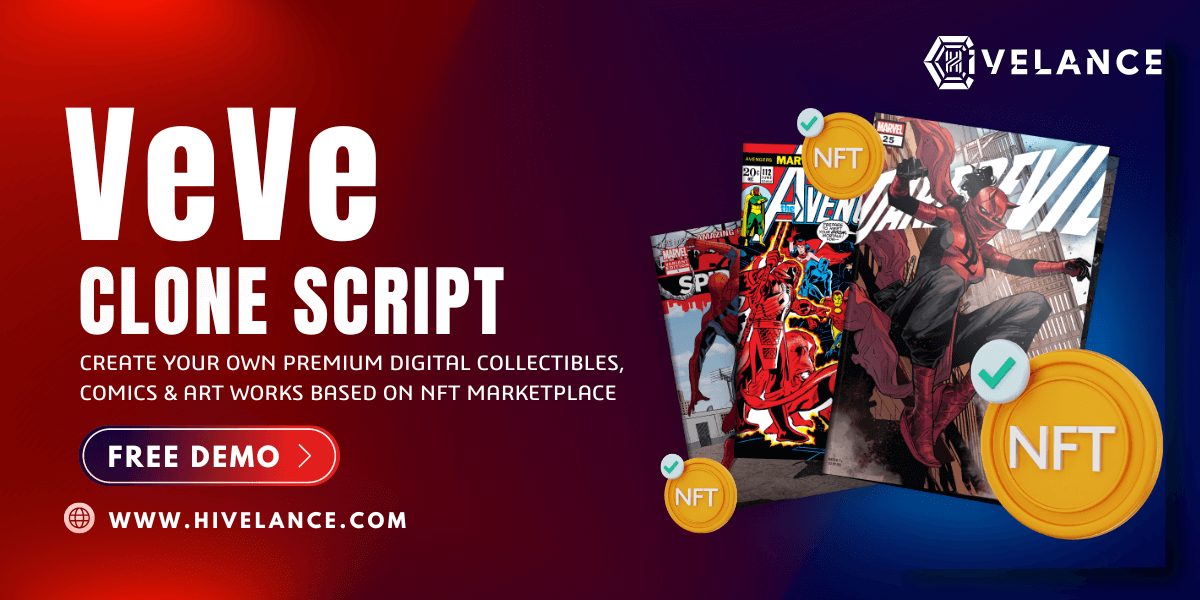 Several NFT marketplaces support talented creators by giving them unchangeable ownership rights, including those who are musicians, artists, photographers, celebrities, actors, etc. NFTs are being launched into orbit to offer the best answer to this problem. In this sense, the VeVe NFT marketplace drew the interest of NFT fans by providing them with upscale and exclusive digital treasures.
VeVe Clone script
A VeVe clone script is a ready-made solution to create an NFT marketplace for buying and selling premium licensed digital items that are similar to VeVe. Your entry point into this brand-new era of the virtual world will be the launch of the VeVE clone, which will enable you to be an early adopter in this leading-edge sector. VeVe Clone provides well-known digital collectibles from famous people as well as from comic books, video games, and cartoon characters. Additionally, you could combine these amazing collections into your marketplace and offer your customers the chance to buy them. The VeVe clone essentially provides customers with a variety of captivating experiences on a single platform.
At Hivelance, our team of experts will go through all your needs and specifications, and support you to launch your own NFT marketplace like VeVe to buy and sell digital collectibles.
What is the VeVe NFT marketplace?
An NFT marketplace for buying and selling digital collectibles is called VeVe. However, to explore the web app, you either need to download it or at least register an account; making an account only requires entering your email address and is not particularly sensitive.
However, you must provide your payment information to purchase digital items on VeVe. Also, you must prove your identity with a government-issued ID and address proof.
NFTs Drop on the VeVe marketplace
Let's look at a few of the most popular NFTs on VeVe.
Disney and Pixar NFT collections
Comic books including Marvel & DC
Simpsons and other Cult-Classics
Whitelabel VeVe clone software
Whitelabel VeVe clone software is a 100% customizable solution that has features and functionalities based on your requirements to show your brand is unique in the Market. We provide all of the technological and security characteristics necessary for an NFT marketplace like VeVe, together with the full infrastructure of such a platform to buy and sell popular NFT collectibles.
Features of VeVe clone script
Advanced search filters: Allow you to provide your customers with the ease of getting straight to the categories of digital content they desire.
Virtual storefront: Utilize a storefront to display the vast array of digital products you have to offer your customers.
Categorization: To make it easier for users to explore your website, group the artworks that are listed on it into various collections and categories.
Integration of multiple wallets: allow customers to store their collections and conduct transactions using their favorite cryptocurrency wallet directly on your website.
Listing collections: Be sure to streamline the listing procedure for artworks on your platform so that creators may publish their collections on the website without any hassle.
Buying and selling: In addition to obtaining NFTs through airdrops, users can purchase and sell digital products to other users in the marketplace.
Airdrops: A digital collection of movies, sports teams, or music CDs may be dropped and offered for sale to early investors as a collectible.
Artificial intelligence: The AR capability in our VeVe is the proverbial "Cherry on top". It allows the user to engage with the collection in the real world rather than just holding the collection they purchased.
Perks of developing VeVe Clone script
Time consumption and affordability: It can be costly and time-consuming to build an NFT marketplace app from scratch. You can save time and money during the development of a VeVe clone app similar to VeVe.
Reliability: Veve has already become very popular among collectors, proving that there is a market for apps that are similar to it. You may capitalize on this demand and release an already successful software by employing a Veve clone script.
Customizing: You can alter a Veve clone script to suit your unique needs. You can modify the app's style and layout as well as decide which features and functionality to include.
How to create an NFT Marketplace similar to Veve using VeVe Clone script to start a fan base?
To launch an NFT marketplace software similar to Veve using a Veve clone script follows several steps.
Select a reputable Veve clone script provider: There are several Veve clone script vendors on the market, so it's crucial to pick one that is trustworthy and has a solid reputation.
Customize the clone script: After deciding on a Veve clone script provider, you can adjust the clone script to suit your needs. In addition to customizing the app's look and feel, you can decide which features and functionality to include.
Install payment gateway: For users to buy and sell NFTs, you must install a payment gateway in your app. Make sure the payment gateway you select accepts cryptocurrency and is trustworthy and safe.
Launch the app: You may publish your app on the app stores after customizing the clone script and integrating the payment gateway. Make sure to adequately market your software to draw consumers and expand your user base.
Why Choose Hivelance for VeVe clone Script?
Hivelance is a leading NFT marketplace development company, that provides services to launch NFT marketplace like VeVe using the VeVe clone script. You can quickly launch your NFT marketplace and modify it to match your unique needs with us. By releasing your own NFT marketplace, you may capitalize on the NFT market's rising popularity and build a successful project.
If you're planning to launch an NFT marketplace like VeVe to buy and sell NFT collectibles then this is the right time. Enquire with us to know more.