Web3
Web3.0 Apps Ideas For Prospering Your Business 2023
Discover the most innovative Web3 app ideas for 2023. A Web3 app can transform your business into a decentralized ecosystem by improving user experience and increasing revenue.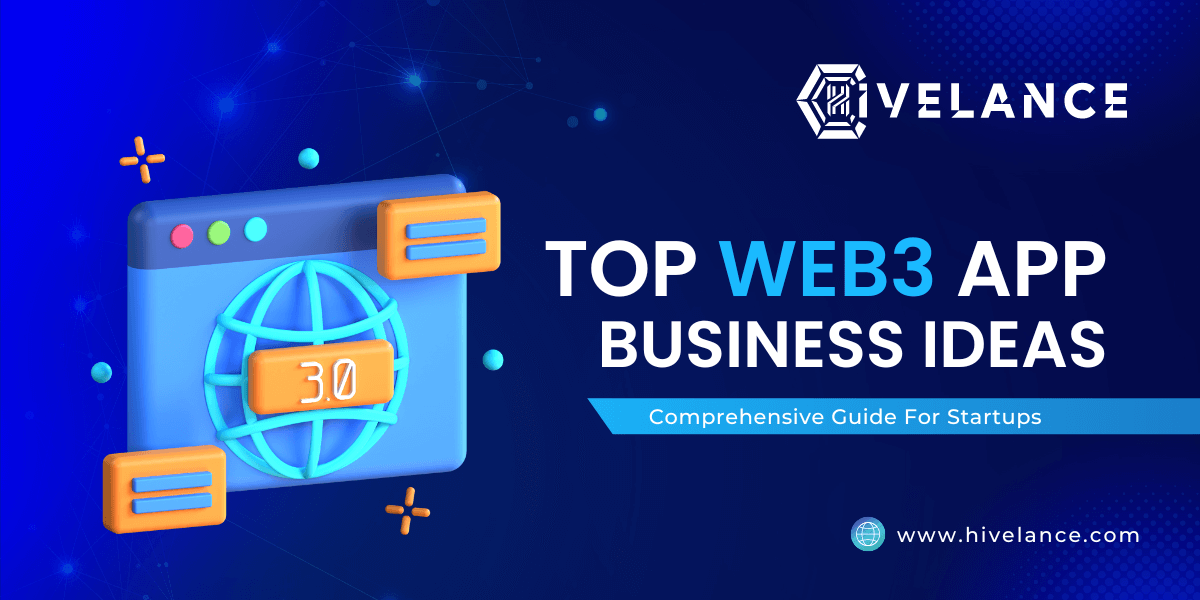 As technology keeps upgrading, the evolution of many phases of the web is the most admired evidence of newer innovations these days. From web to Web3.0, are there not any useful aspects explored? By overcoming the shortcomings in each stage of the web, many advantageous features and functionalities are kept furnished on a daily basis.
In a Nutshell, Web3.0 inherits the potential to be the disruptive partner in the digital realm, initiating the development of many modernistic findings. Web3.0 uses blockchain, cryptocurrencies, and NFTs which in turn provide the entire ownership, which can be considered as the stupefying factor. Handling of data using Web3.0 occurs productively as there enters the involvement of AI and decentralized ledgers ( DLT). Web3.0 applications can be enlisted as the most promising margin-yielding domains in this Era.
Most Promising Benefits Offered by Enticing Web3.0 Technology
Foremostly, Web3.0 allows decentralized interactions and healthier communications as they are considered as the semantic web version.
It establishes a better infrastructure for supporting faster transactions.
Transparency is higher as there is a supporting bond between the users. Thereby gaining the trust of the customers.
In order to enhance business growth, web3.0 is being integrated with IoT paving the pathway for high productivity, and risk management.
Web3.0 apps are ruling the markets to open the doors for new opportunities as they incorporate machine learning, AI strategies, and so on.
Personalized customer experience can be rendered by AI chatbots, which is the greatest innovative ideology of Web3.0. These chatbots help in increasing the interoperability feature for scrutinizing the data which are maintained confidentially.
Reasons why One should shift over to Web3.0 Apps
Traditional web applications are developed and deployed to perform certain functions, and it also has some flaws even though created with ultimate care. By neglecting all these drawbacks, Web3.0 apps play an important role in the upcoming generation. Web3.0 apps are very easy to access and keep running to ensure highest security. The main feature is that users can be rewarded with complete ownership of data and also accessibility. Some of the characteristics of these Web3.0 apps are listed below:
Decentralized to enable processing without third-party influence
High Interoperability
Highly secured network
Independent ensures to take decisions on their own
Permissionless as they do not require any authorization.
Market Leading Web3.0 Applications in 2023:
BRAVE ( Bringing Web3.0 to all )
The most entrancing Web3.0 innovation is the Brave browser. Enlisted as the alternative to Mozilla Firefox and Google Chrome. It can be considered the new browser that offers ad-blocking and privacy-providing modules. With the assistance of ravishing blockchain technology, users' privacy is maintained high and irrelevant ads can be blocked. BRAVE tokens are offered to users who are accessing the platform for various purposes.
At Hivelance we have the most prominent Web3.0 app developers who are masters in bringing out all business flourishments. Serving you with striking facilities is carried out by including modernistic technologies.
Lbry
The Futuristic record- distributing platform which mainly implies making money, which in other words is quoted as a decentralized platform. Lbry keeps functioning automatedly and is regarded as the alternative for Youtube. Our developing team can handle your projects and make the most promising route for reaching the targets.
Ethalance
Searching for jobs through the internet by jobseekers has become a recent trend these days. What if these searches happen via a Web3.0 platform? Absolutely the process would be more helpful as they are fully decentralized which builds a healthier bridge between the recruiters and the job seekers. This enables easier conversations and gets a clear-cut idea. As the name implies, it completely operates with the aim of rendering services with 0% fees ( absolutely free ). The platform functions over the popular blockchain network called Ethereum. Outputs are massive.
Hivelance being the best service provider always targets in delivering useful services to clients across the globe. Coming to jobs for building a strong career platform we never compromise to be your best partner for developing your business growth. Our team develops the Web3.0-based Ethlance apps to widen your future goals.
Storj
To your clear Understanding, Storj is a unique and decentralized storage offering application, which enables the process to happen in a closed secured environment. This pin marks the other activities to adhere to the entire system operations which are listed as fault tolerance and redundancy. Storj offers benefits like flexibility for unlimited uploads, and downloads and also ensures better ease of use.
Everledger
The first ever found web3.0 app is the Everledger, which is used for recording and tracking valuable items like gold, diamond, and so on with entire flexibility. Also, it can help in easier access to data with fraud prevention activities. Users can scan the Everledger sticker to ensure that they purchase authentic products.
Steemit
Steemit is the best web3.0-based social media application with 2M registered users which can be defined as a decentralized social blogging website. Users of the site will be receiving payments for their content as they are built on the top blockchain networks.
Livepeer
Liverpeer is the web3.0-based application that allows users to have smoother communication through video sharing. This platform can be highlighted as the direct video streaming medium which is entirely decentralized, which means the security is higher.
Ysign
Y-sign is a blockchain-enabled crypto wallet application, which works according to decentralization guidelines. It is a messaging app with high security, and privacy, there is no central authority to govern the functions.
Sola
Sola is also described as a decentralized social platform, inherited with both blockchain technology and artificial intelligence. As it is created based on the Ethereum blockchain, and AI algorithms, needed information can be delivered to the users based on their own demands. It renders quality content and helps earn money for creating, and sharing them.
Secretum
It is also the new Web 3.0-enabled messaging application, which can be considered an alternative to Whatsapp. Without having the right mobile number or email address, users can easily get attached to each other for communicating, sharing purposes, and so on. We can assure you that this will provide the highest security even while engaged in trading activity.
DTube
DTube can be a suitable alternative to Youtube, ie, the decentralized video-watching and sharing application. Users will be provided with the authority to select the videos and earn monetization with all fine security amenities. In short, it can be declared as the futuristic web3.0 app.
Above mentioned Web3.0 technology, its benefits, and the web3.0 applications can be the most prominent solutions in reshaping the future world. As it inherits more advantages, its uses in various industries, business growths, and so on are more appreciable.
Are you eagerly awaiting to create Web3.0 applications similar to the above-listed types? We can replicate the same with all preferred options and functionalities. Get the appropriate protocols from our experts to develop and launch yours and be the upholder in the Web3.0 markets.
Hivelance - Web3 Development Company
As Web3.0 is the blooming and outspoken aspect everywhere, Stepping into these technologies will never fail to provide us with astounding profits. Being the top Web3 Development Company, Hivelance is the most recognized firm in creating your web3.0 projects. With the talented crew of web3.0 developers, your imagination can come out with flying colors and render you unbelievable returns. Book an appointment with our panel.