Cryptocurrency
The Future is Now: Discover Why 2023 is the Optimal Time to Venture into Crypto Exchange Business
Is starting a crypto exchange business worth it in 2023? Explore our ultimate guide and launch your crypto exchange successfully.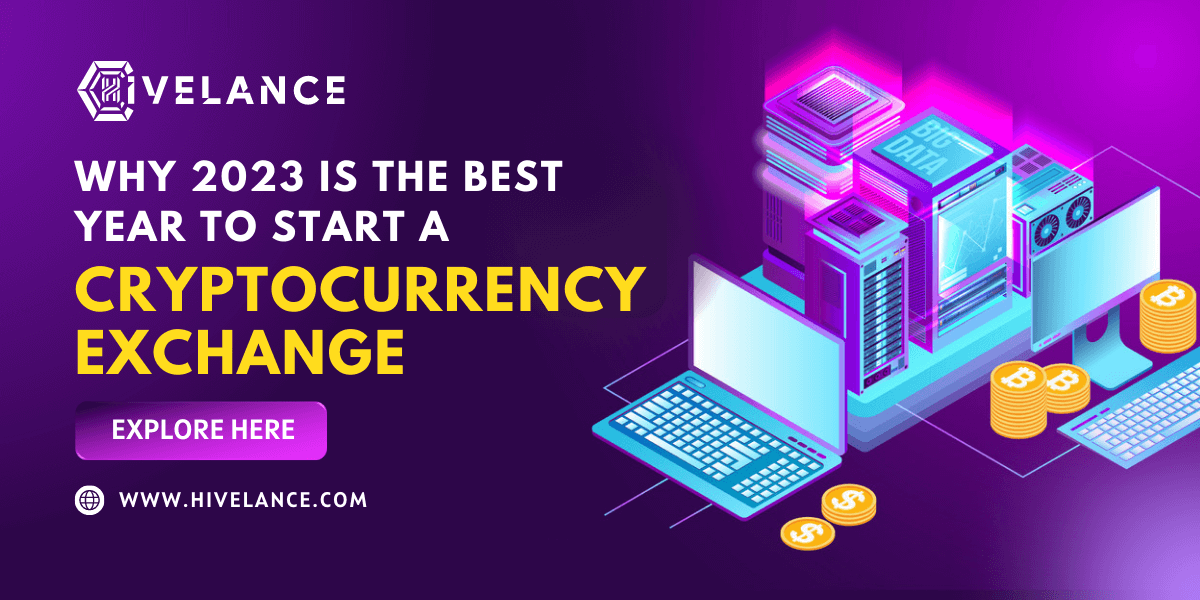 Do you want to launch your own cryptocurrency exchange? Here are some significant news for you. We're here to explain to you why 2023 is the PERFECT year to enter the world of cryptocurrency exchanges.
Growing Global Adoption: The year 2023 signifies an important turning point in the acceptance of cryptocurrencies around the world. As more people, businesses, and organizations adopt digital assets, starting your own cryptocurrency exchange platform now enables you to take advantage of a developing market and meet the rising demand for crypto trading.
Developing Regulatory Environment: As the regulatory framework for cryptocurrencies grows, it will become more transparent and stable for emerging crypto exchange businesses. By launching your own crypto exchange in 2023, you'll be able to deal with regulatory regulations with more reliability, assuring safety and raising user trust.
Popularity: Blockchain technology and cryptocurrencies are benefiting from unprecedented popularity among people in general. Large businesses, financial organizations, and even governments are adopting cryptocurrencies or investigating blockchain applications. By creating your cryptocurrency exchange firm in 2023, you set yourself at the forefront of this revolutionary trend and draw in both traditional and crypto-savvy individuals.
Technological breakthroughs: The year 2023 will see breakthroughs in blockchain technology, scalability solutions, and security measures. These developments help to improve customer experience, transaction speeds, and security protocols. By launching your exchange now, you can take advantage of these technological advancements and provide a more efficient and secure trading platform.
Investor Credibility: Most of the investors are progressively entering the cryptocurrency market, providing the sector with significant funding and credibility. The entry of financial enterprises in 2023 boosts investor trust and creates chances for funding and cooperation for your cryptocurrency exchange platform. You can tap into this expanding pool of potential investors by starting your enterprise right away.
Market Maturity: The cryptocurrency market is maturing, with increasing liquidity and a wider range of cryptocurrencies available. The result of this maturity is a more diverse and stable market environment that draws both seasoned traders and newbies. You may take advantage of this market maturity and give users a wide range of cryptocurrencies and trading alternatives by starting your cryptocurrency exchange in 2023.
Competitive Advantage: While the crypto exchange market is expanding, it is still in its early stages. By starting your business in 2023, you establish yourself as an early entry in an evolving sector, providing you an advantage over competitors. Creating a brand and a loyal user base now will reinforce your standing as the market grows.
Top 10 Crypto Exchanges 2023
Binance
Coinbase Pro
Kraken
Bitstamp
Huobi Global
KuCoin
Bittrex
Gemini
OKEx
Bitfinex
By launching a crypto exchange in 2023, you'll have an unparalleled opportunity to benefit from the wave of cryptocurrency adoption, regulatory developments, technology advancements, and industry expansion. By taking advantage of this opportunity, you establish yourself at the forefront of the sector and create the framework for long-term success.
Traders nowadays show a great interest in making use of unique crypto exchange platforms to meet a new set of crypto trading options. This led to the rapid growth of the crypto exchange and in turn, inspired many entrepreneurs to start their own crypto exchange platforms. But, just a initial crypto exchange platform with a standard set of features will not impress traders and investors anymore and so it becomes essential to build a unique and feature-rich crypto exchange platform with innovative inclusions. Building such a world-class crypto exchange is not an easy task especially when you decide to build from scratch. So, the better way would be to use a readymade and robust cryptocurrency exchange script. But,
What is a Cryptocurrency Exchange Script?
Cryptocurrency exchange script is an online crypto exchange and trading solution that will be available with all essential features and functionalities to build a comprehensive cryptocurrency exchange platform. So, getting success in your crypto exchange business venture will be just a piece of cake by building a full-fledged cryptocurrency exchange with a reliable cryptocurrency exchange script.
Looking for a Technology-packed and innovation-rich Cryptocurrency Exchange Script?
With more than a decade of experience developing ideal cryptocurrency exchange script for various exchange and trading models, our team of professionals has created a solid cryptocurrency exchange script with an up-to-date structure, responsive design, and unmatched performance.

Hivelance's cryptocurrency exchange script is built for enthusiastic business people who want to create an exclusive, innovative, and market-leading cryptocurrency exchange platform. We have created scripts that are 100% bug-free, simple to use, and easy to customize. Because of the unique attributes of our scripts, you have complete customization options, allowing you to change every aspect of the cryptocurrency exchange script to meet the demands of your business.
Don't miss out on this opportunity! Use our pre-made Cryptocurrency Exchange Script to launch a cryptocurrency exchange in 2023 and take advantage of its quick development, low cost, and high customizability. Create a market-ready, safe, compliant, and scalable crypto exchange platform. Your route to success begins here!