NFT
X2Y2 clone script - Start Your Own Decentralized-Powered NFT Marketplace
X2Y2 clone is a ready-made NFT marketplace script used to build a decentralized powered NFT marketplace instantly on various blockchain networks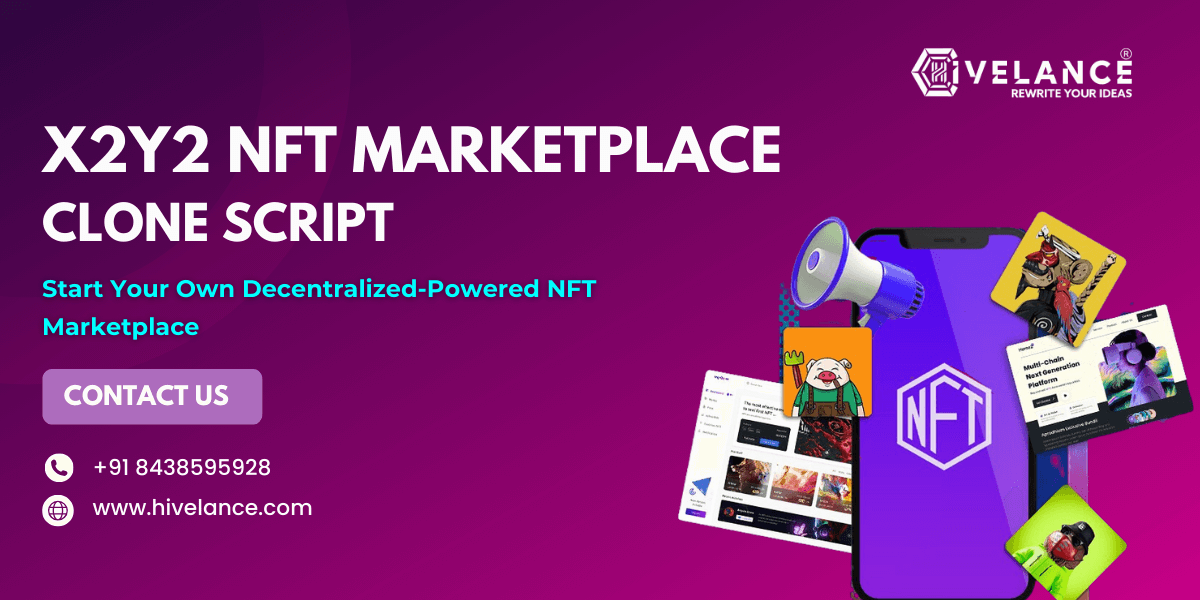 X2Y2 NFT Marketplace Clone Script:
X2Y2 Clone Script is the market-ready, pre written software solution for creating the NFT marketplace with a wide range of NFT collections. The platform offers a user-friendly interface with a focus on community building and gamification. It inherits all the vital features and functionalities of the marketplace that enhances the purchase, sale and other activities without any hassles. It also provides a profit-sharing system that allows artists to receive a larger portion of the sale price.
X2Y2 NFT Marketplace- An Overview:
The X2Y2 NFT Marketplace is the popular NFT marketplace that has started attracting many creators in recent times. As NFT Marketplace has become the vital business demanded by many Entrepreneurs, X2Y2 can be the best platform in bringing out ravishing incomes. This platform aims to enhance accessibility and fetch NFTs easily. New revenue streams are created that enable artists to make profits at a higher level.In brief, the X2Y2 NFT Marketplace is going to become a popular platform and manipulate businesses with many monetization opportunities.
Elite Features of X2Y2 NFT Marketplace:
Our X2Y2 NFT marketplace serves as a platform for the purchase, sale, and exchange of NFTs, which are one-of-a-kind digital assets that serve as proof of ownership or authenticity for the art, collectible.The following characteristics are typical in an NFT market:
Fractional Ownership: As a result of X2Y2's provision of fractional ownership of NFTs, multiple people may possess a portion of one NFT. This function is especially useful for expensive high-value NFTs that a single collector would not be able to purchase.
User profiles: Each user has a profile that shows their social connections, listed NFTs, collections, and transaction history. To build trust among the community, reputation or rating systems are frequently included in profiles.
Wallet integration: To enable transactions and store NFTs, users connect their cryptocurrency wallets (such as Ethereum wallets).
Royalties: When future resales of their NFTs occur, users can establish royalties so that they will receive a cut of the proceeds. This feature allows creators to continue to profit from their NFTs after they have been sold.
Smart contract creation: Users can customize the smart contracts that control the purchase and distribution of their NFTs using X2Y2. This functionality enables them to have more control over their NFTs and alter them to meet their own needs.
Incorporation of hybrid blockchain strategies: The blockchain technology used by X2Y2 combines the advantages of both private and public blockchains. This technique makes it possible for NFT transactions to be speedy, low-cost, and both transparent and safe.
Benefits Offered to Users with the incorporation of X2Y2 Clone:
Greater visibility
Accurate compensation obtained
Entire control of their works
High security
Royalties
Community interaction
Bidding options
Token standards support
Market insights
New revenue streams
Higher transparency
Improved protection and authentication.
Why Choose Hivelance for X2Y2 Clone script Development?
Being the fore-runner in NFT Marketplace development, Hivelance can be your trustworthy partner in creating X2Y2 like NFT Marketplace. With the help of this ground-breaking platform, users may safely store and exchange their NFTs in a transparent and safe setting. With the power to instantly search and buy digital assets and a user-friendly interface, this platform gives consumers the ability to easily own and trade their NFTs. Users can benefit from a safe, dependable, and affordable method of owning and managing their digital assets with the help of our X2Y2 NFT Marketplace Development. We have a specialized team of developers who are well-versed in blockchain technology for more than 13+ years and they can design and launch your NFT platform with unique features and functions. Delivering the reliable platform and hitched with utmost security features will be our futuristic ambition and we work accordingly as a team.