Cryptocurrency
Zebpay Clone Script - Simple and Cost-Effective Ways to Start a Crypto Exchange
ZebPay Clone Script is a ready-made centralized crypto exchange software that replicates all the key features and functionalities of existing leading exchanges like ZebPay.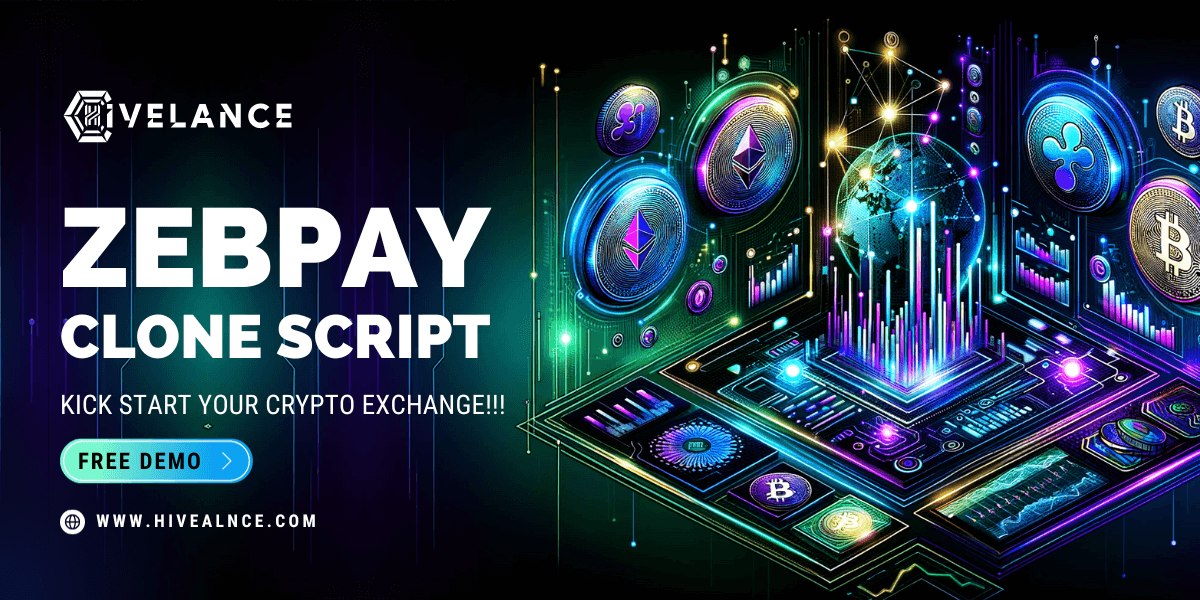 ZebPay Clone Script
Zebpay Clone Script is already-built software that has previously been designed and tested with all of the built-in features and plugins of the actual Zebpay exchange without violating any trademarks.

Hivelance provides the best Zebpay clone script services available with all the newest security features and functions. With the help of our Zebpay clone, we enable cutting-edge features and security measures that will enable you to quickly grow your user base and revenue.
What is ZebPay?
In 2014, Sandeep Goenka, Saurabh Agarwal, and Mahin Gupta established Zebpay, a cryptocurrency trading platform. With this platform, users can easily purchase, sell, and exchange various virtual assets while maintaining the highest level of security.
Zebpay currently boasts over 3 million active traders from around the globe, having transacted over $2 million in fiat currency to date. Approved as one of the greatest cryptocurrency trading platforms for beginners and seasoned traders alike, Zebpay is supported in over 163 countries.
How Can You Benefit From Our Zebpay Exchange Clone?
Our Zebpay clone script ensures that the software solution has all of the features already built for business. Your business can gain a lot from using Hivelance's Zebpay exchange clone script to start popular cryptocurrency exchanges.
Launch quickly and easily: We offer our cutting-edge Zebpay clone script in a ready-made style. As a result, we guarantee the clone script's rapid and simple launch for your business. You can make significant time and financial savings with our solutions. Furthermore, all of the essential functions and features of the original Zebpay platform can be integrated with our clone script.

You may attract new clients to your business and grow it in the shortest amount of time with our expert solutions.
Zebpay Clone App Development
We provide Zebpay mobile apps for iOS and Android operating systems. Our goal is to give traders simple, hassle-free transactions via a few taps on their mobile devices, anywhere and at any time. Using mobile wallets, our Zebpay clone app offers rapid trade.
Premium Features of our Zebpay clone software
The whole trading experience on the Zebpay clone exchange can be improved by incorporating intriguing features into the program. In addition, features are going to be a big element of drawing in a lot of overseas cryptocurrency users.
Margin trading
Multi-crypto wallet integration
Liquidity API
IEO Launchpad
Admin and user dashboard
Referral program
Multilingual assistance
Stop order, market, and limit order
Payment gateway integration
Site API
Trade engine
Automatic KYC/AML verifications and more
We have included these perfect features in our script to clone Zebpay. In addition to these advantages, you can easily change your chosen trading features to suit your needs as a business.
Security Features of our Zebpay Clone Software
Here is a list of some of the advanced security measures we used in our script to clone the Zebpay website in order to prevent malware and cyberbullying.
HTTPs authentication
Jail login
Data encryption
Two-factor authentication
SQL injection prevention
Anti Denial of Service(DoS)
Cross-Site Request Forgery(CSRF) protection
Server-Side Request Forgery(SSRF) protection
Anti Distributed Denial of Service
How to Create a Crypto Exchange Platform like Zebpay?
If you want to build an exchange that is comparable to Zebpay, you must purchase a premium Zebpay clone script from Hivelance. With the help of our clone script, you can quickly establish a cryptocurrency exchange platform similar to Zebpay to suit your needs as a business. Prior to implementing a trading platform such as Zebpay, there are a few key things to think about.
Possess a distinct set of needs for your business.
Decide which benefits and drawbacks the current Zebpay exchange has. And make an effort to fix them on your platform.
Verify the regulations in the nation where you intend to launch, as several have outright outlawed cryptocurrencies and cryptocurrency exchanges. So, before opening a cryptocurrency exchange in any nation, do your homework.
Ascertain that you have sufficient money to launch a cryptocurrency exchange such as Zebpay.
Contact a legitimate cryptocurrency exchange clone software vendor to obtain an error-free clone script for the Zebpay website.
Verify that the exchange's cutting-edge features and advanced security mechanisms are activated.
With the help of an experienced cryptocurrency exchange solution provider, launch your cryptocurrency exchange, similar to Zebpay.
Finally, begin promoting your cryptocurrency exchange platform to people who fit your target audience and to Bitcoin traders around the world. You too may effectively create a Bitcoin exchange platform that is comparable to Zebpay by taking into account all of the above-mentioned elements.
Why Choose Hivelance to Create a Crypto Exchange Platform like Zebpay?
Hivelance is a leading Cryptocurrency Exchange Software Development Company that offers services to create cryptocurrency exchange platforms like Zebpay. We have years of expertise providing top-notch, flawless Bitcoin exchange services. Our proficiency lies in providing cryptocurrency exchange clone scripts that incorporate the most recent trading features and security protocols. We are also experts in providing premium results for the premium Zebpay clone script.

If you're interested in launching a cryptocurrency exchange like Zebpay, you can do so at a reasonable cost by purchasing our unique Zebpay clone script.