Cryptocurrency
Premium Features of Binance Clone Script
Hivelance is the perfect choice for getting Binance clone script. We offer a Binance clone script that is packed with features, customization options, and security protocols.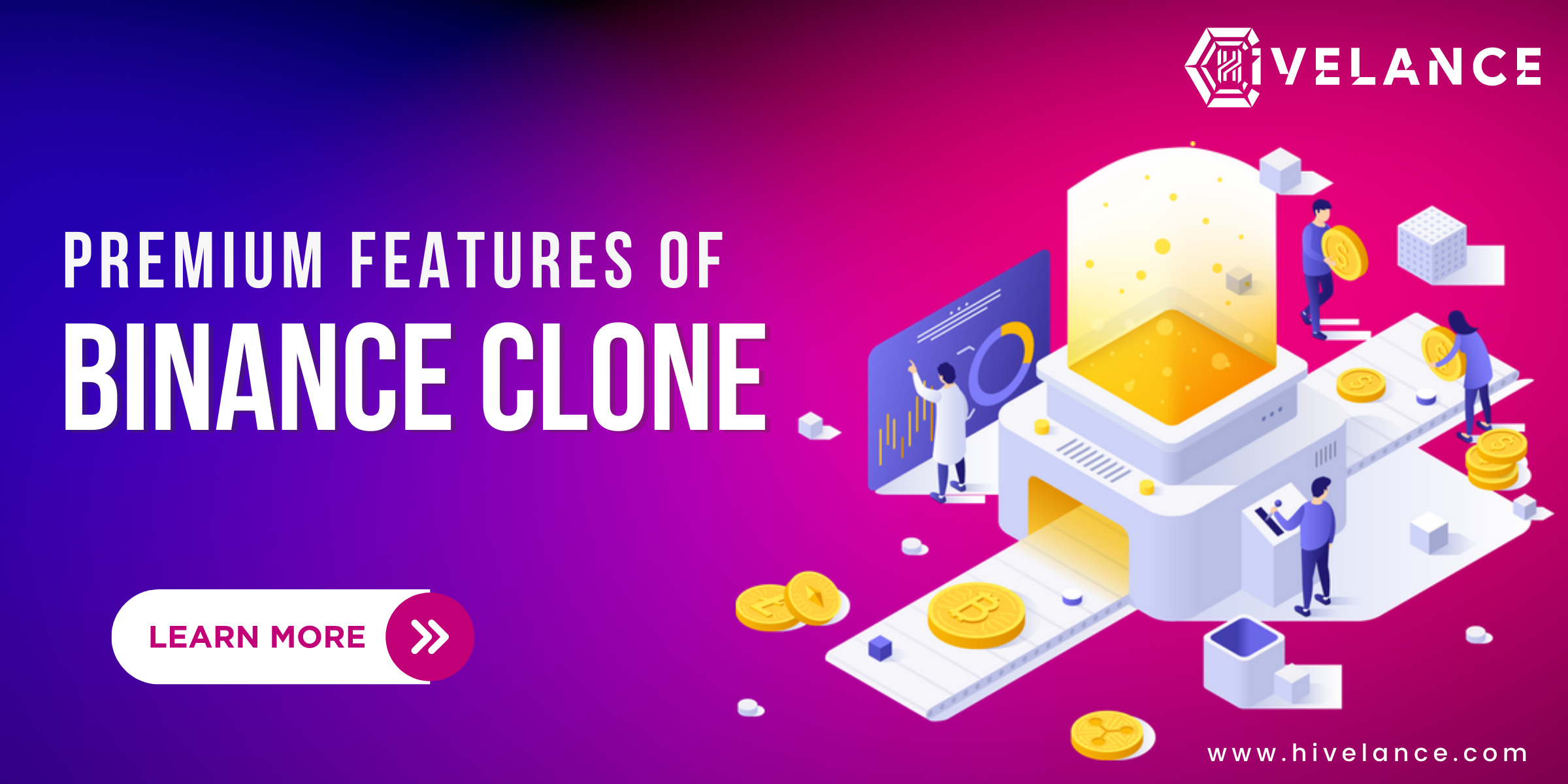 What makes Binance Popular?
Binance is popular due to its low fees, wide range of coins, and high liquidity which makes it easy for users to buy and sell cryptocurrencies at competitive prices. Binance offers its users a variety of features, such as margin trading, futures, and options trading. With advanced features such as stop loss, limit orders, margin trading and much more. The platform is also constantly introducing new features and coins which help to keep users engaged.
Some of the main reasons include:
Wide range of cryptocurrencies available:

Binance offers trading for a large number of cryptocurrencies, including both major coins like Bitcoin and Ethereum and a wide range of smaller, lesser-known coins. This makes it attractive for users who want to diversify their portfolio.

Low fees:

Binance has relatively low fees compared to other exchanges, which makes it attractive for users who want to trade frequently or with large amounts.

Strong security measures:

Binance has implemented a number of security measures to protect its users' funds, including two-factor authentication, cold storage for the majority of its cryptocurrency holdings, and the use of multiple encryption methods.

User-friendly interface:

Binance has a user-friendly interface that is easy to navigate, even for users who are new to cryptocurrency trading. This has helped it attract a large number of users, including both experienced traders and people who are new to the world of cryptocurrency.

Strong customer support:

Binance has a reputation for having strong customer support, which is important for users who need assistance with their accounts or have questions about using the platform.
Also Read - Binance Business Model Explained
What is binance clone script?
A Binance clone script is a software that allows you to build a cryptocurrency exchange platform similar to Binance. The script includes all the features and functionalities that are available on the Binance platform, such as trading, listing, and managing multiple cryptocurrencies. The script can be customised to meet the specific needs and requirements of your exchange platform.
We at Hivelance designed the binance clone script with remarkkable features you can't miss out. The notable significant features in our script are as follows.
Premium Features of Binance Clone Script
1. Advanced trading functionality
The advanced trading interface of the binance clone script comes with a variety of features such as margin trading, stop-limit orders, advanced charting tools, and extensive order types.This functionality allows users to speculate on the price movements of various cryptocurrencies.
2. Advanced charting and technical analysis tools
Advanced charting and technical analysis tools are used to analyze market trends and identify trading opportunities in the financial markets. These tools can be used to identify patterns in price movements, identify support and resistance levels, and identify potential entry and exit points.
They can also be used to analyze volume and volatility, detect trends, and identify various indicators such as moving averages, MACD, RSI, and stochastics. Advanced charting and technical analysis tools can also be used to make predictions about future price movements.
3. Crypto trading bot
Crypto trading bots are automated software programs that buy and sell cryptocurrencies at the correct time.They analyze the market, track price movements, and make decisions on when and where to trade to generate profits for their users.Crypto trading bots offer a variety of features and customization options to suit the needs of individual investors.
4. Multi-Lingual support
Our Binance clone script can support multiple languages, allowing users from different countries and regions to use the exchange in their preferred language. This can be done through automated translation services, manually translated content, or a combination of both. Multi-language support makes websites more accessible to a wider range of people, and can help to increase user engagement and conversions.
5. Multi-Cryptocurrency Integration
Multi Cryptocurrency integration allows for the integration of multiple cryptocurrencies into a single platform. This enables users to easily access, trade and store multiple cryptocurrencies in a single account. This feature can be used to improve the user experience when it comes to digital asset trading, and help to make the market more accessible and efficient. It can help to reduce the cost of transactions and make it easier for users to switch between different cryptocurrencies.
6. Referral options
Referral options are integrated in a Binance clone script through a variety of ways. The most common being a user referral program, which allows users to invite friends or family to join and earn a reward for doing so. Other referral options may include a partner program, allowing businesses to partner with the exchange platform and earn a commission for successful referrals, or a discount program, giving users discounts for referring others.
7. Cross-chain compatibility
Cross-chain compatibility is the ability of different blockchain networks to interact and exchange data with each other. This is a key feature of our Binance clone script and is important for allowing users to buy, sell, and trade different cryptocurrencies on a single platform. Cross-chain compatibility also enables users to make transfers between different blockchains, providing added convenience and security.
Also Read - How to create exchange like Binance?
8. Binance DEX
Binance DEX is a decentralized exchange (DEX) developed by Binance. It is a peer-to-peer marketplace that is based on the Binance Chain blockchain. Binance DEX enables users to trade digital assets directly on the blockchain. It also allows for greater control over funds, as users are able to store them in their own wallets and access them at any time.
Binance DEX offers a wide range of features, such as high-level security, low trading fees, fast transaction speeds, and more. Additionally, Binance DEX also supports the trading of a variety of digital assets, including Bitcoin, Ethereum, Binance Coin, and more. The exchange also provides users with access to a wide range of market analysis tools and market data.
We have structured the binance DEX module directly in our binance clone script that can enable entrepreneurs to start frictionless Decentralized platforms.
9. LaunchPad
The integration of the LaunchPad can help the entrepreneurs to launch the Initial Exchange Offering (IEO) on the exchange platform. This will help the entrepreneurs to raise funds through the exchange platform. The integration of the LaunchPad helps to list the tokens of the IEO project on the exchange platform. The LaunchPad integration also helps to provide a secure and transparent platform for the investors to invest in the IEO project.
The integration provides an automated system to manage the token sale process. It also helps to monitor the sale process and provide accurate data about the sale.
10. Crypto Staking and Lending
Crypto staking and lending are two popular methods of earning passive income through DeFi apps. Staking involves holding cryptocurrency in a wallet and earning rewards from the network for participation in securing the network. Lending involves lending cryptocurrency to borrowers, who pay interest for the loan. Both methods provide users with a way to generate passive income from their crypto investments, although the risks and rewards vary greatly.
Staking is generally considered to be a low-risk investment, while lending carries much greater risk and potentially higher reward. Our team of developers are able to develop a DeFi model similar to the Binance Defi ecosystem.
11. Liquidity integration
Our binance clone script is developed with integrated liquidity from top-tier exchanges, providing you with a wide range of liquidity options. Our liquidity solutions are fully automated, customizable, and can be deployed on any trading platform. The liquidity solutions are designed to help you optimize trading performance and increase profitability.
The integrated liquidity pool ensures that the exchange remains secure and that all transactions are recorded on the blockchain. This makes it easier to track and monitor transactions, helping to reduce fraud and other malicious activities.
12. Defi Swapping
Defi Swapping is implemented on our Binance clone script that allows users to exchange their existing cryptocurrency for a different cryptocurrency. The Binance clone script facilitates this process by providing a secure platform for users to make these exchanges.
The script also provides users with access to a wide range of different cryptocurrencies and a variety of tools to help them make informed decisions when making their exchanges. This feature also allows users to trade at the best price available in the market.
13. Perpetual Swaps
Perpetual Swaps are a derivative contract that allows traders to speculate on the future price of a digital asset without expiry date. It is similar to a futures contract but without the expiry date. By using the Binance clone script, you can easily integrate perpetual swaps into your exchange platform.
This will enable your users to trade perpetual swaps on your platform, allowing them to take advantage of the leveraged trading opportunities and the low fees associated with perpetual swaps.
Advanced security measures
Binance clone script is equipped with advanced security measures to protect user assets and data from malicious attacks and other cyber threats. Some of the advanced security measures of binance clone script include:
1. Two-Factor Authentication (2FA): This is an additional layer of security that requires users to provide two pieces of information in order to access their account. This includes a password and a one-time code sent to their email or phone.
2. Multi-Signature Wallets: This is a security measure that requires multiple users to sign-off on a transaction before it is executed. This ensures that no single user can access or move funds without the approval of other users.
3. Cold Storage: This is an offline method of storing user funds in a secure environment. All user funds are stored in an offline environment, thus making it impossible for hackers to access them.
4. Anti-Money Laundering (AML) and Know Your Customer (KYC): This is a set of measures designed to prevent illegal activities such as money laundering, terrorist financing, and fraud. AML/KYC measures require users.
Want to develop your binance like exchange with these features?
Hivelance is the perfect choice for getting Binance clone script. We offer web clone script as well as binance clone app packed with features, customization options, and security protocols. Our Binance clone script is developed with cutting-edge technologies and offers high-grade performance and scalability. We offer a range of customization options, allowing you to tailor the exchange to your specific needs.