NFT
Top 10 NFT Marketplace Clone Scripts For 2023
Top 10 NFT Marketplace Clone Scripts 2023: Explore this blog to learn more and launch your preferred nft marketplace in 2023.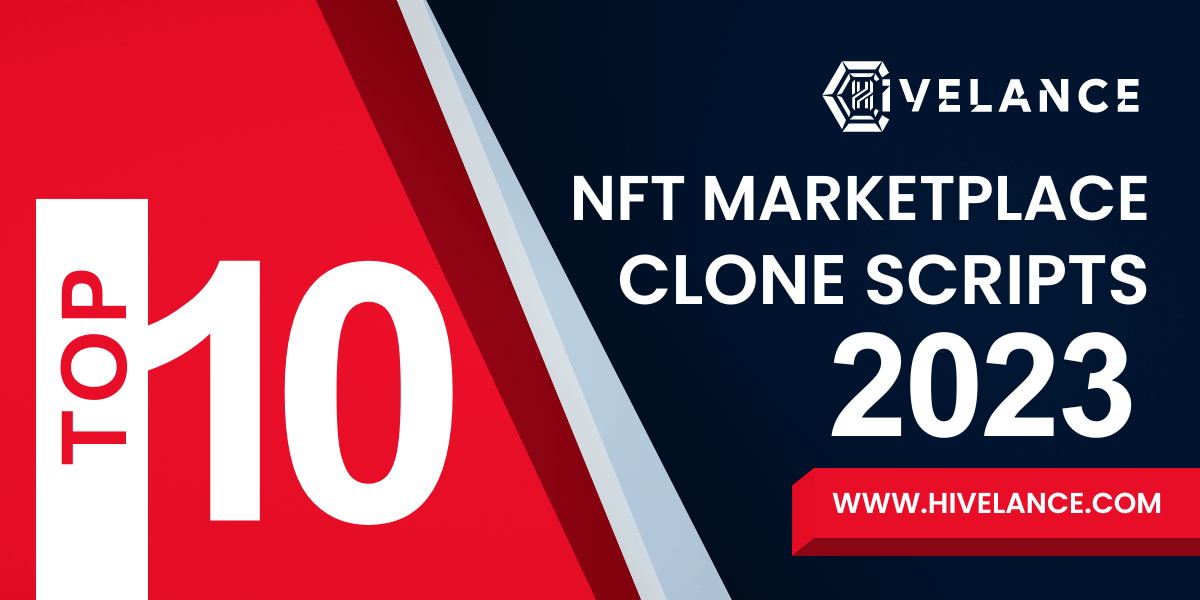 The NFT Marketplace reached the $40 billion mark set last year. It generates enormous demand in the NFT era and attracts entrepreneurs to the NFT market. Furthermore, exchanging NFTs is as simple as a few clicks, and your NFTs and other digital items will be in your wallet. Many people at this time are considering launching an NFT marketplace to provide NFT exchange services. The easiest method to launch an NFT marketplace is to look for an NFT marketplace clone script development company like Hivelance, where you can quickly and affordably obtain a customized NFT marketplace clone script.
Some of the advantages of these NFT Marketplace clone scripts are as follows:
These NFT marketplace clone scripts are extremely cost-effective ways of providing NFT trading services.
Clone scripts can be deployed immediately; there is no need to wait 3-4 months to build an NFT marketplace.
An NFT marketplace cloned script is loaded with features and integrations that are extremely useful to digital artists, users, and investors.
The user interface of these NFT marketplace clone scripts is pleasant, which may encourage users to use the NFT marketplace more frequently.
Some Other Benefits of NFT Marketplace Clone Scripts
Tradability
Standardization
Liquidity
High scalability
Interoperable
Scarcity
Cost-effective
Faster deployment
100% Customization Scope
Great ROI
No technical knowledge is required.
Highly trustworthy and safe
These were some benefits of using these NFT marketplace clone scripts for your business. Therefore, if you want to start an NFT marketplace, this is the right chance to go with these. For your convenience, In this article, we have listed some of the top 10 NFT marketplace clone scripts 2023 that you can find today. You can select one of them based on the features and compatibility, among other things. Shall we get started?
Top 10 NFT Marketplace Clone Script 2023
Opensea Clone
Rarible Clone Script
NFTrade Clone
Binance NFT Marketplace Clone
Solanart Clone
Axie Infinity Clone
Bored Ape Yacht Club Clone
CryptoPunks Clone
NBA Top Shot Clone
SuperRare Clone
Opensea Clone
OpenSea is a groundbreaking decentralised NFT marketplace for buying, selling, and creating digital items and NFTs. Additionally, it establishes a new record with monthly NFT sales of $5 billion USD. It supports three blockchains as of 2022: ETH, $MATIC, and Klatyn.
Specifications of the Opensea
It is suitable for newcomers.
The platform accepts up to 150 different payment methods.
NFTs from many blockchains are available on OpenSea.
There are no gas costs for NFT creators until a consumer makes a purchase.
There are many different NFT collectibles and products available.
Available on Android and iOS.
It supports 14 different types of cryptocurrency wallets.
Buyers can sell NFTs, while the original miner can make a substantial royalty.
Do you think an Opensea clone will be most suitable for your new NFT marketplace business?

Opensea clone script is a White label web3 NFT marketplace script that allows you to create a superior digital asset NFT marketplace that is both secure and scalable. includes ground-breaking capabilities that enable lightning-fast trading.
Hivelance offers the Opensea Clone, a superior Web3 NFT marketplace modeled after the market leader Opensea and packed with world-class features that provide a seamless NFT trading experience. Get in touch with us to learn more!
Rarible Clone Script
Rarible is a community-driven NFT marketplace where various digital objects and NFTs can be traded and bought. However, it is not just limited to such games; digital artworks, memes, virtual property, and much more are now among the digital assets sold on Rarible.
Key Characteristics of Rarible
Rarible is a multi-chain platform.
It is governed by a well-established decentralized system.
The platform's features and tools are simple to utilize.
As an artist, you can keep up to 50% of your future earnings.
A user interface that is simple and pleasant for beginners
It is really simple to generate and sell NFTs.
The native token $RARI is utilized as a governance token.
Want to launch a Rarible Like Multi-chain NFT Marketplace within 10 days? You are in the right place!

Our Rarible Clone Script is a community-focused NFT marketplace script that allows you to create, sell, and buy ownership rights to digital works of art using non-fungible tokens (NFTs). It is powered by Ethereum and allows digital creators, users, and investors to buy, sell, trade, and generate NFT and other digital items for a low fee.
New features like Multi-Wallet Support, Advanced Filters, Governance Attributes, smart contracts, and more are included in our brand-new Rarible clone script. Get the pre-made Rarible clone script from Hivelance to create your own NFT marketplace.
NFTrade Clone
NFTrade is the decentralized multi-chain and blockchain-agnostic NFT Marketplace. The entire NFT lifecycle is hosted by NFTrade, an indexer of all NFTs across all of their linked chains, which enables anyone to easily create, buy, trade, swap, farm, and utilize NFTs across several blockchains. Anyone can use NFTrade to gain access to the entirety of their NFT, thereby exposing the total value of the NFT market.
Characteristics of NFTrade
An All-In-One NFT Aggregator
Peer-to-Peer Swaps that are Escrowed and Decentralized
automated trading platform
Permit asset-to-asset exchanges without leaving the market
communicate with other producers and collectors
Support Cross-chain and multiple-chains
Want to create a multi-chain NFT marketplace where users can buy, sell, and trade NFTs and other digital items? You may get exactly what you need with our NFTrade Clone Script. Our team of skilled professionals, who have a strong knowledge of customer expectations in the Multi-chain NFT marketplace, has created a trustworthy NFTrade clone script with a number of distinctive features, exceptional functionality, and cutting-edge technology.
Binance NFT Marketplace Clone
The Binance NFT marketplace serves as a hub for buying and selling digital collectibles and artwork. For users to launch and trade NFTs, the Binance NFT marketplace, powered by the Binance blockchain technology and community, provides the highest level of liquidity.
Characteristics of Binance NFT
Prominent and well-known brand in the cryptocurrency industry
Numerous NFT categories are available.
There are no listing fees on NFTs.
The sellers must pay a 1% royalty fee to the creator.
There is a low minting fee of 0.000001 BNB.
Registration happens quickly.
a wide range of backed assets
Class-leading security
Make money off of cryptocurrencies
Referrals with money-back guarantees
Price updates and alerts in real-time
Money-laundering policy
24/7 professional assistance
Our Binance NFT marketplace clone is a ready-made NFT marketplace script that includes the best revenue-generating features. In a word, using our Binance NFT marketplace clone would be the greatest option for aspiring business owners like you to develop an attractive NFT marketplace similar to Binance NFT efficiently and within the budget.
Solanart Clone
The Solana network's first official NFT marketplace, Solanart, allows users to buy and sell NFTs from various collections and artists. The major objective of Solanart NFT is to support different creators' artistic endeavors by giving them access to a genuine marketplace where they may freely share their work.

Key Features of Solanart
It has the most amazing collection of Solana NFTs available outside of other Solana Marketplaces.
It enables creators to set their own prices for each of their collections on the marketplace.
Participants are able to tokenize their digital assets and sell digital certificates of legitimate ownership.
The market offers well-known and trusted NFT collections.
Transaction fees on Solanart are low in comparison to other blockchain networks.
With the network hitting over 65,000 transactions per second, Solanart processes a record number of transactions quickly.
Every transaction is validated and secured against fraud using historical proof.
Solanart Clone Script is a ready-to-go replica of Solanart, which houses the most astonishing NFT collections. Our Solanart clone script enables creators and artists to freely advertise their digital artworks as NFTs and allows users to buy or sell these Solana-powered NFTs, putting it on the path to becoming the greatest NFT marketplace ever. Our Solanart Clone Script offers customers access to an extensive library of the most "contrived" digital artworks ever created. Would you like to introduce an NFT marketplace similar to Solanart? Get in touch with us right away to begin this amazing journey to success.
Axie Infinity Clone
The decentralized video game Axie has a global NFT marketplace called the Axie market. The platform has over 2 million active users and a robust ecosystem of games and applications from third parties. Users of the platform can create new Axies, adorable digital animals with Pokemon-like appearances that you can grow and use in the game. Due of the growing ubiquity of Axie Infinity, users have a sizable market for trading.
Advantages of Axie Market
Access to Axie Infinity is available on both desktop and mobile devices.
You can battle, acquire, grow, and evolve in a vast cosmos.
Possibly the most popular video game based on NFT to date.
Earning a respectable amount of cryptocurrency is possible.

An Axie Infinity Clone Script is a piece of white-labeled code that may be used to quickly create an Axie Infinity-like game. The game's entire development time was cut in half to 7–10 days thanks to the customizable code. Consequently, a competitive game can be made available on the market with a few simple changes.
Advanced blockchain technology was used to create the Axie Infinity Clone Script, which has capabilities and an intuitive user interface. The Axie Infinity Clone Script is a large game with a lot of characters and frequent modifications that make it simpler for users to use. Each character can be purchased by users for a large sum of ETH.
Bored Ape Yacht Club Clone
The Bored Ape Yacht Club, or "BAYC," is a collection of 10,000 non-fungible tokens (NFTs) on the Ethereum network. These NFTs are graphical depictions of apes that resemble cartoon characters and stand out because to their metadata, which contains the backgrounds, earrings, clothing, fur, and eyes of the characters. Metadata for NFTs is information about and descriptions of a token provided by the NFT developer.
Getting into a community
Ownership of a copyright
This 3D avatar is used in the metaverse.
It has support for a variety of crypto wallets
A user-friendly online store with an intuitive user interface
Bored Ape Yacht Club clone is considered the most attractive and in-demand explanation for building the NFT marketplace to buy/sell digital valuables, primarily bored apes ( monkey figures). Our Bored Ape Yacht club clone script is the white-label solution for developing the NFT marketplace with appealing add-ons like attractive backgrounds and themes with eye-catching colors.
CryptoPunks Clone
CryptoPunks was one of the first non-fungible token projects to emerge on the Ethereum network. The project comprises of 10,000 algorithmically generated 24x24 pixel portraits with random qualities such as a person wearing a hat or smoking a pipe.
Key Features of CryptoPunks
Characteristics of CryptoPunks
It Has over 10,000 unique CryptoPunk avatars
The majority of CryptoPunk figures fetch prices of above $1 million.
Enables MetaMask
If you are looking to start an NFT project like CryptoPunks. Get this clone script to build a business like CryptoPunks. Our CryptoPunks clone has been especially built for the marketplace with attractive features.

Our CryptoPunks clone script has predefined algorithms. You can easily create new NFTs using our pre-made solutions, such as CryptoPunks, to begin your own digital art creation with professionals and trade in any preferred NFT marketplace. Because it is already prepared with essential materials, it would be really wise for you to profitably build your NFT art very soon. Additionally, Hivelance provides a full custom solution for your NFT development. As a result, you can execute your profitable NFTs according to your 100% prospects.
NBA Top Shot Clone
The platform, which is controlled by the NBA and Women's NBA, tries to capture each NBA great player's momentous performance into NFTs in the form of cards by tokenizing key moments. Additionally, other objects worn by well-known athletes are converted into NFTs. Utilizing the Flow blockchain, each NBA Moment has a unique serial code and an evidentially fixed total supply.
Important Elements of NBA Top Shot
Flow blockchain, which is less expensive than Ethereum.
Beneficial for people who do not possess cryptocurrencies,
A high level of popularity implies a higher resale value.
New releases are made on a regular basis.
NBA Top Shot Clone Script is a pre-programmed clone of the well-known NFT Marketplace game NBA Top Shot. Similar to NBA Top Shot, this clone software allows users to purchase, sell, and trade licensed NBA highlights as individual NFT collectibles that NBA fans can own indefinitely. Users can collect NBA video highlights of their choice, much like sports trading cards. These NBA highlights are kept as NFTs rather than printed on paper.
SuperRare Clone
SuperRare is an art-focused NFT marketplace where users can trade curated NFTs from a select number of approved artists. SuperRare's user-friendly platform bridges the gap between real-world art galleries and NFT platforms, making NFTs accessible to more traditional art consumers.
Characteristics of SuperRare
SuperRare strives to provide high-quality, one-of-a-kind crypto art.
SuperRare specializes in crypto art and doesn't engage with NFT memes or games.
The platform offers a variety of options to build a premium NFT collection.
The user interface is fantastic.
Royalties are expensive.
The SuperRare Clone is a white-label NFT marketplace script that includes basic and exquisite features and functions that allow authors to trade their NFTs. To save you from the time-consuming process of building the platform from scratch, we offer a ready-made solution that can be customized to meet your business needs. It uses its own Ethereum-based smart contract, which allows artists to release limited-edition digital artwork, making it collectible, rare, and verified. You can automatically save time and money as a result.
Summing up
As a result, an NFT marketplace clone script can dramatically transform your business and its users. After deciding on your target audience, you may choose from a wide range of possibilities. Your business will expand quickly as a result of all of them. And Hivelance is the best if you're seeking for an NFT marketplace development company that can meet all of your needs. Hivelance is an NFT marketplace development company that offers a wide range of NFT marketplace development services. You are now ready to launch your NFT marketplace and rule the NFT world.
Hivelance specialized in NFT marketplace development. With regard to the current market, we have experience developing NFT marketplaces. Due to its rising popularity, the majority of investors in the digital market intend to launch their own NFT marketplace. Now is the time to launch your NFT business with us!

Also Read: List of Top 10 NFT Games Clone Script 2023