NFT
Launch Your NFT Gaming Platfrom with our Gods Unchained Clone script
Hivelance is a premier NFT Game development company that offers comprehensive NFT game solution solutions Gods Unchained Clone script that enable your players to trading digital cards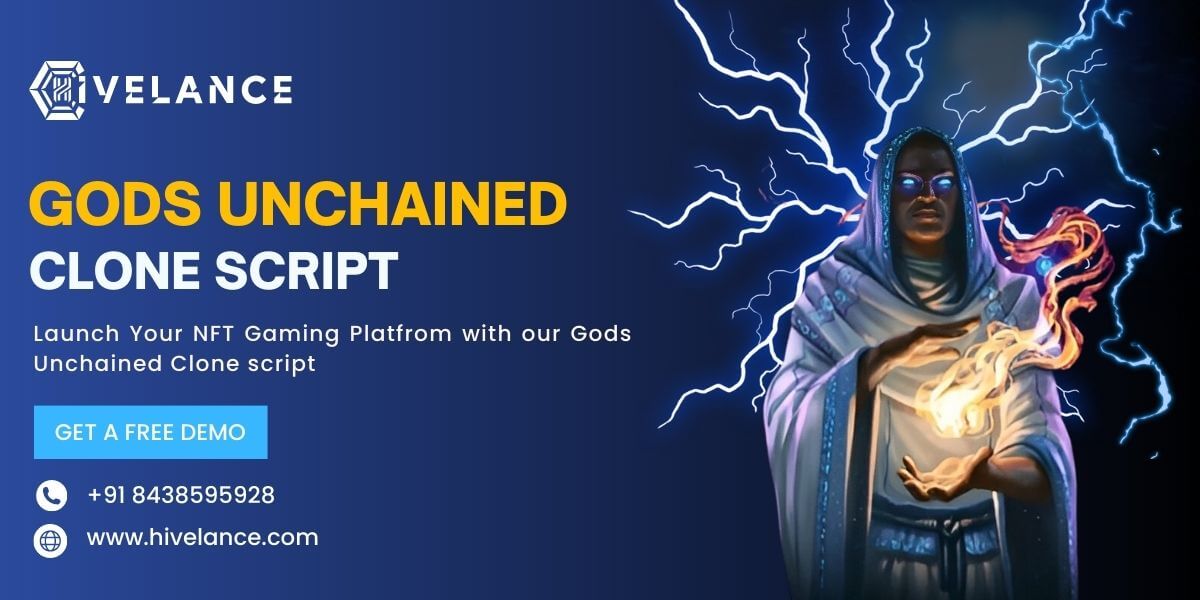 Gods Unchained Clone Script:
Gods Unchained Clone script is a blockchain based NFT Gaming Platform that is known to be a ready-made solution for business similar to Gods Unchained. With our Gods unchained game clone, you have access to special resources that you can fully command and manage.
Hivelance is the top grade NFT Development Company , helps you develop and release upgraded NFT based trading card games like Gods Unchained on the ethereum blockchain network.
What is Gods Unchained?
A digital collectible card game (CCG) called Gods Unchained was released in 2018 and quickly became quite well-liked among gamers. It is created by the blockchain technology startup immutable. Players assume the roles of strong demigods in the fantasy setting of the game and use their divine powers to summon monsters, cast spells, and kill their enemies.
With the help of blockchain technology, Gods unchained provides a novel fusion of conventional card game concepts. The divine abilities, creatures, spells and artifacts that are represented as digital cards are combined to create each player's pack. The blockchain used by Gods Unchained guarantees that each card is a distinct, and legitimately owned digital asset. By 2026, the growth of Gods Unchained game is expected to have doubled.
Salient Features of Gods Unchained Clone Script
Integration With Wallet:
Players require a digital wallet to handle and keep their NFTS. We incorporate a user wallet system that is appropriate for the blockchain platform into the game.
Examples: Trust wallet, MetaMask
Decentralized Marketplace and Trading:
Players can directly purchase, sell, and trade cards and other in-game items in the game's decentralized marketplace. The marketplace uses the blockchain to enable secure and open transactions.
Players can buy new cards to add to their collections or strategically trade to finish the decks they want.
Making a Deck:
Selecting cards from aplayer's collections allows them to build a deck. The traits , skills, and artwork of the cards can be checked by players as they gather them. Each deck combines a variety of creatures, spells, and other tactical components to compete with opponents.
Spectators sports and a competitive game:
Regular competitions and tournaments are hosted by the God's Unchained Clone Script, giving users the chance to compete and win prizes while putting their talents to the test. These occasions frequently have special rules, uncommon regulations, limited-edition cards, uncommon awards, and game play constraints that promote tactica deck-building.
Mechanism for Play-to-Earn:
The Gods unchained clone platform has a play-to-earn business model that enables users to receive incentives and make money while playing. By taking part in games, tournaments, and other activities, players can acquire in-game money, cards and other important stuff.
Recurring updates:
The Gods unchained clone script intends to regularly publish updates that include new cards, gameplay components, and features that improve the game. This allows for both the game to remain fresh and to guarantee a fun and engaging gaming experience.
Perks of Gods Unchained Clone script:
Creating Revenue:
The Gods Unchained Clone Script can support a variety of revenue streams, including in-game purchases, marketplace charges, and asset tokenization. You can monetize these revenue sources to make money for your business.
Remunerability:
Compared to creating a unique gaming solution from scratch, using a Gods Unchained Clone Script to enter the market is more affordable and economical. Since, they are already built and this reduces development expenses.
Simple Customization:
A base is provided by the Gods Unchained clone script which you can then alter and develop to set yourself apart from rivals. You can add new functions , gameplay elements, or special in-game items that improve the user experience and draw in more users.
Cross-Platform Integration:
The Gods Unchained Clone Script is made to work on several operating systems such as macOS, Linux, and Windows. Additionally, it supports mobile devices, enabling users of iOS and Android to play the game.
Scalable platforms:
This clone script is created to be scalable, enabling you to expand your business as demand rises. They make sure the app can manage a rising user base and amount of transactions.
Optional Customizations:
It gives customization possibilities, enabling game designers to change a variety of game mechanics. This involves changing the tokenomics, adding new features ,or integrating third-party services like wallets and payment gateways. You might want to add special features or change the appearance based on the intended demographic.
Key Statistics Of Our Gods Unchained Clone Script:
731 users are active on the Gods Unchained site every day, and $447, 000 worth of trading occurs in a single day.
The gamers conduct more than 1980 transactions per day on the platform.
There are 2700 ETH ($4.83 million) altogether in the account.
It ranks as the 6th most played blockchain game.
Booster Types Featured In Gods Unchained Clone Script:
Card trading games involve more than just gathering , building a deck , and selling. Instead, the focus is on assembling and strengthening a potent deck so that players can win. The cards needed to build such a strong deck can be purchased from the booster packs offered on the platform.
The four different types of booster packs for the Gods Unchained clone NFT Trading Card Game are listed below.
Rare
Shiny
Epic
Legendary
How to create an NFT game like Gods Unchained?
The process of developing a blockchain game like Gods Unchained are shown below,
Without a plan, it is almost impossible to create a game like Gods Unchained. The most crucial point to keep in mind is that your business strategy should replicate the actual Gods Unchained.
Design a mockup of your work. Make your own eye-catching avatars, game interfaces, and other components. Get input on the avatars you have created , make any adjustments, and postpone a full theme.
Find the ideal development resources for your requirements like Hivelance. Contact our team and ask for the portfolios of the project they worked on.
The development process should be open and transparent and ask for the process that has been accomplished already.
To launch your game , pick a suitable blockchain , preferably ethereum NFT trading cards like Gods Unchained are built of blockchain, so you need to do more research to choose the proper blockchain.
The creation of native tokens is essential when developing a game like Goda unchained. The platform executes the tasks according to plan due to these native tokens.
NFTs make up the core of your gaming platform, ensuring that more users and players will be lured to the game. Players have an unmatched motivation to join NFTs since they may profit by exchanging their in-game products for real money.
How can Hivelance assist you in developing NFT games like Gods Unchained?
As a premier Cryptocurrency Exchange Development Company, Hivelance delivers the best NFT game development platform services that may assist you in launching your own online game from conception to development and implementation. We provide a Gods Unchained-like NFT trading game that is bug-free on the Ethereum network. Our transparent working style produces outcomes devoid of errors. Your Gods Unchained clone can stand out from the crowd with the help of our in-depth knowledge of blockchain technology and blockchain games. We guarantee that an entrepreneur thrived and ultimately improved the business's potential with our Gods Unchained clone.

Start NFT gaming marketplace for trading cards upgraded with our user-friendly features.