NFT
Top 20 OpenSea Alternatives & Competitors
The most popular NFT marketplace is OpenSea, but there are several others as well. Here is our list of the top 20 competitors and alternatives to OpenSea.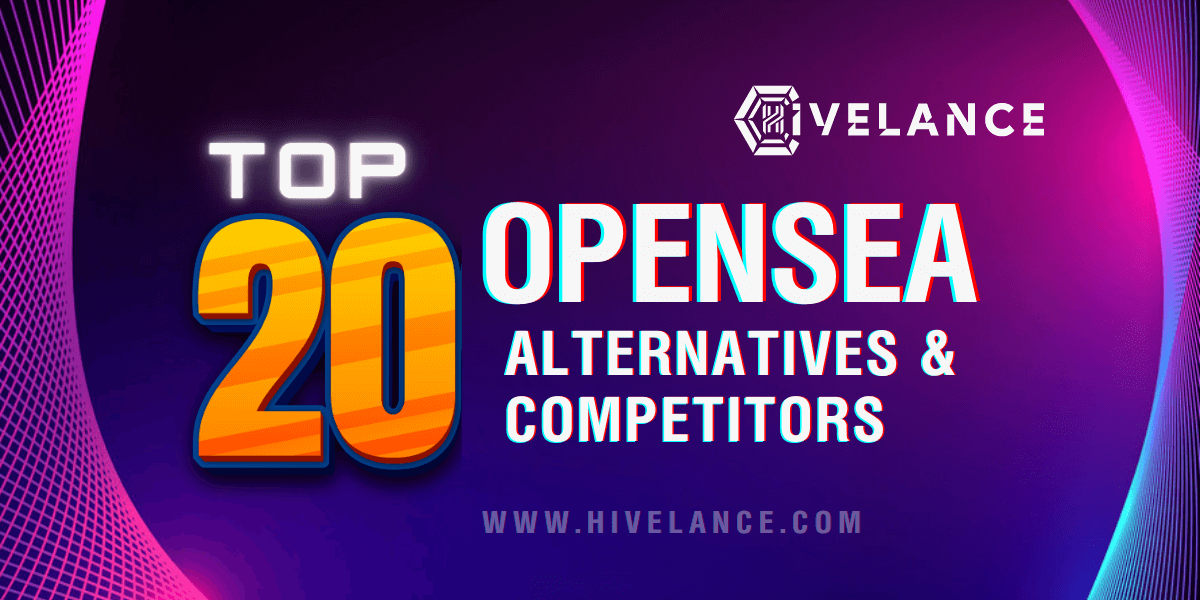 Opensea is popular, and we love it, but it is not the only NFT marketplace. There are Opensea alternatives that you can use to buy, sell and create NFTs and crypto collectibles through a smart contract.
Each of these Opensea competitors are different and have their own pros and cons. You need to understand those differences and limitations when choosing a Opensea alternative.
In this article, we will show you some of the most popular alternatives to Opensea currently available on the NFT market.
Why People Look for Opensea Alternatives?
The OpenSea platform has over 1 million users in 2022, and it is the most popular and largest NFT marketplace in the market.
There are a lot of reasons why people choose Opensea: it is secured by smart contracts, lowest commission fees for buying and selling NFTs, supports 14 different types of cryptocurrency wallets, advanced features, it is available on Android and iOS, and more. See all reasons why people use Opensea.
Since 2017, the Opensea NFT marketplace has advanced significantly in terms of usability and has made it possible for anybody to purchase and sell a wide range of NFTs, including domain names, digital artwork, and collectibles, using an Ethereum wallet. The marketplace has lower costs than the majority of its competitors, making it an appealing option for NFT collectors.
Over 4 million NFTs and more than 200 categories of digital assets are available on the OpenSea platform. These NFTs can be bid on using Ethereum tokens such as DAI and Ether. Stablecoin DAI is a less volatile way to buy and sell NFTs because it is fixed to the price of $1.
Often times traders, NFT art collectors, and users prefer using Opensea because it's the best NFT marketplace that helps you to buy, sell and create NFTs and crypto collectibles effectively.
If you are one of the aspiring entrepreneurs who want to build an NFT marketplace like Opensea with an affordable pricing plan, you can get started with our ready-made Opensea clone script.
But while Opensea is popular, it is not a good fit for everyone. Why because, currently, it is not allowed to use fiat currencies like the USD or the Euro, and royalties are low compared to Rarible.
If you're looking for the best Opensea alternatives, then you're in the right place.
The Best Opensea Alternatives 2023 & 2024
Here's our list of popular blockchain-based NFT marketplaces we found to be particularly useful alternatives to Opensea:
Ethereum Blockchain-based Opensea Alternatives
X2Y2
CryptoPunks
Decentraland
LooksRare
Rarible
The Sandbox
Foundation
SuperRare.Co
NFTrade
X2Y2

X2Y2 is an Ethereum-based decentralized NFT marketplace that distributes 100% of revenue to X2Y2 token holders. X2Y2 now only supports ethereum NFTs, but it has a lot of intriguing features.

CryptoPunks

CryptoPunks was one of the first non-fungible token projects to emerge on the Ethereum network. The project consists of 10,000 algorithmically generated 24x24 pixel portraits with random characteristics such as a person wearing a hat or smoking a pipe.

Decentraland

The game's trade and exchange system is based on the NFT Marketplace in Decentraland. You can create, buy, and sell game assets here. They presently have playable characters, virtual land, player apparel, and names on their roster. Decentraland works in a Decentralized Autonomous Organization (DAO).

LooksRare

LooksRare is a decentralized, community-focused NFT marketplace that actively rewards users for using the service, including traders, token holders, creators, and collectors.

Rarible

Rarible is a community-driven NFT marketplace where various digital items and NFTs can be bought, sell, and create. However, it is not just limited to such games; digital artworks, memes, virtual property, and much more are now among the digital assets sold on Rarible.
The Sandbox

One of the well-known NFT Marketplaces is Sandbox. It can be used to trade SAND for assets made using the Voxel Editor and vice versa.

SuperRare.Co

SuperRare is an art-focused NFT marketplace where users can trade curated NFTs from a select number of approved artists. SuperRare's user-friendly platform bridges the gap between real-world art galleries and NFT platforms, making NFTs accessible to more traditional art consumers.
NFTrade

NFTrade is the decentralized multi-chain and blockchain-agnostic NFT Marketplace. The entire NFT lifecycle is hosted by NFTrade, an indexer of all NFTs across all of their linked chains, which enables anyone to easily create, buy, trade, swap, farm, and utilize NFTs across several blockchains.
Solana Blockchain-based Opensea Alternatives
SolSea
Solanart
Metaplex
Exchange.Art
Solport
DigitalEyes
Alpha.Art
Supadrop
FTX
SolSea

The first open NFT marketplace with integrated minting on Solana is called SolSea. It introduces NFTs with embedded licenses (NFT-PROs), determines Rarity Rank for collections, enables FTX-Pay and Moonpay wallet funding, and is frequently updated with new features.

Solanart

Anyone can buy or sell Solana-based NFTs through Solanart, a complete NFT marketplace built on the Solana network. Solanart seeks to support the growth of artists and creators by giving them a secure platform to sell their work.

Exchange.Art

Exchange.art is the global digital fine art marketplace on Solana, striving to power the creator economy in the digital world.

Metaplex

One of the top Solana NFT marketplaces is Metaplex. rather than launching your NFT on the open market, where it would face competition from other NFT projects. However, Metaplex gives you the option to make Storefronts with your own logo. In order to mint and sell NFTs, a decentralized on-chain application is connected to the Megaplex store. You might be able to avoid market charges for each successful NFT transaction.
Solport

Solport is a Solana blockchain-based NFT marketplace with features like user auctioning, rarity screening, marketplace activity notifications through Discord/ Telegram, and more. Solport does not have any listing or refund fees.

DigitalEyes

DigitalEyes, Solana's first open NFT marketplace, allows users to create, sell, and buy Solana's NFT. One of DigitalEyes' top NFT collections is Aurory, followed by Degenerate Ape Academy, Frakt, and Galactic Gecko Space Garage.
Alpha.art

Alpha.art is an innovative Solana NFT marketplace where users may buy and sell Solana-based NFTs. At Alpha.art, there are no listing fees. They do charge a flat seller charge of 2%, which is paid at the time of the sale.
FTX

Similar to OpenSea, FTX.US offers a place for NFT artists and collectors to interact. The platform offers a variety of NFT categories, including generative art, virtual worlds, photography, sports, and much more. Creators can mint their items using ethereum or solana.
Binance Smart Chain-Based Opensea Alternatives
Binance NFT Marketplace
AirNFTs
OpenBisea
Refinable
Venly
Pentas
Binance NFT Marketplace

The Binance NFT marketplace serves as a hub for buying and selling digital collectibles and artwork. For users to launch and trade NFTs, the Binance NFT marketplace, powered by the Binance blockchain technology and community, provides the highest level of liquidity.

AirNFTs

AirNFTs is an NFT trading platform based on the Binance Smart Chain that allows for cross-chain transactions. In 2021, the platform was introduced. It leverages the BEP-20 protocol and the native utility token AIRT. More than 110,000 NFTs have been issued by AirNFTs, and more than USD 8 million has been traded thus far.

OpenBisea

OpenBiSea is an NFT marketplace that provides a platform for investing and managing NFTs. The OpenBiSea protocol is entirely decentralized in terms of NFT flow and non-custodial flow. Users can effortlessly sell, buy, and market their NFTs via the OpenBiSea smart contracts and app.
Which is the Best Opensea Alternative?
We believe that Openea is the market's best NFT marketplace. However, if you're searching for the greatest Opensea alternatives, LooksRare, Rarible is what we think is the ideal choice.
Binance NFT, Solanart and FTX are also among the popular Opensea alternatives that few users choose for their NFT trading purpose.
We certainly hope that this article gave you the opportunity to think about several well-liked Opensea alternatives. The key to selecting the right one for NFT trading is figuring out what you're trying to achieve.
The Scope of NFT Marketplace like Opensea in the Near Future
Looking at the tech world that has expanded far beyond our vision makes us realize how different things were a decade earlier. Especially the launch of NFT marketplace like Opensea has spiraled up the NFT revolution in the market.
Thus, the current profit-yielding era has attracted a lot of budding business minds. This is undoubtedly a sign that the NFT business model will prosper in the years to come and that it serves goals other than financial benefit.
Related - Metaverse NFT Business Model
Why is There A Need for an NFT Marketplace Clone Development?
There are many young entrepreneurs out there that have a solid business ideas but are unable to start an NFT business due to a lack of technical requirements. To them here is a highly scalable, readymade NFT marketplace clone with advanced features.
So, a futuristic readily available NFT marketplace clone script inclusive of all major functionalities and user-attractive features is all an ambitious entrepreneur needs to succeed in the crypto era.
Also, Read - Top 10 NFT Marketplace Clone Scripts 2023
The Most Popular Opensea Clone Script Provider - Hivelance
The NFT industry is becoming more and more competitive as global demand for NFT products rises.

A top-notch Opensea clone script helps you get over difficulties and manage every facet of NFTs. By doing this, one can create an NFT marketplace that stands out from the competition.