NFT
Polkawar Clone Script To Create a Superlative NFT Gaming Platform Like Polkawar
Polkawar clone script is a ready-made NFT game script that can be used for developing a full-fledged, decentralized and cross-chain NFT gaming platform like Polkawar.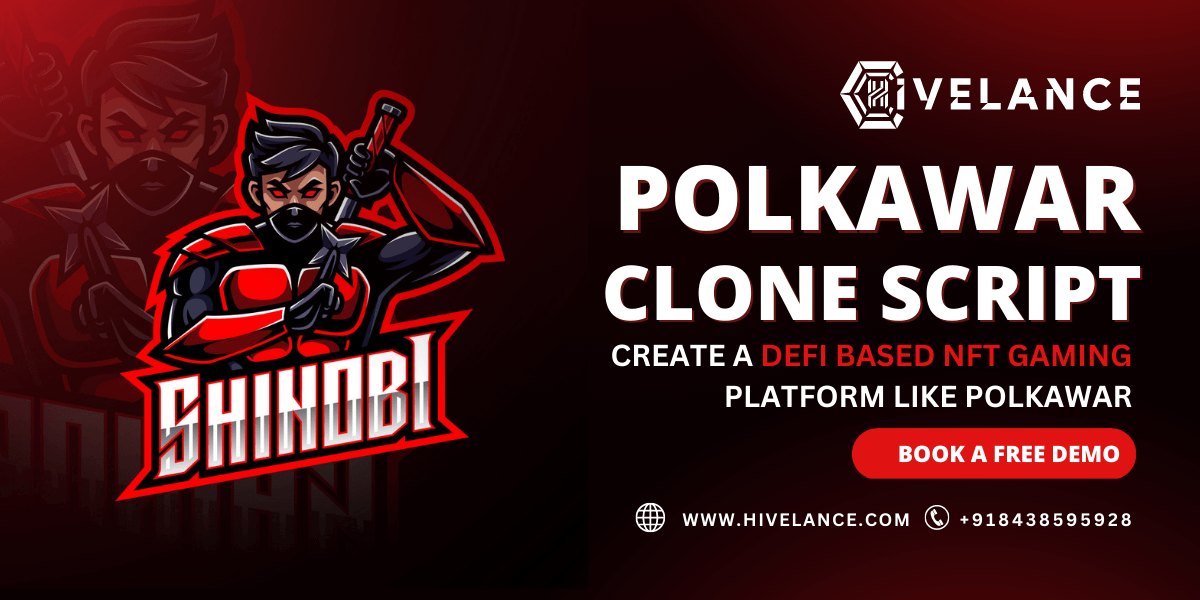 Polkawar Clone Script
A Polkawar clone script is an NFT game software that allows you to create a similar game to Polkawar using the same or similar features and gameplay mechanics. Our ready-made Polkawar clone script can include the game's source code, graphics, and other assets, as well as a smart contract for creating and managing in-game assets on the blockchain. As a business person, you can use our Polkawar clone script as a starting point for building your own decentralized-based NFT gaming platform.
Polkawar - Simple Overview
Polkawar is a decentralized game built on the Ethereum blockchain that utilizes Non-Fungible Tokens (NFTs) to represent in-game assets. Players can collect, trade, and use NFTs to play the game and compete with other players. The game is set in a fantasy world where players can engage in battles and earn rewards. The game is still in development, and there is no release date yet.
White Label Polkawar Clone Software
A white-label Polkawar clone software is a type of ready-made clone script that is customized and branded for specific business requirements. This means that the white-label Polkawar clone software is pre-built and ready to use, but you can add your own branding, design, and features to the DeFi and NFT gaming platform like Polkawar.
The main benefit of a white-label Polkawar clone script is that it allows you to launch your own decentralized fighting game like Polkawar quickly and at a lower cost, without having to invest in the development process from scratch. Additionally, white-label software is generally more stable and reliable as they have been tested and debugged by our team of experts.
Top Features of Our Polkawar Clone Script
100% Decentralized
Blockchain integration
Gameplay mechanics
Stunning User interface
Pre-made game assets
Scalability
Staking
NFT Marketplace
Logistics
NFT Gaming
NFT Wallet
Play to earn Structure
Staking rewards
Purchase & Renting Scheme
How To Create A Innovative DeFi and NFT Gaming Platform Like Polkawar?
Creating a decentralized game like Polkawar that utilizes Non-Fungible Tokens (NFTs) involves several steps:
Conceptualize your game: Develop a unique concept for your game that sets it apart from other similar games. This includes creating a storyline, setting, and characters.
Design the game: Create wireframes, mockups, and a game design document (GDD) that outline the game's mechanics, features, and user interface.
Develop the game: Use a game engine like Unity or Unreal Engine to develop your game. You'll need to have experience in programming,
Create Smart Contracts: Develop smart contracts using a blockchain platform like Ethereum to manage and track the ownership of NFTs in your game.
Test & Deploy: Test your game and smart contracts thoroughly to ensure they function correctly. Once everything is working properly, deploy your game and smart contracts to the blockchain.
Marketing & Community Building: Create a website, social media profiles, and other marketing materials to promote your game and attract players. Building a community of players will help grow the value of your game.
Benefits of Ready-made Polkawar Clone Script
Using a ready-made Polkawar clone script to create a decentralized game like Polkawar can have several benefits, including:
Faster Development: A Polkawar clone script can provide a head start on the development process and allow you to launch your decentralized-based NFT game faster.
Lower Cost: Developing a decentralized-based NFT gaming platform like Polkawar from scratch can be expensive, but using a Polkawar clone script can help lower the cost by providing a pre-existing codebase.
Proven Concept: Since an NFT game like Polkawar is already live, you can be sure of the concept's feasibility and popularity among players around the world.
Bug-Free: The Polkawar clone script has been tested and is in working condition, which means you'll have bug-free to deal with during development.
Customization: Our Polkawar clone script will be flexible enough to allow for customization, so you can add your own unique features and elements to the game.
Technical Support: We offer technical support, which will help you with the development process and troubleshoot any issues you may encounter.
Why Choose Hivelance For Polkawar Clone Script?
Hivelance is a well-known provider of NFT game clone scripts in the cryptocurrency business. We are industry leaders in providing the highest quality NFT gaming solutions at the most competitive prices. Additionally, we have competence in offering NFT game clone scripts with sophisticated features. We assisted numerous young firms and entrepreneurs in developing and launching a feature-rich NFT game platform that is 100% similar to Polkawar. We have a pool of highly competent developers who can handle any sophisticated NFT gaming project, thus our developers will assist you in realizing your fantasy gaming platform. We offer cutting-edge Polkawar clone software to all startups and business owners so they may launch a spectacular DeFi-based NFT gaming platform similar to Polkawar.
We have a skilled team to provide effective customer and technical support to our clients throughout the world amid any technological issues. If you have any technical questions about the development of a Polkawar clone, please ask. We are available at all times to help and respond to queries.
Do you want to discover how the Polkawar clone script works? Check out the demo for our Polkawar clone script, a ready-made solution with an explanation of how it works and cutting-edge technology.