NFT
Top 10 NFT Games Clone Script For 2023 & 2024
Top 10 NFT Games Clone Script 2023. Explore this guide to fully comprehend and begin your preferred NFT games in 2023 - 2024.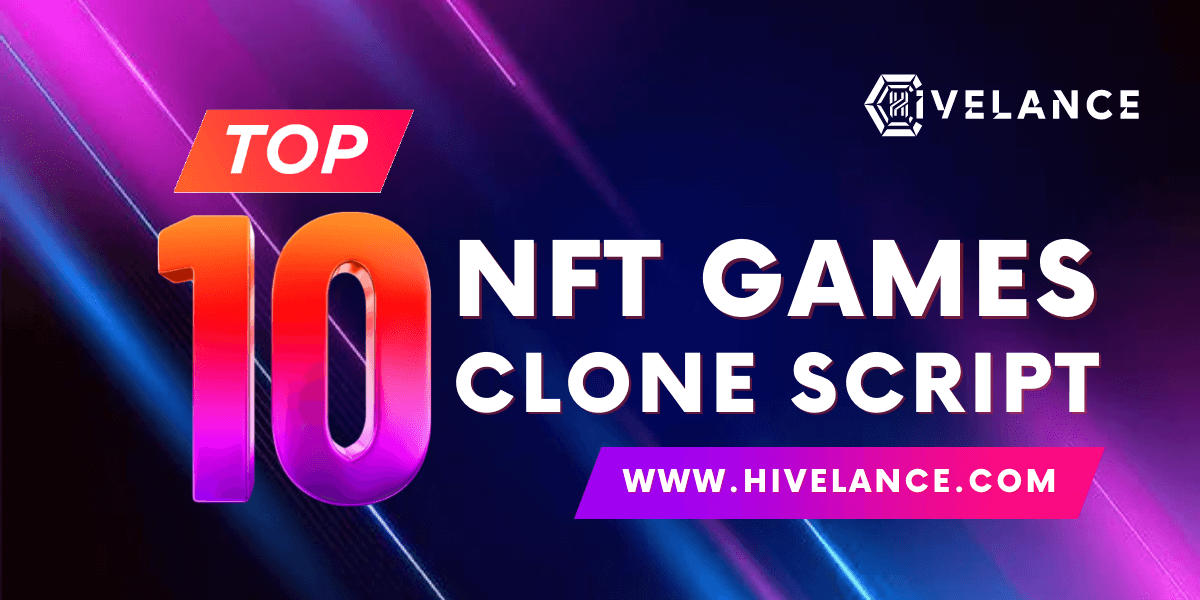 Non-fungible tokens are the top revolutionizing aspects in the gaming industry nowadays. Blockchain technology makes these NFT games more valuable and secure. While having discussions about NFT games, there comes the implementation of various characters, it's accessories, in-game assets, and so on. The entire ownership and access of these digital collectibles will be provided to the users with buying and selling options. NFT gaming ecosystems offer many exclusive functionalities and features which can be the best options for earning profits.

The popularity of NFT games has a wide range of audience. Below discussed the top NFT games that can generate high revenues for 2023.
Axie Infinity Clone Script
Axie infinity is one of the top NFT games in the crypto gaming industry. Axie Infinity clone script is the pre-built digital gaming platform and the specialty relies on the concept that they are built over the Ethereum blockchain. These clone scripts inhibit the features and functionalities similar to Axie infinity.
Being considered the best business model, it provides many opportunities to the users with the chance of high ROI. Players can compete with each other and grasp the new breeds and trade the tokenized anime creatures known as the axies. With the best team of highly qualified game developers, Hivelance can design and deploy the Axie infinity clone script based on your requirements.
Zed Run Clone Script
Zed Run Clone Script is another popular NFT gaming platform that is readily available for Digital Horse Racing Blockchain-enabled NFT game Clone Script. Within this Platform, users are allowed to breed, buy, and sell digital racehorses. As it provides Racing and Cryptos, many users are being attracted to the platform. Hivelance can offer advanced white-label ZedRun clone Script that can endeavor your business growth.
Decentraland Clone Script
Decentraland is a virtual platform with astonishing features and those clone scripts are the decentralized ecosystems having 3D animated characters, lands, gaming areas, and so on. The noteworthy attribute is that they are built over Ethereum blockchain networks. Users can perform many activities like explore, create, play games, collect wearables, monetize creation, leverage land plots, and 3D building techniques with ownership power. As the pioneer in Decentraland clone script development, We have sharp-minded developers who have created many clone scripts so far. We can showcase live demos for the clients to have a basic understanding of all the functionalities and features that will help grow your business.
Gods Unchained Clone Script
The Gods Unchained clone script is a Ready-Made virtual digital trading Card game platform where gamers can exchange their collectible cards easily. It provides gas-free transactions. We have the best team of frontend and backend developers who can help you to begin the journey of a high-profit-generating gaming platform with special features. As we value our customer's needs, we can act accordingly to satisfy their demands. Additional features can be included to deliver a successful platform.
Splinterlands Clone Script
Splinterlands clone script is a pre-made tradable card game that provides non-fungible tokens (NFTs) to reach the players easily at affordable costs. Splinterland clone script allows the players to trade, sell, and lease their card assets. We develop customized Decentralized Splinterlands clone scripts with Low transaction fees, Fast transaction, Secure, Cutting Edge Technology, SmartContract, and more Advanced Features. Hivelance can be your best partner in rendering the clone scripts.
Sorare Clone Script
Sorare Clone is a digital fantasy football trading card game that is readily available. It is built on the Ethereum blockchain network as it has a number of benefits. Players can sell, buy, manage, and trade a virtual team with the help of Digital Player Cards. Non-fungible tokens (NFTs) are used to assure verifiable digital scarcity and digital ownership rights. We develop sorare clone scripts with the user and admin features and UI designs for enhancing the platform's functions. Get in touch with us for developing your football game.
CryptoPunks Clone Script
CryptoPunks are the most outspoken topic these days and are regarded as one of the best NFT games. Users are allowed to buy, sell, and discover exclusive digital assets. We develop Whitelabel crypto punks clone scripts using the latest tools in the market. There are a variety of options for selecting and holding unique digital collectibles for transactions in the future. Our developers can assign the roadmaps in a delightful way and deliver you the platform with structured functionalities.
Sandbox Clone Script
Sandbox clone script is a specially designed marketplace script with a variety of digital crypto assets. Players can configure the assets with their own desired features. It is a Metaverse NFT Marketplace Script inherited with all the features and functionalities of a popular Metaverse Marketplace that lets anyone launch their own Metaverse NFT Gaming Marketplace like Sandbox Metaverse. Sandbox has its native token called a SAND token. The SAND token is used as the basis of all transactions & interactions in the game. SAND can be earned by playing games. Ready to launch your own metaverse NFT marketplace like a sandbox? Get your sandbox clone script from Hivelance now.
Alien World Clone Script
Alien World is the most famous NFT game in the crypto markets these days. Alien Worlds Clone Script is a Ready-Made decentralized NFT Game that is similar to the functions and features of Alien Worlds. Our clones has main features like minions, cards, avatars, Land, and more. We at Hivelance offer Alien Worlds Clone Script with unique features and plugins to launch your own NFT Gaming Platform like Alien Worlds. Our Alien Worlds Clone will be the best way to launch your NFT Gaming Marketplace and earn high profits.
Polkawar Clone Script
Polkawar clone script is developed on a Decentralized Blockchain network. It is developed to have an NFT game that plays traditional battles and betting. With this exciting and thrilling combat game, Users can use NFTs to Gain Value by trading with other users by minting game characters, and equipment, and utilizing battle weapons in the form of NFTs.In the war game, users can create their own gaming character, pick up their weapon and participate in the war game either as a single person or as a team. The users of this platform have multiple choices to earn rewards from the platform.
Summing up
Hivelance can assist you in developing and launching all the top NFT game clone scripts. We are the best team of NFT game developers who can provide premier blockchain NFT-based gaming platforms with top-range functionalities with strong security features. Our gaming platform can be very reliable to the users which makes the users more engaged. Our team of UX/UI designers has 10+ years of experience and can implement advanced designs with themes, backgrounds, and so on. Notifications will be updated regularly with our latest design feature. Our NFT gaming solutions can be compatible with both ios and Android. Our entire NFT game development process will be based on your business needs and we make it according to your requirements. NFT games can be developed on your preferred blockchain networks like EOS, TRON, Binance smart chain, Solana, polygon, etc. Start building yours right now..!!!!!