Cryptocurrency
Top 10 Cryptocurrency Exchange Clone Scripts 2023
Check out this interesting article to learn about the top ten crypto exchange clone scripts 2023 that are ideal for launching your crypto exchange business.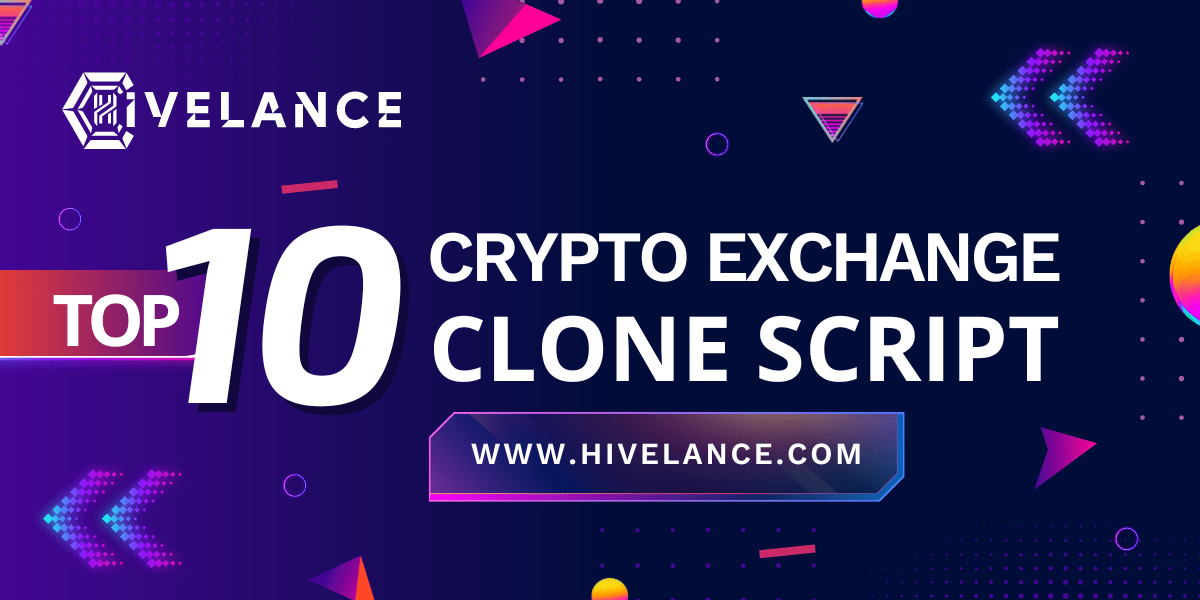 Innovative crypto business ideas are reshaping the world as we know it. The largest cryptocurrency infrastructure service provider in the world is Binance, while Coinbase is one of the most popular, dependable, and user-friendly crypto platforms without having its own cryptocurrency.
They have all developed new business models to provide, create, and collect value, and many others will follow. We are aware of their formula for success. A brilliant business idea for your crypto exchange can change your way of life and possibly influence the success or failure of your venture.

Try to think differently. What other straightforward approaches exist to benefit your users everywhere? a traditional exchange approach as opposed to only providing a service for exchanging digital assets? Nothing is off-limits. Maintain an open mind and resist the status quo. Our crypto exchange clone script helps you to come up with a good crypto exchange business model like Binance, Coinbase, FTX, and so on, and lets you play around with various scenarios.

Have a look at the top 10 cryptocurrency exchange clone scripts to get inspired for your own crypto exchange business ideas.
Binance Clone Script
Coinbase Clone Script
FTX Clone Script
Kraken Clone Script
Crypto.Com Clone Script
ByBit Clone Script
LocalBitcoins Clone Script
Paxful Clone Script
Remitano Clone Script
BitOasis Clone Script
What is Cryptocurrency Exchange Clone Script?
Cryptocurrency Exchange Clone Script is a ready-to-use crypto exchange script that includes eye-catching features and an impressive user experience that will attract your ideal crypto trading community. Our cryptocurrency exchange clone script is ideal for your cryptocurrency exchange business because it is simple to customize. It is made to satisfy all of your company's needs. It's ideal for your cryptocurrency exchange business. All of our solutions come with the assurance of leading-edge functionality and regular updates and are secured with 100% robust code. We put our cryptocurrency exchange clone scripts through intensive testing to ensure that we are only deploying perfect solutions to our clients.
Why Custom Cryptocurrency Exchange Clone Script is the Best Option To Start Your Crypto Exchange Service?
Since more people are choosing to invest in cryptocurrencies, the cryptocurrency exchange business has gained popularity and success. Therefore, the market for cryptocurrency-based enterprises has become profitable, and significant players like Binance, Coinbase, Local Bitcoins, and FTX have already ruled it. They are all renowned for providing exceptional service to their user bases.

The crypto exchange business growing in many countries starting from Malta, Canada, Slovenia, The Netherlands, Portugal, Germany, Luxembourg, Estonia, Singapore, Switzerland, and other well-growing countries like Australia, UK, and USA. therefore, Start and launch your crypto exchange like Binance, Coinbase, FTX, and Paxful with our white-label and ready-made solution for your crypto startup business. Our crypto exchange clone script is 100% customizable as per your business requirements with advanced features.
Let's take a look at the 10 best crypto exchange clone scripts that you should start using as early as possible:
Binance Clone Script
Here is how Binance got its start, with an average daily trading volume of $2.0 billion and more than 1,400,000 million transactions per second. The top cryptocurrency exchange in the world, Binance, provides its consumers with cutting-edge trading tools and minimal transaction fees. Beginners can also use its simple buy/sell option, while more experienced traders can take advantage of its comprehensive "basic" and "advanced" trading platforms.
Principal Elements of Binance Exchange
Comparatively low costs for other exchanges
25% off trading fees if you pay with Binance Coin (BNB)
available educational resources
proof of identity verification
A tax statement preparation portal for cryptocurrency taxes
So, if you are an ambitious entrepreneur looking to establish your own crypto exchange similar to Binance, now is the time to build a world-leading crypto exchange similar to Binance utilizing our Binance clone script.
Binance clone script is a ready-made white-label exchange software that includes all of the current trading modules and specialized capabilities of Binance, the world's largest crypto exchange app. With the help of our Binance clone, you can quickly develop and launch a feature-rich cryptocurrency exchange platform that is similar to Binance. Our Binance clone software is fully designed, created, expert-verified, tested, and ready for deployment. With our Binance clone software, you can attract a large number of users to your crypto exchange platform and generate a significant amount of revenue.
Coinbase Clone Script
Coinbase is the most popular consumer-facing cryptocurrency exchange in the United States. The company, which has been around since 2012, enables users to buy sell, and trade crypto assets including bitcoin, ethereum, and other cryptocurrencies. More than 450 crypto-to-crypto trading pairings are available on Coinbase.
Characteristics of the Coinbase Exchange
Beginner-friendly interface
There are more than 150 cryptocurrencies available.
Strict security precautions
Account funding with a low minimum
If you want to build a cryptocurrency exchange similar to Coinbase, our Coinbase clone script will help you get there. Our ready-made Coinbase clone script supports modern and advanced trading features and enables business owners to quickly reach the cryptocurrency exchange market.
FTX Clone Script
FTX is a rapidly expanding crypto derivatives trading platform that provides advanced trading options such as margin and futures trading. It accepts over 300 cryptocurrencies for spot trading and provides futures, options, prediction markets, leveraged tokens, tokenized stocks, OTC desk, and volatility products.
Principal Characteristics of FTX
Principal Characteristics of FTX
fantastic user experience
Access to futures, stocks, forex, and other advanced markets
Supports margin trading
And more
If you want to launch your own crypto derivatives trading site like FTX, you may save time and money by using an FTX clone script. FTX Clone script comes with outstanding features that are essential for a successful cryptocurrency trading platform. It gives users access to futures, stocks, Forex, and other advanced markets and allows them to trade them on digital assets whenever and wherever they desire.
Kraken Clone Script
Kraken is a cryptocurrency exchange established in the United States that allows customers to buy, sell, and trade a variety of assets with low commissions. Additionally, users can access benefits by staking coins. Users may trade over 100 crypto assets and 7 fiat currencies, including USD, CAD, EUR, GBP, JPY, CHF, and AUD, on the go with the exchange's mobile apps and web platform, which boasts a market-leading level of euro volume and liquidity.

Top Features of Kraken
Low costs, excellent security measures, and a wide range of currency choices
Reliable and secure
Low costs
High limitations for deposits and withdrawals
Accepts some forms of fiat money
Fantastic user experience
It provides up to five times leverage for margin trading, which is standard for the sector.
If you set up your own crypto exchange, similar to Kraken, you can quickly generate significant revenue from several methods. You may launch your own cryptocurrency exchange marketplace, a crypto-to-crypto, and crypto-to-fiat trading platform, using the Kraken clone script by Hivelance. Our Kraken clone script's stunning user interface aids in drawing in a big user base. You may tailor features to meet your company's needs, and it is user-friendly and runs quickly.
Crypto.Com Clone Script
Crypto.com is a cryptocurrency exchange that allows you to trade, invest, stake, and use wallets, NFTs, and other services. This exchange provides over 250 different currencies, reasonable fees, and discounts to those who have a substantial interest in Crypto.com Coin (CRO). For individuals wishing to accomplish a lot with their bitcoin, it might be a suitable option due to its ecosystem of cryptocurrency-related items.
Essential Elements of Crypto.com
More than 250 coins are on offer
Gain up to 14.5% by staking cryptocurrency.
Spending with a Visa debit card might earn you up to 8% back.
Competitive rates and special offers
Support for a cryptocurrency product ecosystem
Hivelance is a genius when it comes to creating crypto exchange clone scripts and has experience creating Crypto.com clone scripts to help startups and business owners succeed in their cryptocurrency exchange ventures. Our Crypto.com clone script is a specially created cryptocurrency exchange clone script that contains all the most recent features and add-ons of the well-known Crypto.com trading and exchange platform.
ByBit Clone Script
Bybit is a cryptocurrency centralized exchange (CEX) that provides a professional platform for crypto traders of all levels, including an ultra-fast matching engine, exceptional customer service, and multilingual community support.
Key Feature of ByBit
Margin trading with up to 100x leverage
Perpetual Contracts
Double-Price Mechanism
The Mechanism for Contract Losses
Mark to Market by Bybit
The most affordable margin trading commissions
Multi-currency support
An effective and well-designed trading interface
ByBit clone script is a crypto exchange script that replicates ByBit's features, functions, and other plug-ins. In just ten days, you may launch a super-fine cryptocurrency exchange similar to ByBit with the aid of a ByBit clone script. Hivelance is a professional crypto exchange clone script software company. We have created a variety of cryptocurrency exchange websites for a variety of businesses all around the world. As a result, we can properly understand your concept and offer you the best solution.
LocalBitcoins Clone Script
LocalBitcoins is a web-based cryptocurrency trading platform that enables individuals to buy and sell cryptocurrencies. It enables traders to build adverts with the pricing and payment method of their choosing. The majority of methods for making deposits and withdrawals are accepted by the exchange, including e-wallets and Visa/Mastercard debit cards.

Characteristics of Local Bitcoins
It Operates in 248 nations.
Cryptocurrencies can be purchased with practically any global currency.
The platform runs in accordance with AML and KYC rules;
The trading application has a simple and user-friendly interface;
There are webinar guidelines for both novices and experts;
A 1% flat commission is applied to all transactions.
The white-label, fully customizable, and highly scalable Localbitcoins clone script offers a number of attractive features, including Quick BUY/SELL, the Escrow system, Best in Class Security, Advanced Trading Features, and much more. Hivelance uses cutting-edge technologies to create the latest Localbitcoins clone script. We offer complete admin and security support for our script, allowing it to be the most encrypted peer-to-peer crypto exchange platform like Localbitcoins.
Paxful Clone Script
The Paxful exchange is a peer-to-peer trading platform for trading Bitcoin, Tether, and Ethereum. These cryptocurrencies can be purchased and sold in over 350 different ways. Nearly 5 million customers are actively using the service, which has operations in 21 different countries. One of the standout advantages is a free bitcoin wallet that is offered when registering on the exchange.
Key Features of Paxful Clone Script
Minimum standards for registration and verification.
The platform has hundreds of tools for buying and selling cryptocurrencies.
It is fully globalized and translated into 21 languages.
It also offers a variety of payment methods, including bank transfers and e-wallets, and supports free Bitcoin wallets with BitGo.
Paxful Clone Script is a peer-to-peer crypto exchange script with a tonne of features that works similarly to Paxful and was created using the most latest technological stacks. By leveraging the skills of our qualified developers, we provide enterprise-grade White Label Paxful Clone script. Our White Label Paxful Clone script is a fully customizable, feature-rich option that helps you create an ecosystem where traders may easily exchange cryptocurrencies.
Remitano Clone Script
Remitano is a peer-to-peer marketplace that supports the buying and selling of cryptocurrencies online. Remitano, a P2P marketplace, enables users to buy and sell cryptocurrencies using fiat money or other cryptocurrencies. A secure environment for investor connectivity across the network is essential to the Remitano platform.
Characteristics of Remitano
Quick and easy registration and verification process
supports immediate cryptocurrency purchases
People who use the P2P network benefit from an additional layer of security provided by an intermediate escrow platform.
24/7 contactable and responsive customer support team.
The Swap feature of Remitano allows investors to instantly exchange existing coins for other compatible cryptos.
Users can access NFTs through Launchpad using the NFT5 marketplace.
And more
Remitano clone script is a ready-made peer-to-peer crypto exchange software that includes all of Remitano's existing functionality. Hivelance provides top-notch Remitano clone script with a user interface that is appealing and well-designed to give users the finest trading experience possible. Our clone script includes all the most recent features and security measures, which are essential for effectively developing a peer-to-peer cryptocurrency exchange like Remitano.
BitOasis Clone Script
In 2015, BitOasis was established as the biggest and safest exchange in the Middle East and North Africa (MENA) region, providing users with access to more than 660 digital assets. They allow users to buy, sell, and exchange cryptocurrency in the UAE Dirham (AED), Saudi Riyal, and other currencies (SAR).
The Best of BitOasis
It provides top security safeguards like email ID validation for each login, two-factor authentication, and sophisticated SSL encryption protocols.
Deposits using debit cards for 8 Middle Eastern nations
Ideal for exchanging AED Mobile wallet accessible to iOS users
Easy-to-use trading tools and investment solutions, including BitOasis Core, BitOasis Pro, BitOasis OTC desk, and APIs, support more than 60 different cryptocurrencies.
Hivelance is an award-winning BitOasis clone script provider in the crypto space. We can declare with pleasure that we are experts in providing the best-in-class crypto exchange solutions with premium results because we are a leading provider of cryptocurrency exchange clone script in the market. We have a small but talented team of developers, designers, and quality analysts who pledge to give you a cryptocurrency trading platform without bugs like BitOasis.
Features of Crypto Exchange Clone Script
Customizable and scalable
Quick and easy launch
Cost-effective
High chances of success
Less effort and research
No need for technical knowledge
Less Expensive
Available Conveniently
Transparency
Quality of Code
Instant Solution
And more
Want a bitcoin exchange clone script with the most recent features of a reference website or app, a niche-focused style, and a personal touch? You are in the correct spot.
If you want your crypto exchange to take place in the crypto realm, Hivelance can provide you with a personalized, one-of-a-kind, and feature-rich crypto exchange clone script. To achieve a unique crypto exchange solution in the market, we offer a custom crypto exchange clone solution that is entirely based on your requirements.
Why Choose Hivelance for Crypto Exchange Clone Script Development?
Many cryptocurrency exchange businesses have begun using exchange clones. because a vast number of users, traders, and investors rely on the exchange platform to invest in cryptocurrencies. As a result, there is a solid demand for crypto exchange clones, as well as a market rivalry.
As a top custom cryptocurrency exchange clone script development company, we not only create the best clone scripts, but we also create websites and apps that are ideal for your business. To deliver user-friendly, conversion-focused, and distinctive solutions, we evaluate the full reference crypto exchange site/app to learn about the most recent features & offerings and look through related/competitor sites or applications as well.

We provide the best solutions for your business needs based on our experience across sectors and expertise in crypto exchange clone script development. Fill out the form to get in touch with us for a free consultation and a committed team for your project.