Decentraland Clone Script To Build A NFT based Virtual Reality Platform Like Decentraland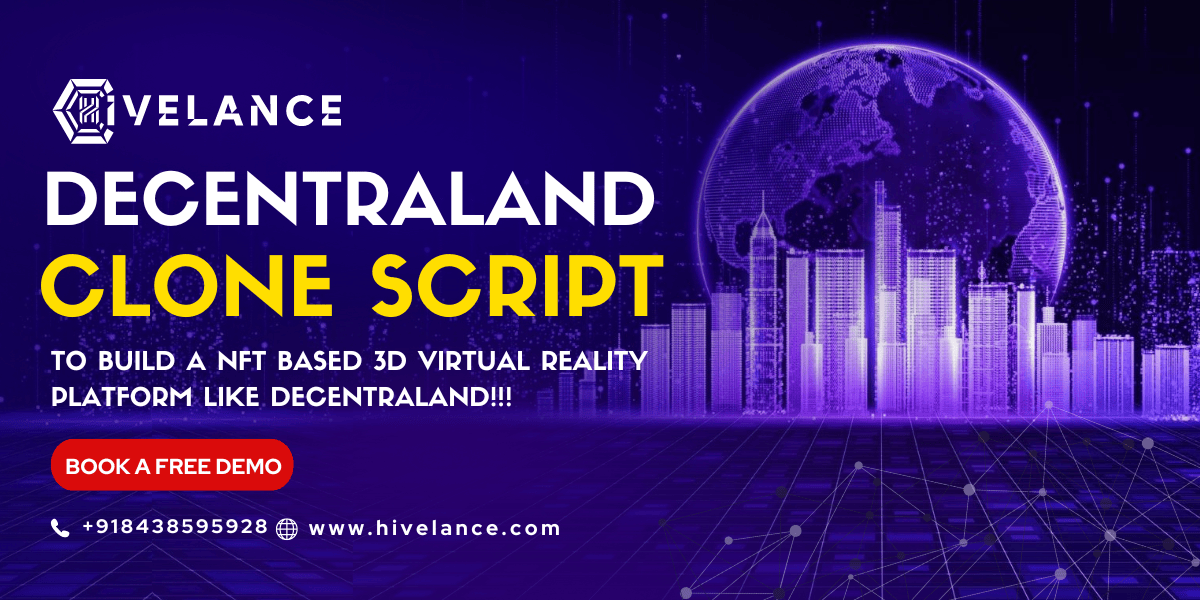 The virtual game industry, 3D space, semi-free-to-play games, and a myriad of related services are unavoidably at the top of any list of the most popular gaming business sectors in the world. What if you could combine the entire range of services into one package? Is the titular solution capable of quenching anything and everything? Decentraland Clone enables you to enter the market with just one such business weapon.
Good news if you're an entrepreneur looking to leverage the popularity of a virtual gaming platform. You have arrived to the correct place. The Decentraland Clone, a top-grossing metaverse-based 3D virtual reality platform development solution that can be completely customized and passionately rebranded with your business elements, is what Hivelance is offering you. The Decentraland clone, armed with superior tech stacks, is wholesome in every sense of the word. Now available at an incredible price!
Decentraland Clone Script
Decentraland clone script is a ready-made NFT marketplace and decentralized virtual reality platform development solution and available in the market with outstanding and dynamic features that are far more advanced than the original Decentraland. It is a pre-built, market-ready script created to ease the users' current pain points. For its high-end user interface and complex functionality, this has been a benchmark in the gaming industry as one of our white-label software offerings. Kick start your Metaverse-based 3D virtual gaming business leveraging our Decentraland clone script, saving time & cost to market.
Our ready-to-use Decentraland clone script provides a distinct dashboard for admins and users, allowing them to handle their data effectively from their own dashboard with secure login credentials. Our script is reliable, adaptable, secure, and transparent so that even non-technical individuals may utilize it. It works well with several blockchain networks. With the admin dashboard, the admin has full control over the script.
Benefits of Decentraland Clone Script
Market-tested solution
100% decentralized
Transparent
Saves time & Cost
Ready-made yet customizable
Scalable solution
Quick launch
Fewer efforts
Advanced Technologies
Immutable Smart Contract
And more
How does Our Decentraland Clone help in Building Robust Virtual Gaming & NFT Marketplace?
The Decentraland clone script would help you create your virtual gaming platform with high-end functionalities. Our Decentraland clone script is a leader in this Metaverse space and has been armed with leading-edge technologies to support your business requirements at scale.

Our team of experts has rich expertise in delivering Metaverse-based game clone scripts for multitudinous 3D & blockchain gaming business models over the years. Our meticulously crafted Decentraland clone script includes many interesting functionalities and state-of-the-art technologies to arrive at a complete user-owned, NFT-based virtual platform app like Decentraland.
Also, our Decentraland clone supports the inclusion of additional features and functions based on the gaming ecosystem requirements and so will perfectly suit semi-free-to-play virtual game, business models. Our Decentraland clone is also subjected to strict testing steps to ensure unrivaled performance.
To say in a nutshell, our Decentraland clone script will be the apt choice to build an outstanding decentralized virtual reality platform with innovative inclusions. So, utilize our Decentraland clone and set a strong footprint in the blockchain virtual-reality gaming business.
Profitable Revenue Factors Of Our Decentraland Clone
Decentraland's world is scaling rapidly. Over the last year, Decentraland has grown its users by 3,300% and increased its token price, and reached a peak market cap of $12 billion. Using the Decentraland clone script is a beneficial revenue-generating factor to make a huge profit. With this revenue factor of our Decentraland clone, As an Admin - you can earn more whenever the user starts to create, list, mint, buy, and sell their own plots of land, artwork, game assets, avatar and Non-Fungible Tokens (NFT) to the platform. This factor enables you to make a great profit within a very short span of time.
Want to know more about the Profitable revenue factors of our Decentraland clone? Free feel to contact us!
White Label Decentraland Clone Software
White label Decentraland clone software is a pre-designed Metaverse 3D virtual NFT game clone software of the world's largest first-ever virtual platform " Decentraland ''. This software holds advanced gaming modules and specialized functions of the Decentraland. By using Our Decentraland clone software, you can create and launch a feature-rich & Industry-best Metaverse gaming platform similar to Decentraland within a few days.

Our Decentraland clone software is fully conceived, created, expert-verified, tested, and ready for deployment. The top gaming engines on the market were used in the development of the superior Decentraland clone software. With our Decentraland clone software, you may attract a large number of people to your Metaverse, a Free-To-Play Virtual Gaming platform, and generate a significant amount of revenue.
We generate tokens such as MANA for users after they register and log in to the virtual lands in order for them to do all platform operations. These Ethereum-powered platforms have high-end security wallets built in for cryptocurrency trading.
The users are capable of:
Transferring lands to other users
Sell/buy plots/lands from others
Can purchase wearables, accessories, and weapons with the tokens
Use Cases Of Decentraland Clone
Decentraland clone scripts are widely adopted nowadays by most of the upcoming gaming and other business in this space. The reason is simple – Reduced Time & Cost to Market. There are not many ways for a new business to differentiate itself and make a mark. This is exactly where we come in.
There are Five Primary Use Cases Of Decentraland Clone
Applications: With Decentraland's scripting language, users may build apps and 3D ecosystems that offer richer interactions.
Curation of Content: In Decentraland, neighborhoods have been established, gathering like-minded members and creating organic communities.
Advertising: Due to increased player traffic in neighborhoods, advertising companies have purchased space and installed billboards.
Digital collectibles: Users can acquire ownership rights to NFT assets by collecting, creating, and trading them on the Decentraland Marketplace.
Social: Communities on social media platforms, as well as offline groups, can enjoy a more interactive manner of socializing with their friends.
Decentraland DAO Based Solutions

One of the most exciting parts of Decentraland is its focus on decentralization. The land, digital assets, and developments of Decentraland are controlled by the community of players. The project employs open-source code to govern its laws as a Decentralized Autonomous Organization. Anyone who has staked their MANA or owns LAND has the ability to create and vote on proposals. The Decentraland DAO is based on the Aragon DAO software solution, with an Agent that can interact with Ethereum smart contracts.
Why There is a Need To Go for Decentraland Clone?
In this modern era, blockchain games as well as end-to-end Metaverse platforms have gained widespread popularity with the increase in the number of users making use of these platforms for buying and selling digital real estate, while exploring, interacting, and playing games within this virtual world. So, 3D virtual gaming platforms like Decentraland, The Sandbox, and Alien Worlds have faced tremendous growth worldwide. The massive growth of this Metaverse gaming sector kindled interest among many entrepreneurs to plunge into this booming field. But, only a very few among them are able to develop impressive gaming platforms that fulfill the play-to-earn term needs of people to succeed in their ventures.
But, building a full-fledged Metaverse-based 3D virtual NFT gaming platform from scratch will be for sure a tedious task and will involve a lot of time and resources. So, the best possible way is to opt for a readymade and customizable Decentraland clone script. This is because a ready-to-use Decentraland clone will be pre-built with all necessary inclusions to arrive at a comprehensive virtual space like Decentraland. Also, you can include required features without any troubles with a scalable Decentraland clone. Therefore, go for a reliable Decentraland clone to build your own unique Metaverse-based 3D virtual NFT gaming service platform.
Staggering features of our Decentraland Clone Script
Automated Integrities for users:
Modernized 3D Platforms
Easily accessible and explorable
Custom made functionalities
User and admin dashboards
Fully organized & decentralized ecosystem
P2P transactions
API integrated modules
Secondary Market Creation
Global and Instantaneous Payment Schemes
Tested Marketplace
Metaverse Compliant Infra
And more
Security features:
Two-factor authentication
Data encryption
KYC for security
DDOS protection
Cloudflare (WAF CDN)
Time Locked Transactions
Popular Blockchain Technologies Used To Build Decentraland Clone
Our Decentraland clone script supports Metaverse-based NFT game development on various blockchain networks
Ethereum-based Decentraland clone
Tron-based Decentraland clone
Solana-based Decentraland clone
Polygon-based Decentraland clone
Binance Smart Chain-based Decentraland clone
Cardano based Decentraland clone
Avalanche-based Decentraland clone
And more
Why Choose Us For Decentraland Clone Development?
We are one of the trusted and leading Metaverse game development companies with proven experience that allowed us to serve customers globally on various crypto & blockchain projects. We understand the expectations of users on the Metaverse-based gaming services platform, our team of enthusiastic professionals focuses on crafting a top-notch Decentraland clone solution with advanced gaming add-ons
This meticulously built and fully-integrated Metaverse gaming solution will help in building a robust and 3D virtual platform with futuristic functions and features. Also, if you want to make any inclusions depending on your blockchain and decentralized-based gaming business model, then it is also completely possible with our ready-to-use and scalable Decentraland clone script.
Some of the benefits:-
100% Customizable

Our Decentraland clone script can be customized for a variety of gaming services. Whatever your unique business idea is, Our Decentraland clone script can be tailored to suit that.

Design that is Scalable & Clean
Our script is one of the most reliable options on the market right now because to the use of cutting-edge technology, high coding standards, microservice architecture, and simultaneous integration of safety and security elements on the Metaverse-based 3D virtual platform.

Security

"White label" Decentraland clone software is not only robust and scalable but also incredibly secure. Immutable APIs, reverse proxy configuration, SSL-powered APIs, and other features make sure that security extends from the platform to each individual API.

Confidentiality is Guaranteed.

In order to respect and preserve your privacy, we use an encrypted system.

Cost Effective

When you choose our Decentraland clone script/software, we can ensure you that it will not dry your bank account.

Free Consulting

Experience thorough guidance from our specialists at every stage of the process.

Service for Seamless Communication

We ensure seamless and speedy communication in all situations.

Gain game enthusiast confidence and increase the credibility of your Metaverse gaming platform by encouraging a safe and convenient playing atmosphere.
Utilize our Best Decentraland Clone to build such an ideal Metaverse-based 3D virtual NFT gaming platform.
So, why still waiting? Make use of our Advanced Decentraland clone script to build an astounding Metaverse 3D gaming platform and to earn more revenue from it. Contact Us For More Details!
PEOPLE ALSO ASK
---
What is Decentraland Clone Script?
Decentrland Clone Script is a 3D-powered virtual world solution that replicates the features and functionalities of Metaverse gaming platform like Decentraland. This script is a pre-built NFT-based, 3D virtual platform development solution where users can create, buy, sell, and trade their own avatars, lands, scenes, etc.
What are the key features of the Decentraland clone script?
Some of the main features of our Decentraland clone script are virtual reality environment, Blockchain integration, land ownership, User and admin dashboards, API integrated modules, single/multiple minting, two-factor authentication, DDOS protection, etc
Is it possible to add and customize the feature in Decentraland Clone Script?
Yes, you can add a new feature and customize the existing features in the white label Decentraland clone script we provide.
Do Your Decentraland Clone Script Supports Multilingual?
Yes, Our white-label Decentraland Clone Script Supports Multilingual
How does Decentraland clone help to start your own 3D virtual world browser-based platform?
By utilizing a readymade and customizable Decentraland clone script that is pre-built with futuristic functions and cutting-edge technologies, you can succeed in building a 3D virtual world browser-based platform like Decentraland.
How to create my 3D virtual Platform on various blockchain networks?
By using our Decentraland clone script, you can build your 3D-powered NFT gaming marketplace on various blockchain networks such as Ethereum, Solana, Polygon, Binance Smart chain, Cardano, Polkadot TRON, and more.
How much does it cost to develop a Decentraland Clone Script?
The cost to create a Metaverse NFT gaming platform is exactly based on the client's requirements. If you want to know more about the cost of your 3D virtual platform like Decentraland. Here our experts will guide you. Get a quote for your Decentraland Clone Script.
How you can make money with the Decentraland clone?
You may easily generate money with a 3D virtual NFT gaming platform built with a Decentraland clone by getting a certain commission amount for any transaction that occurs on the platform. You can earn revenue by listing Virtual Assets, lands, and events on the platform.