Cryptocurrency
Crypto Fantasy Trading Game Development Company
As a top-notch Crypto Fantasy Trading Game Development Company, Hivelance creates next-gen fantasy crypto trading games that are built by the top of blockchain networks.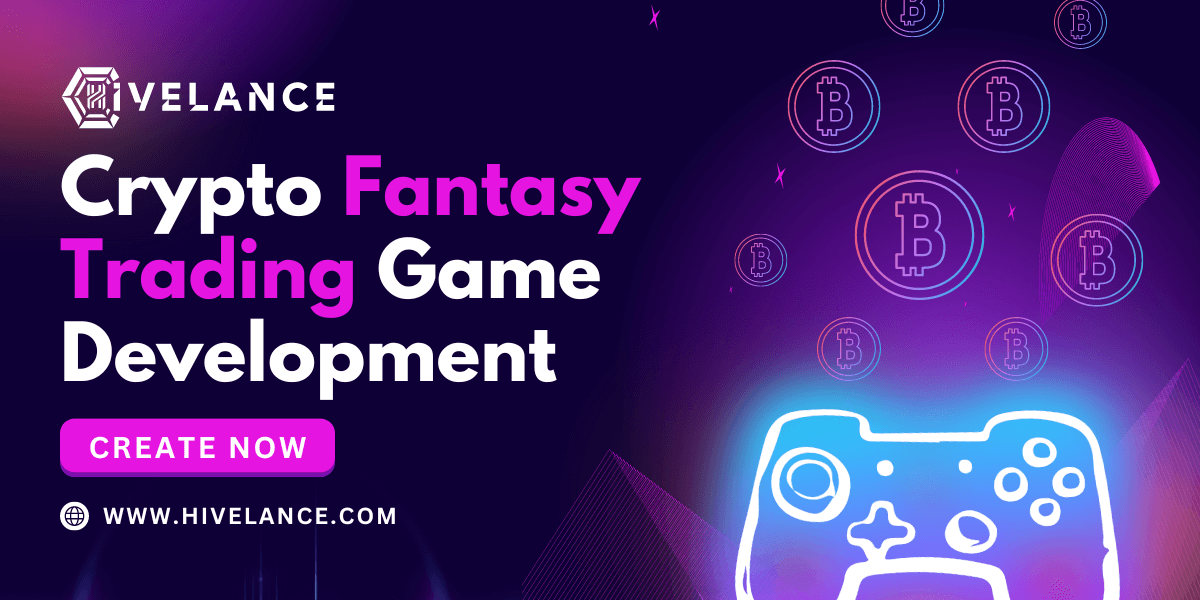 Catch Up yourself in the Fantasy world enjoying Web3.0 amenities
From Web2 to Web3.0, the transitions are beyond belief. Predictive Intelligence, Control over data ownership, Higher transparency, No intermediaries and so on, made Web3.0 stand tall in recent times. Decentralization is revamping all domains and amalgamating the operations in a conventional way. Gaming is the most fanatical ecosystem which turned traditional games to adopt innovative capabilities. Web3.0 established the realistic and automated gaming space, one such is Crypto Fantasy Trading games. This gaming arena is permitting the doors to be opened for many gamers to trade cryptos. Peep into it in detail..!!!!!
Crypto Fantasy Trading Games
A Crypto Fantasy Trading game is also a decentralized platform that enables gamers to trade cryptocurrencies or crypto assets. Participating in the tournament and competing with the co-players to reach the targets will be the main function of these games. Chances of earning huge profits by engaging in this game attracts millions of users. Virtual backgrounds will be more enhanced as they are customized according to the user's requirements. Staking the assets to double the revenues are available within this platform to enjoy profitability. This Platform typically has a leaderboard where players can compete against each other, and rewards are given to the players with the highest portfolio value at the end of a predetermined time period.
Unique In-game assets developed to deploy in the platform
Our Efficient developers create striking Fantasy game platforms hooked with eye-popping in-game assets according to your demands and they are:
Armors
Weapons/ Arsenals
In-game currencies
Potions
Skin and cosmetic items
Real estate lands and properties
Pets and animals
Magic spells or abilities
Special quest items
Distinctive Features of Our Crypto Fantasy Trading Game Platform
We develop an astounding Crypto Fantasy Trading game platform with all features and functionalities to enjoy the games and trading experience. Our White label Crypto Fantasy Trading game platform is developed with intuitive factors that help the buying, selling, and trading of in-game assets in an effective way. As decentralization comes into picturization, the process runs automatically with the help of highly programmed smart contracts. Some of the exclusive features incorporated are listed below:
Listing of digital assets are possible where the prices can be viewed for further reference.
Intuitive User-Interface to get the details of all information regarding the games.
A List of revenue models are available within the platform to get profits.
Popular Crypto Fantasy Trading Games
Altcoin Fantasy
CryptospaceX
Cryptotrader
CoinMarket Game
How To Generate Revenues from Our Crypto Fantasy Trading Game Platform?
Players are provided with the pathways to generate revenues from our crypto fantasy Trading game platform. As there are numerous ways to get profits, the platform is marked as one of the marvelous games. The turnovers are unimaginably huge, hitched with top security features which can help startups, entrepreneurs, and investors to be one of the capable identifiers in the crypto markets. Some of the notable ways of earning revenues are listed below:
Through Transaction fees
Gas fees
By advertising
Earning in-game assets
Auctioning the NFTs and so on….
Development Process of Our Crypto Fantasy Trading Games
Development from scratch: We are efficient in developing crypto fantasy trading games from scratch. Including all the required features and functionalities, our platform can regulate in an automated way without any interruptions. Starting from the initiation phase, we adhere to prosper your business growth and our experts guide you throughout. Costs will be higher when the platform is developed from the beginning and is also time-consuming. But we can assist you based on your needs.
White Label solutions: Our white Label solutions are the perfect outputs to help you to design and develop the gaming platform according to the customization ideas. Forming the storyboard with the client's confirmation, we begin our development methods with care.

We perform a deep market analysis and gather the ideations to transform them into an easily usable platform. Secured blockchain networks are chosen and implemented with advanced strategies. Crypto wallets have been developed with perfect back-end codes to endeavor the storage and transfer functions.
Making the platform more reliable with attractive designs and modules, we progress them into multiple test phases to remove any faults or errors. Then we readily deploy it to the servers for successful running. Players can enjoy the trading process.
Why Hivelance for Crypto Fantasy Trading Game Development?
Hivelance as a well-reputed Crypto Fantasy trading game development company enhances the digitization accomplishments in a perfect way. Our previous work patterns have helped many clients across the globe in grasping the classic solutions. Our white label Crypto fantasy trading platform has many revenue models through which users can earn more profits in a distinguished manner. We are the best blockchain builders with maximum years of experience in the town to align the codes for incredible processing. We have trained our developers in such a way as to assist you in all ways from initiation and deployment. Get your platform developed by our team..!!!
150+ Blockchain-enabled gaming platform
Team for providing accurate solutions
Faster functioning and reliable outcomes
Quicker responses for any corrections
Separate team for testing the platform
24/7 customer support