NFT
GameStop NFT Clone Script To Create Immutable X NFT Marketplace Like GameStop
GameStop NFT clone script is a pre-built and White label NFT marketplace solution that helps to launch your self-custodial NFT marketplace like GameStop with advanced features.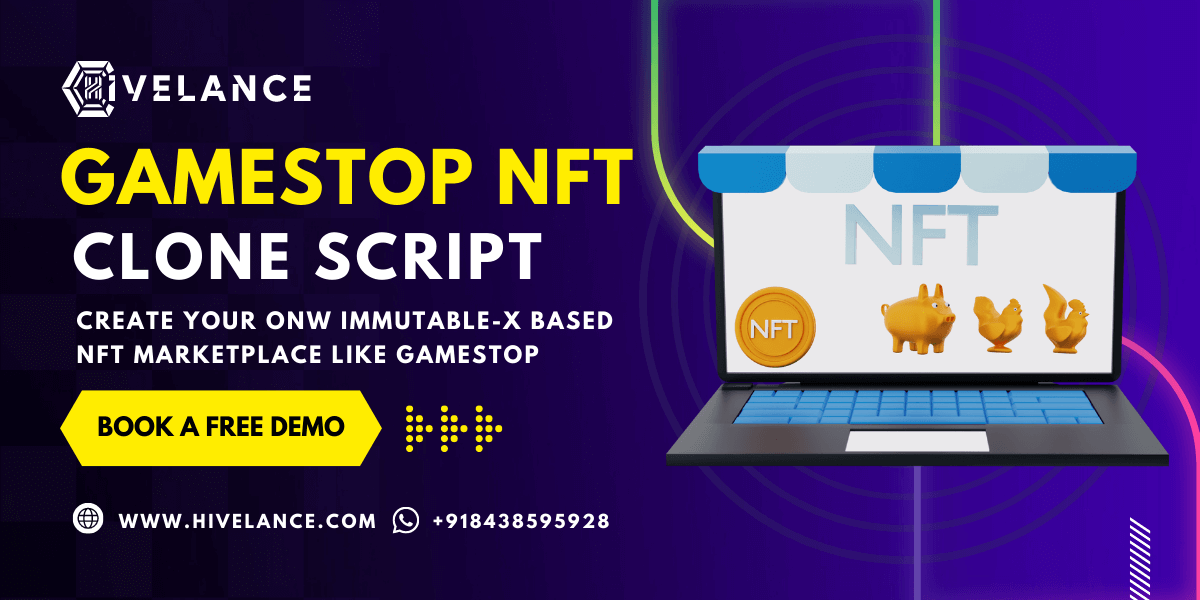 GameStop NFT Clone Script
A ready-to-use GameStop NFT clone script will be pre-built with all the essential features and functions required to create a robust NFT marketplace. Furthermore, with a customizable Ethereum blockchain-based GameStop NFT clone, you can integrate all new features and services based on your NFT marketplace business requirements. Therefore, make use of a readymade and adaptable GameStop NFT clone and get ahead in your NFT business venture.
GameStop NFT clone script allows anyone to build and launch a decentralized powered NFT marketplace on top of the Ethereum blockchain, using the Loopring Layer 2 scaling solution.
Benefits of GameStop NFT Clone Script
Tradability
Standardization
Liquidity
High scalability
Interoperable
Scarcity
Cost-effective
Faster deployment
100% Customization Scope
Great ROI
No technical knowledge is required.
Highly trustworthy and safe
What is Loopring Layer 2 scaling solution?
Loopring is an Ethereum transaction processor and scaling solution. It enables the GameStop Wallet to be less expensive and more efficient than wallets that just use the Layer 1 Ethereum mainnet. This means you may buy and sell NFTs, as well as transfer ETH to other Loopring Layer 2 accounts, at a fraction of the cost of Layer 1 transactions.
White Label GameStop NFT Clone Software
We have created a white-label GameStop NFT clone script with unmatched performance and many unexpected features that are required for the NFT marketplace according to our extensive experience in building top-notch NFT marketplace clone scripts for various NFT marketplace business models over the years.
Our White label GameStop NFT clone is dynamically adaptable and thus easily customizable to suit different NFT business concepts and ideas. As a result, it comes as no surprise that our GameStop NFT clone will be the finest option for developing a remarkable self-custodial NFT marketplace on a budget and in a short period of time. Therefore, make use of our GameStop NFT clone and taste success in your NFT business venture.
Excellent features of our GameStop NFT Clone
Launchpad
Collectibles (Art, Music, Ticker, Video, and more)
NFT Explore
Storefront
Filters
Share
Admin Portal
Wallet Integration
Decentralized
Bid/Buy/Sell
Multi-language
API integrations
Security Features Of Our GameStop NFT Clone Script
Two Factor Authentication
SQL Injection Prevention
Content Management System
End-To-End Encryption Based SSL
Wallet Integration
Anti-Denial Of Service(Dos)
SSF Protection
Anti Distributed Denial Of Service
And more
Create Your Immutable X-based NFT Marketplace Like GameStop
Creating your own Immutable X-based NFT marketplace like GameStop involves a lot of layers like backend databases, blockchain networks, storage platforms, NFT standards and algorithms, and Front-end frameworks. The fully grown NFT marketplace developers at Hivelance. As a top-notch NFT Marketplace clone script development company, we easily make all these stages of NFT Marketplace well organized.
Create GameStop like Immutable-X NFT Marketplace From Scratch

Building up an NFT marketplace from very scratch is an extremely precise process that would require a quality set of skills from qualified experts.

Steps in Creating NFT Marketplace like GameStop
Identifying a niche for an NFT marketplace
Whitepaper Release
Choosing the blockchain network
Immutable smart contract creation
Establishing the NFT marketplace
incorporating digital wallets
Enabling crypto payment gateways
Establishing high-end security
Community-building
Target locations around the globe
Cost specification of the end product
Integrate User-specified features
Before building up an NFT marketplace like GameStop, the developers need to identify the type of NFT marketplace required by the Client (i.e) from any one of the available NFT marketplaces like the Images, music, videos, artwork, tickets, gaming assets, physical property, and land.
Building Immutable X NFT Marketplace Like GameStop With Ready-Made Solution

With the help of our pre-made GameStop NFT clone software, you can quickly and easily start your own Immutable X NFT marketplace. The ready-made GameStop NFT clone script is an exact replica of the self-custodial NFT marketplace GameStop, incorporating all of the excellent functions and features of the real GameStop. Numerous NFT supporters have made investments in the NFT industry because of GameStop. You may create your own NFT marketplace with top-notch features and cutting-edge functionality using our GameStop NFT clone script.
Why Choose a Ready-Made GameStop NFT Clone Script?
Quick implementation
Cost reduce
No risks
Full customization
Adaptability
Maintenance
Why Choose Hivelance for GameStop NFT Clone Development?
Hivelance is a market-leading white-label NFT marketplace software provider. We are experts in providing the finest NFT development solutions at the most competitive prices in the market. Furthermore, we have extensive experience in offering advanced NFT marketplace clone scripts. We supported numerous young crypto startups and entrepreneurs in developing and launching a feature-rich NFT marketplace that is 100% similar to GameStop. Our experienced developers can handle any difficult NFT project, so they will work with you to turn your idea for a business into a reality. We offer cutting-edge GameStop NFT clone software to all startups and business owners so they can launch an amazing NFT marketplace similar to GameStop.
If you have any technical questions about the GameStop NFT clone development process. We are always happy to help and answer all types of business queries!