Blockchain
Poker Game Development To Build the Ultimate Poker Gaming Experience
Our Poker game app development company helps to create a feature-rich poker gaming platform with advanced features and functionalities.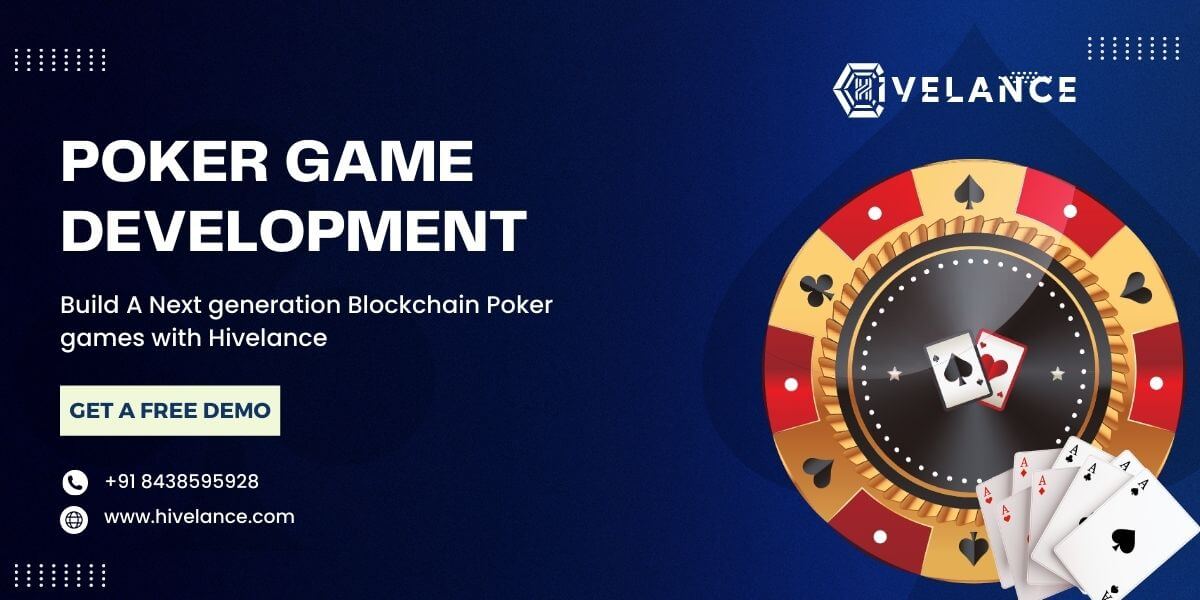 Poker Game Development Company:
Hivelance is a top-class Poker Game Development company that offers a wide range of poker game development solutions all under one strom. We create a modern poker game that is expandable and loaded with amazing features and functionalities. Our creative poker game development services provide complete support and flexibility to draw a large number of players and keep them interested for a long time. As a pioneer in the industry across frontiers, we are happy to provide Blockchain Casino Gaming solutions on a bigger scale in addition to our offerings for Poker gaming. With transparency, security, and unmatched confidence for both players and users, our cutting-edge solutions revolutionize the casino gaming industry by utilizing the potential of blockchain technology.
Our services for Poker Game Development:
Online poker game development:
We provide design, UI/UX, and maintenance assistance in addition to our services for developing online poker games. We offer both pre-made products and unique custom games.
Poker game apps:
We create games for mobile devices and tablets. These games are compatible with a wide range of gadgets. Some games are playable with six players on a phone or tablet, while others require eight players to play on a computer.
2D/3D poker games:
We create very enjoyable games using coding languages like Unity, Unreal Engine, and Oculus Rift. We can even create a poker game that appears to be both flat and protruding from the screen. To create it, we need specialized computer languages like JQuery, SQL Server, and Flash.
Gaming solutions:
With our variety of in-house games and the flexibility to add third-party content like poker, bingo, casinos, and betting solutions from leading vendors utilizing our open API, our system is entirely customizable.
Support and maintenance:
We continue to offer technical support and maintenance services for a specific period even after the game has been effectively launched. Our poker game creators continue to provide round-the-clock support at a minimal rate.
Game integration:
We ensure that poker games operate smoothly and comply with all legal requirements by effortlessly integrating them into the existing poker facilities.
List of Poker Game attributes:
Hivelance provides a variety of poker attributes owing to its years of experience in Poker Game Development,
Texas Hold'em - Using the betting limit function as a framework, we generate Texas Hold 'em poker games in a variety of iterations. They have been incorporated with a variety of tables of options, stakes, and real money capabilities to increase the excitement of poker.
Omaha Poker - Omaha poker refers to variations of the game such as Omaha hi, Omaha Low, and Omaha with five cards. We produce top-notch Omaha poker with several options for players to choose from such as odd/even and high/low.
Razz poker - Our staff uses exceptional features and technologies to make Razz poker games more enticing. The number of players in this game ranges from two to eight, and there are no community cards involved.
Chinese poker - Our Chinese poker games are very popular due to their unique and various characteristics. Players do not put wagers during the rounds of the game, instead, they compete for points by a set of rules. Double check, front-hand, back-hand, turbo, pineapple poker, etc are a few of its variations.
Poker stud - We create poker stud games with lively, enjoyable, and unique gameplay. Seven-card and five-card stud are the two variations of stud poker. In this game, cards are shuffled in a predefined arrangement of cards with faces up and cards with faces down.
Draw poker - Our draw poker games provide players the ability to enjoy poker-style entertainment whenever and wherever they want. Players can take advantage of their rivals by strategically moving in the right direction.
Features of our Poker Game Development:
Four Color Deck:
In Poker games , there is a feature called the " Four Colour Deck" that uses four different colors for each suit instead of the standard red and black. This option offers a clearer distinction between the four suits (hearts, diamonds, spades and clubs), improving visibility and reducing confusion, especially for players with color vision problems.
Players' information:
Players' information allows them to make and store confidential information about their opponents. In order to improve their decision making during subsequent gameplay sessions, this feature enables players to keep track of observations, strategies , and routines of particular individuals.
Buddy Line:
Players can establish a customized list of buddies or favorite players using the buddy line. Players may instantly join their favorite tables or participate in private games with their friends for a more social and engaging poker experience due to the easy tracking and notification of their online status.
Playing with Keyboard:
Players can use their keyboard to operate poker games instead of just a mouse or touchscreen with this play with keyboard feature. This improves ease and effectiveness by allowing players to quickly make judgements, place bets , and traverse the game interface using predetermined keyboard shortcuts.
Game history in realtime:
A quick and thorough recap of their gameplay session, including hand histories, bets, wins , and losses are given to players through the game history function in poker games. It enables players to reflect on their gameplay choices, evaluate strategy, and gain knowledge from prior hands, ultimately improving their general skills and ability to make decisions in subsequent games.
Tracking transaction:
When playing poker games, the transaction history functions keep track of all the transactions involving money, deposits, withdrawals, and in-game purchases. It gives players a clear, understandable, and accessible snapshot of their financial activities, promoting responsibility, enabling them to keep tabs on their spending, and enabling them to successfully manage their poker funds.
Live support:
Players can get the immediate assistance through a specific support channel like live chat or instant messaging. Players can easily and quickly contact supporting teams for queries, technical problems, or any other concerns, providing a smooth and enjoyable gaming experience.
Re-buy in gameplay:
Poker games featuring the re-buy in gameplay feature automatically restore a player's chip stack when it falls below a certain level during a gameplay, without the need for manual intervention. This feature improves the simplicity and fluidity of the tournament experience by allowing players to stay in the game and keep taking part uninterrupted.
Benefits of Poker Game Development:
Anti-fraud Poker system:
Real money gaming should be safe and secure for users. To protect our poker game from fraudulent activities, we use cutting-edge security techniques and procedures.
Scalable Gameplay:
The highest caliber video games are created at Hivelance. Our real-money poker games offer the most immersive gaming experience and are smooth and scalable.
Playing poker to install:
With only one click, consumers may download the game from their local app stores. The URLs provided on the game's official website can also be used to download and set up the app.
Cross-platform compatibility:
We create cross-platform real money poker games so you may introduce your poker game to all of the top platforms and thereby target the demographic of all the platforms.
Real-time conversation and chat capabilities:
To ensure that players can fully enjoy multiplayer games, our poker games include voice and real-time chat features. While participating in the game players can communicate via chat.
Accepts a variety of currencies:
Our apps for playing real money poker allow several different currencies. As a result, you can introduce your games anywhere.
Multiple Options for Payment:
We create real-money poker games that offer a variety of payment methods so that players can select the one that best suits them without hesitation.
Certification for RNG+:
Our poker games use random number generator technology to make sure that players receive cards at random, resulting in a fair gaming experience.
Accept emojis:
Emojis have been added to the animated game to enhance the gameplay.They can be used by users to enjoy themselves while playing the game.
Is it good to invest in Poker Game Development?
The market for poker games is expected to increase from $86.2 billion in 2022 to $237.5 billion in 2030, with a 13.5% CAGR between 2023 and 2030.
Due to the accessibility of smartphones, poker has gone to the top of the most played online games worldwide.
It has little infrastructure expenditures because there are no issues with gaming licenses or opening an online poker room.
Your poker game will have a broader target market because there are so many people playing online poker games worldwide.
Poker Game App Development:
Hivelance, a renowned blockchain game development company, offers poker app development services that take into account a number of phases, beginning with ideation and planning. To comprehend their vision, needs, and intended audience, developers closely collaborate with clients. The features, game variations , user interface layout, and overall operation of the app are all decided upon using this phase. The development team then begins creating the app using frameworks, programming languages, and other resources optimized for the iOS and Android target mobile platforms. Our skilled developers concentrate on putting into practise important elements like gameplay, card distribution algorithms, betting systems, players interactions, and secure payment integration.
Benefits of Poker Game App:
Revenue streams:
The main advantage of creating poker games is massive revenue. The crowds are constantly chattering about these games. So, despite the state of the market, you can consistently create larger returns.
Easy to create:
Poke game development is less complicated than developing complex gaming platforms. The time it takes for these applications to reach the market is comparatively shorter because of their easier development procedure. Therefore, as soon as the product is delivered and released onto the market, your investment will start to pay off.
Game category:
Poker games are popular nowadays. When everyone was forced to stay indoors due to the pandemic time. It gave us alternative forms of entertainment and gathered a lot of momentum. Thus, the Poker game won't lose its popularity still.
Constantly expanding:
Online poker games are constantly expanding. More customers connect to poker platforms to partake in the exciting gameplay. As online poker games become the newest trend, your investment is therefore likely to generate a greater return in the future.
Strong audiences:
Many people on the internet are eager to try a brand-new poker site. These audiences enjoy playing poker games, therefore enticing them to a new poker site does not necessitate the use of fishing methods.
Types of Poker game clone scripts:
Seven-card Stud Poker Clone
Zynga Poker Clone
Texas Holdem Poker Clone
PokerStars Clone
PPPoker Clone App
GGPoker Clone App
Why should you prefer Hivelance for Poker Game Development?
Hivelance serves as a one-stop solution for all of your blockchain game requirements. Our skilled developers can assist you with everything, whether you want to improve your current poker game or create a brand-new one. Our developers are quite skilled at creating apps that are specifically tailored to meet your unique requirements.We can quickly create the greatest poker game for you using agile technology.
Our experts will assist you with everything, from developing marketing tactics to preparing the product. Our developers will produce the ideal poker game with all necessary and cutting-edge features because they are ardent players who comprehend what the general public wants.